In August, myself and Ben set off on a two week trip to Ireland. Neither of us had ever been to Ireland before but our friends and family kept telling us how amazing and beautiful it was. When it comes to planning a trip from scratch, I'm always the one doing a little pre-research. While some random person once said "spontaneity is the best kind of adventure", I kind of think some of the fun is in the planning. Plus, if you're limited in time, you'll want to plan in the best sights and activities.
We planned a two week trip to Ireland, encompassing six of its counties. While there is still a mountain of things to do in this green island, it was a really great introduction, encompassing some of the best things to do. For anyone thinking of doing a similar road trip, here's my 2-week Ireland road trip itinerary.
My Ireland Road Trip Itinerary
Day 1: Ferry from Pembroke, Wales >> Rosslare, Ireland
Living in the south west of England, the best of option for us was to get the ferry from Pembroke to Rosslare. If you're flexible on timing, a ferry can work out much cheaper than a flight and means you can drive your own car. For those in the north of England, you can also get the ferry from Holyhead in North Wales to Dublin and from Liverpool to Dublin.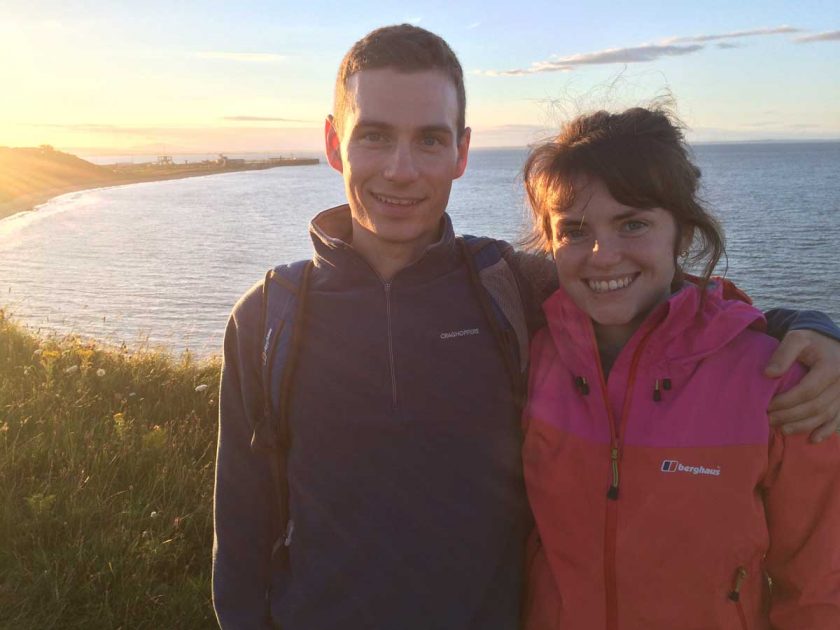 We stayed over in a really nice B&B near Rosslare harbour, before setting off to the county of Galway on the next day.
Day 2: Rosslare >> Galway
The drive took around four hours, through really open landscapes. It was our first insight into Ireland and from diving through you get a real insight into how idyllic Ireland is. The land is much less built up than England, roads are less busy and you could drive several miles before you see another person. I don't think we encountered a single traffic jam until we reached the major cities. Even then, it was nothing like Bristol, Birmingham or Manchester.
Day 2 – 6: Based in Kilmaine (County Mayo)
We based ourselves in Kilmaine, just over the border from Galway in County Mayo. While some prefer to hop to different accommodations on the route, I find having a base really useful. It's easier to store and clean your gear, means you're not driving all the time and usually works out cheaper. It was an ideal location for everything we wanted to see and do in County Mayo, Galway and Clare.
Rather than describe everything in detail, here's my list of the top things to do in these counties. I've listed what we did and also added in some suggestions from locals. If you're an avid walker, or into your outdoor activities, these two counties offer some of the best landscapes and hiking routes.
Top things to do in County Mayo
Hire bikes and cycle the Mayo Greenway from Westport to Achill.
Visit Ballcroy National Park – It's achieved a Gold-Tier International Dark Sky Park status meaning it's one of the best places for stargazing.

Achill Island – Home to the mountain Slievemore (671m). The views at the top are well worth the climb and on the way up you'll come across the "Deserted Village"—a haunting reminder of times past. Keel Beach on the island is also a great spot for surfing.

Climb Croagh Patrick – Climbing the 765m holy mountain is an act of penance for thousands of pilgrims on the last Sunday of July (Reek Sunday). It's a steep climb, but accessible. There's even a church on top and on a clear day, the view over Clew Bay is incredible.

Clare Island – Lies off the Mayo coast at the entrance to Clew Bay. Its spectacular cliffs are home to large numbers of nesting seabirds and its hills, bogs and woodlands make it ideal for hill walking. You can also view the castle and burial place of the famous 'pirate queen' Grace O'Malley's. The island can be reached by ferry from Roonagh point Louisburgh in Mayo.

Louisburgh – A great place for snorkelling and other water activities like sea-kayaking and stand-up paddleboarding.
Drive part of the Wild Atlantic Way – The Wild Atlantic Way stretches from the northern headlands of Ireland to the surf coast and is famous for its sweeping coastlines, towering sea cliffs, and diverse landscapes.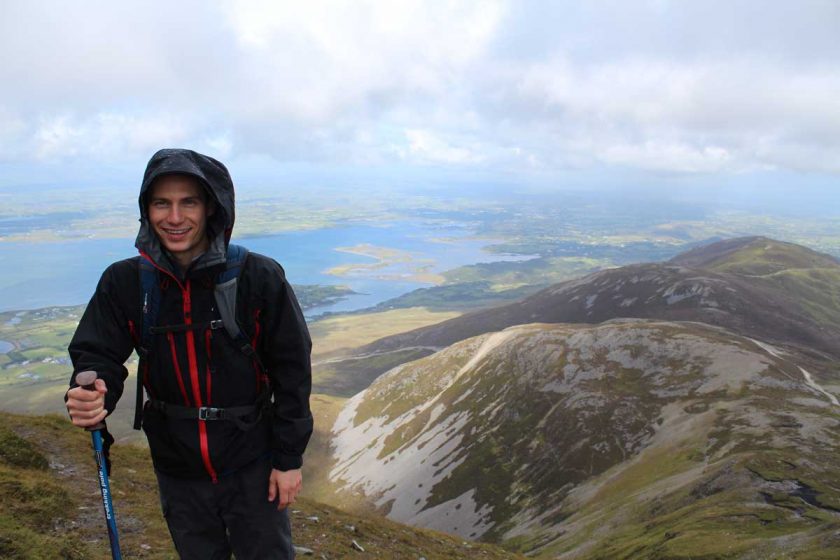 Top things to do in County Galway
Aran Islands – Step back in time and experience traditional Irish life.  You can access the three islands by ferry or even a small plane and it's a perfect escape from modern day life.
Dusk kayaking tour at Menlo Pier – It's such a magical experience paddling through the water as the sun sets over the Connemara Mountains.
City of Galway – The city of Galway is well worth a visit even if just for the plethora of street musicians and performers.
Connemara National Park – Home to the Twelve Bens mountain range.
Dunguaire Castle – One of the most picturesque tower house castles in Ireland. From April to October, it hosts Medieval castle banquets in its halls.
Top things to do in County Clare
Burren National Park – An amazing place of natural beauty, unlike any other place I've been to. It's like stepping out onto the moon with its rocky limestone landscape, which stretches for miles. The view of the Wild Atlantic Way is just breathtaking from The Burren as well!
Cliffs of Moher – These revered cliffs are breathtaking. But I don't recommend going in summer as it's busy with busloads of tourists. Head here if you're going in spring/early summer to see the puffins. If not, I think you can get a much wilder experience with similar views elsewhere.
Doolin – The traditional music capital of Ireland. Filled with little unique pubs, it's also a jumping-off point for cliff cruises and ferries out to the Aran Islands.
The Pollock Holes –  These three Pollock holes are located at the West-end of Kilkee. Grab your snorkel and wetsuit and discover the world under the waves. There are loads of different spices of fish and all sorts of marine life.
Look for dolphins – Around 200 wild bottlenose dolphins reside in the Shannon Estuary in County Clare. It's one of the best places to spot them.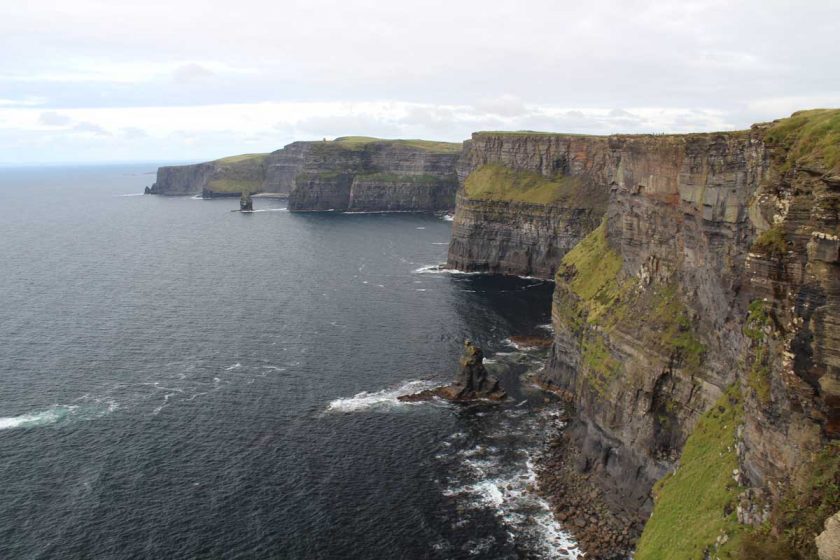 Day 7 -12: Kilmaine >> Kenmare (County Kerry)
The drive down from Kilmaine to Kenmare took us around 4 – 5 hours. It was fascinating to see how the landscape changed. While still sparsely populated, we came across more towns and the landscape transformed from agriculture fields to woodlands and forests. We based ourselves in Kenmare, "The jewel in the Ring of Kerry. " An ideal location from which to explore the peninsulas of County Kerry and Cork.
Once again here's my list of the top things to do in these counties. I've listed what we did and added in suggestions after chatting with locals.
Top things to do in County Kerry
Drive the Ring of Kerry –  The ring is a 179-kilometre-long (111-mile) circular route which encompasses some of the most spectacular views Ireland has to offer. You can walk/cycle part of this path on the Kerry Way, and a signposted Ring of Kerry cycling path which uses older quieter roads where possible.
Kerry International Dark Sky Reserve – Dependant on the time of year, it's the best place in the region to see the aurora, the Milky Way and meteors.
Killarney National Park – An expanse of rugged mountainous country which is home to over 50 white-tailed eagles. Sadly we didn't see any, but worth keeping your eyes peeled. Head on to Muckross Lake, which is the centrepiece of a 15km walk. The walk is relatively accessible and encompasses Muckross House and Torc Waterfall.
Skellig Michael – A UNESCO World Heritage Site home to an abandoned 6th-century monastery. Access to the island is very limited and expensive. Instead, it's possible to book a boat tour that goes around the island, where you can also look for its colonies of puffins, Manx shearwaters and storm petrels. Most recently Skellig Michael served as a filming location for Star Wars: The Force Awakens and The Last Jedi.
Dingle Peninsula – In summer this peninsula is a bit of a tourist trap because of the famous dingle dolphin. The adjacent Beara Penisula is far less populated, but it's a shame to miss this one because of its views. The Conor Pass, which runs from Dingle on the southern end of the peninsula towards Brandon Bay and Castlegregory in the North, is the highest mountain pass in Ireland. Inch beach is great for beach walks and if you're OK with winding cliff roads, head down to Dunmore Head—the westernmost point of Ireland (excluding the islands).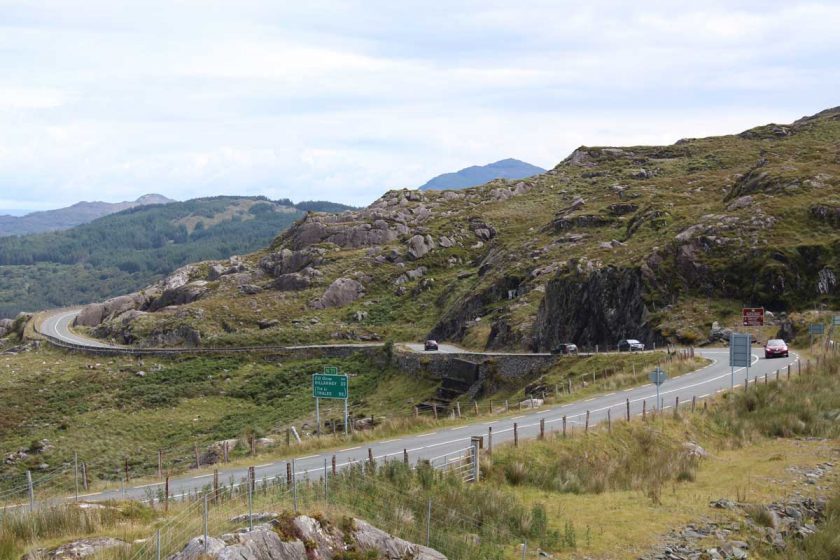 Top things to do in County Cork
Drive down the Beara Penisula to Lambs Head – With magnificent mountains on one side and Bantry Bay on the other, the scenery is stunning in all directions. The Penisula is great for hikes, drive up the Healy Pass or a stroll along the O'Sullivan Mile. At Lambs Head you can get a cable car over to Dursey Island. The views overlooking the Ring of Kerry are simply breathtaking.
Bantry – Whiddy Island is just a short ferry crossing from Bantry town making it a popular spot for day trippers. It's a small haven of peace and tranquillity, with a rich history.
Ballyhoura Mountains –  Host to the largest mountain bike trail network of its kind in Ireland. 98km of trails including forest road climbs, tight twisty singletrack with loads of ups and downs, boardwalks, tight turns and technical rocky bits! Pretty awesome.
Baltimore – Best place for seeing big whales. We headed out on a rib and saw loads of common dolphin and a minke whale. Go early spring to see humpback whales and even orcas.

Loch Hoyne – Jim Kennedy of Atlantic Sea Kayaking West Cork hosts a late-night moonlit kayaking experience. Not to be missed!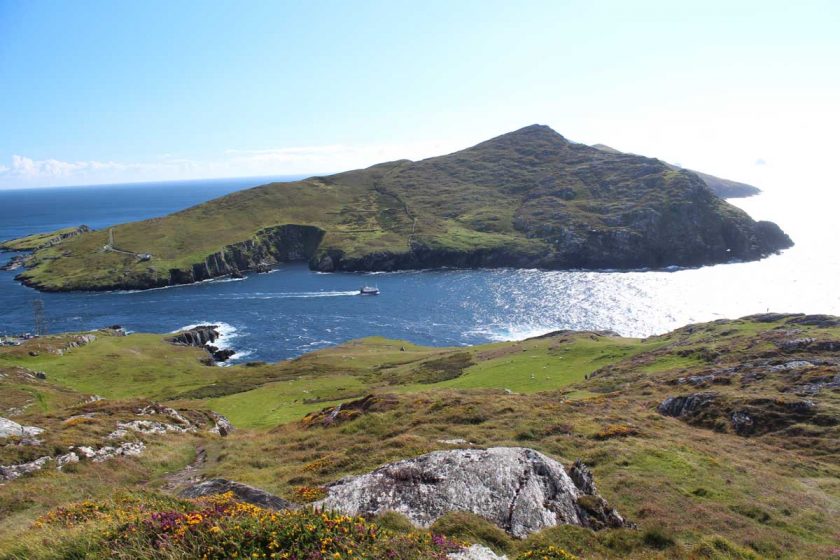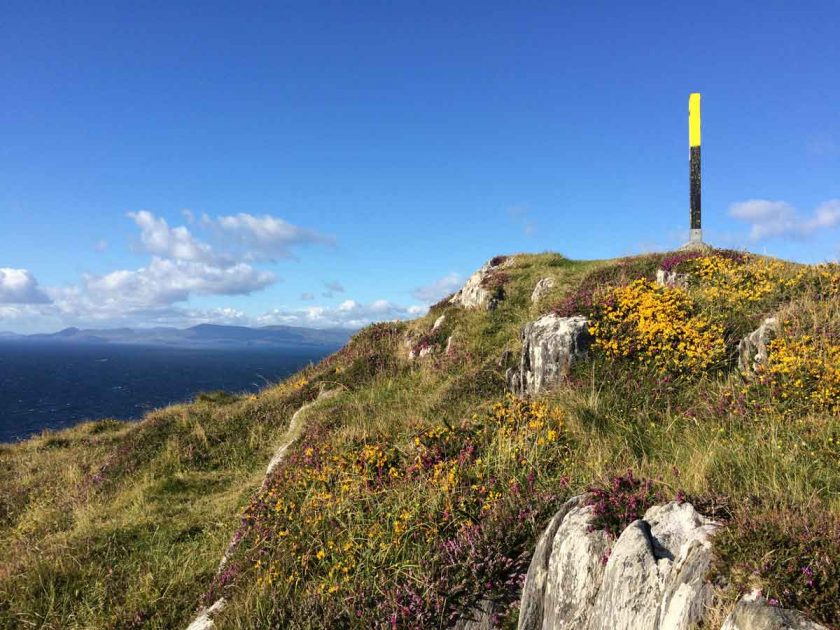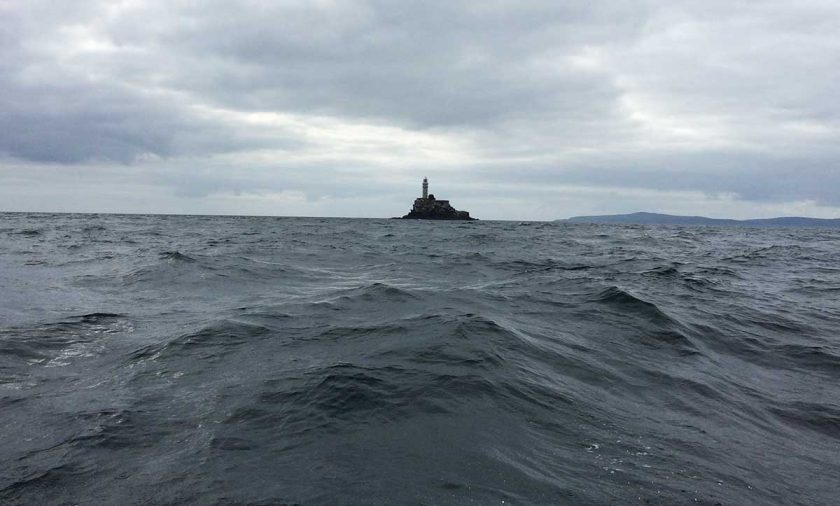 Day 12 – 14: Kenmare >> Dublin
As we were in Ireland, we thought we might as well visit Dublin. It also worked well as we got the ferry back home from Dublin to Holyhead in Wales. I didn't know what to expect from Dublin, and after two weeks in peaceful tranquillity, it was quite a shock to be back in a bustling city. While it certainly wasn't my favourite city, after two days I did start to warm to its charm.
If you're limited by time, the best thing I recommend, that we also did, is the Sandermans walking tour. The tour was engaging and packed with a lot of information and history. It actually gave great context to the history of Ireland as a whole.
For food, I'd recommend Umi Falafel. Ireland is expensive, especially Dublin. But this little gem on Dame Street offers amazing tasting Lebanese food, for a really reasonable price. We managed to order so much food, that we took it away and ate it the next day!
Day 14: Dublin >> Home
Day 14 and we returned home after a very long drive down from Holyhead. Looking back at the trip, we covered a lot but also had time to appreciate the views and chill. It was important for us not to over plan and while I've listed a lot of different things to do, I recommend picking a few and enjoying the whole experience.
Ireland is awesome and I strongly urge anyone who's thinking of going to do it. It's tranquil, unique, remote but homely and the people are incredibly welcoming. This guide was in part created after speaking with so many well-wishing locals.
I definitely hope to go back in the future and if I had more time I'd want to explore more of County Cork and the eastern counties.
Have been to Ireland and/or Northern Ireland?
What other places would you add to this Ireland road trip itinerary?