From the crystal-clear skies to the breathtaking ecological reserves, Chile has everything you need for the perfect camping trip. Being one of the best places to go stargazing, exploring this spectacular paradise under canvas should be high on any camper's travel bucket list. There are plenty of amazing places to camp in this beautiful country, so we've put together a brief guide to help you plan the camping trip of a lifetime.
When to visit
Chile is geographically long and thin, covering  2,700 miles (4,300 kilometres) from north to south. This means that there is a huge range of climates across the country. The north of Chile is a desert region, with temperatures between 15-23°C; the centre is much more Mediterranean, with milder winters and warm summers; whereas the south is much colder. Wherever you plan to visit, temperatures can drop rapidly during the night so make sure you know how to safely heat your tent for a comfortable night's sleep. 
As Chile is in the Southern Hemisphere its seasons are reversed (for those of us in the Northern Hemisphere), which is something you need to bear in mind when planning your trip. In general, the best time to visit is between spring and summer (from September through to March). It is rare to get extremes of temperatures at this time of year so packing light will be a much easier task.
What to pack
Whether your visit to Chile is part of a backpacking journey through South America or a one-off trip, it's always a good idea to pack the basics. You can use our camping packing list to ensure that you don't forget anything. Sunglasses, comfortable walking shoes, sunscreen, and plenty of warm layers are essential since the climate can vary so much. A warm sleeping bag and camping stove should be next on your list of priorities, as well as waterproof clothing and hats to deal with any rainstorms.
There are also a number of travel rules you need to know about Chile before your visit, such as the tourist visa rules. Citizens from the EU or US won't need to acquire a visa or pay a fee to enter the country, as long as you stay up to the permitted 90 days (3 months) allowed on a tourist visa. If you need to stay longer, you can simply hop over the border and renew your tourist visa.
Best places to camp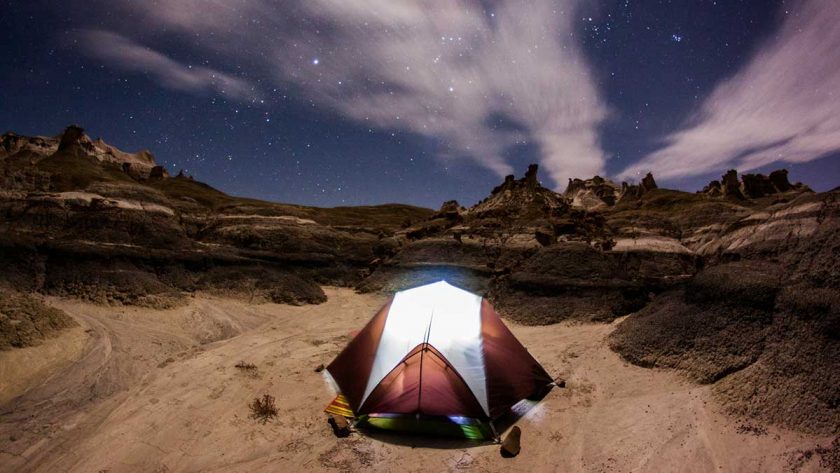 If it's solitude you're after, then it doesn't get much better than the Pan de Azucar National Park. Located 30km north of Chañaral and 194km north of Copiapó, the national park was created in 1985 to preserve the vast array of wildlife found only in this area. There are plenty of free campsites to choose from here, such as Playa Piqueros, Soldier, or Playa Caleta Pan de Azucar and you will often find that you are the only tent for miles around. Remember to take your own camping food and bottled water here, though, as there are no places to buy food and drink inside the park.
For those times when you simply want to relax in paradise, head to the eco-friendly campsites of Cochiguaz. Located in the Elqui Valley next to stunning clear water pools, these beautiful sites allow you to set your own pace, gently swinging in a hammock or meditating by the azure waters.
In the central region, La Campana National Park offers the chance to camp near cascading waterfalls while taking in the gorgeous surroundings. The gorge at Cajón del Maipo is home to the Baños Morales thermal springs as well as adventure sports and nature trails which are perfect for hiking and exploring the area.
When it comes to the south of Chile, there is no better camping destination than Cucao in Chiloé National Park. With over 25 campsites to choose from, there is something for everyone in this incredible spot. From rich vegetation and scenic beauty to calm waters and stunning skies, camping here is an experience you will never forget.
So, what are you waiting for? Time to pack your tent and head to the coolest camping destination in the world!
If you've recently visited Chile and have any other recommendations, please share them with us in the comment section below.
Featured image: Pixabay