Page 1 of 8
For people who love action, adventure and being active outdoors, like you (our readers), travel means getting the adrenaline pumping on a rugged mountainside or 50 feet below the ocean surface. Others search for snowy peaks and alpine lakes simply for something a bit different from their day-to-day. Using a mix of expert advice from flights.com and our knowledge on outdoor adventure in Europe, we've put together a list of some of Europe's top destinations for an action-packed trip. Be sure to let us know your favourite in the comments below.
Chamonix, French Alps
Chamonix-Mont-Blanc, more commonly called Chamonix, sits 995 m/3,264 ft high in the French Alps. One of the oldest ski resorts in France, it held the very first Winter Olympics in 1924 and is known as the 'gateway to the European Cascades'.
A quick walk through the streets of this high-altitude town will reveal an outdoor paradise. You'll hear languages from every corner of the globe and see historical mountaineering scenes painted on the walls of the beautiful alpine buildings. But the town is not the main attraction, simply a base for mountaineers and hikers looking to venture up into the surrounding peaks.
Mont Blanc—4,810 m/15,781 ft of rock, snow, ice and dreams rises high above the town and is what draws people to the heart of the alps. Whether it's to actually summit the peak or hike the surrounding trails, people who come to this 'summit meeting' share the same way of thinking, the same love for mountaineering, its legends and its ethics.
Mountaineering and Hiking
For experienced mountaineers, submitting Mont Blanc may be the goal of a trip to Chamonix. The most popular route is the 'Voie Royale'. The starting point at Nid d'Aigle can be reached by taking the Tramway du Mont-Blanc—a rack and adhesion mountain railway. The ascent, from there, leads through the Goûter Corridor, considered dangerous because of frequent rock-falls.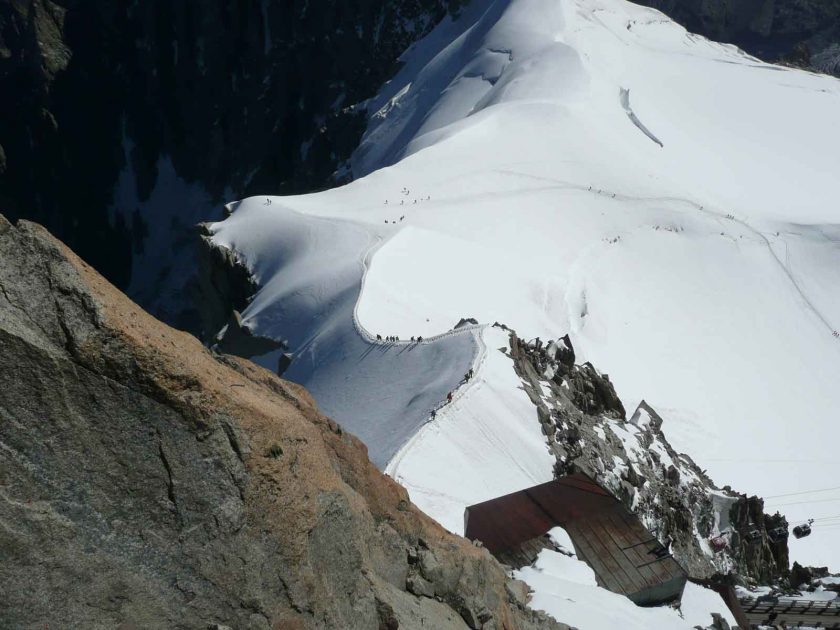 Another popular route, 'La Traversée', starts by taking the Téléphérique de l'Aiguille du Midi—the highest vertical ascent cable car in the world, from the town to Col du Midi (3,842 m/12,605 ft). An exposed arête is used as an access point from the top station to a plateau, used as a base camp to acclimatise before starting the actual accent.
Most mountain-goers don't ascend Mont Blanc as it's a very serious undertaking only suitable for experienced mountaineers with snow/ice climbing gear. However a trip up to high-altitude via the Tramway du Mont-Blanc or Téléphérique de l'Aiguille du Midi is a must and enables quick access to breathtaking snow-covered mountain scenery all-year-round.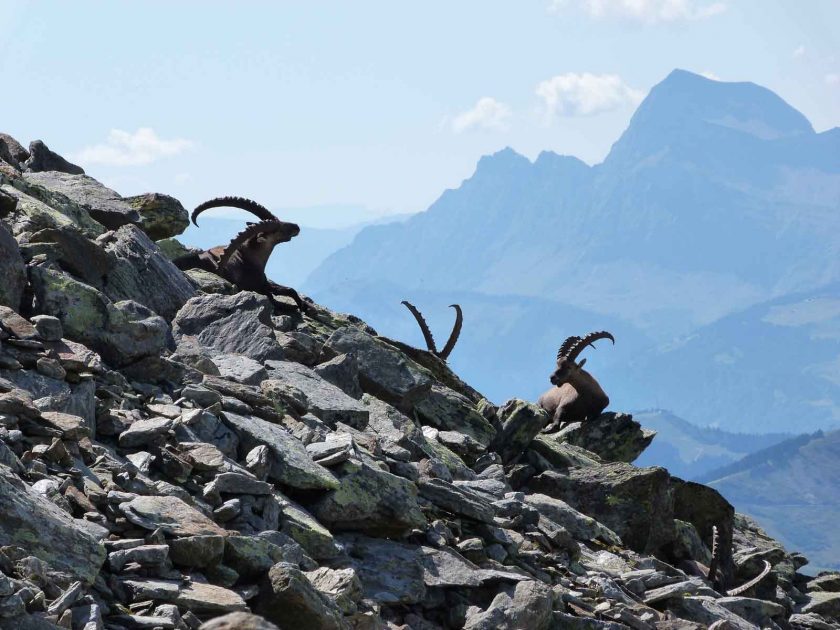 Hikers are spoiled for choice. However, a great route that is particularly sited for an acclimatisation day, is a trek up to Bellevue plateau (1800 m/5,906 ft) from Les Houches—just a short journey down the valley from Chamonix. You can also take the Bellevue cable car up to the plateau for access to many more hiking trails, all with awesome views under the shadow of Mont Blanc.
The Tour du Mont Blanc has to be the highlight of any hiking trip to Chamonix. It's one of the most popular long-distance treks in Europe, circling Mont Blanc on a 170 km/110 mi route with 10 km/6.2 mi of elevation change. The route passes through parts of Switzerland, Italy as well as France—showcasing the most epic scenery that the alps has to offer. One of the most magical aspects of this trek though, is the people you will meet on the way—from seasoned hikers to families with young adventurers.
You can also mountain bike most of the trail, as Specialized Bicycles athlete Matt Hunter documented in the below video:
Rock Climbing and Via ferrata
Whether you're an experienced or beginner climber, there are plenty of trad. pitches available to suit, from superb mountain routes, prestigious north faces or more accessible bolted climbs. If bouldering is more your thing however, then Chamonix has you covered as well.
Via ferratas offer further climbing adventure and there are many routes available near Chamonix. These are pre-build routes, with added man-made hand and foot holds and a steel cable running along the route as a safety anchor point for the climber. Via ferratas are great for beginner climbers, since they allow easier access to some exposed rock faces safely, but are also a blast for experienced climbers, with harder routes available.
Mountain Biking
As mountain biking grows in popularity, more and more dedicated trails are appearing along the Chamonix Valley. The Vallorcine BikePark (up the valley from Chamonix), the relatively new (at the time of writing) Chamonix BikePark and the down valley Les Houches BikePark are amongst the best.
I would personally recommend the Les Houches BikePark, which is accessible from the Bellevue cable car. This park is one the of the most well-rounded parks in the valley with a small slope-style course at the top and a variety of trails, to suit every level on the way down. Blue trials are suitable for beginner riders, though you will need to be fit and prepared to take a few falls. These a spiced-up with a few optional red and black north-shore style features as well as red and black routes that will challenge more experienced downhill riders.
Check out the below video for an overview of one of the tracks:
Paragliding
Want to fly like a bird, rise above the mountains, soar with eagles? Paragliding will let you do all this and Chamonix is becoming a go-to destination to learn the 'magic' of free flight. Mieusey, 50 km/31 mi west of Chamonix, even lays claim to the birth of the sport in 1974.
If you're a beginner then there are plenty of opportunities to take a tandem flight with a qualified pilot or lessons with a paragliding school. If you're already a pro pilot then there are a variety of purpose built take-off points accessible by car or cable car. One that I would recommend is situated at the very end of the Chamonix valley with excellent views of the mountain road below.
Skiing and Snowboarding
Being the birth place of the Winter Olympics, it's no surprise that the Chamonix valley has some excellent ski resorts and ski runs during the winter. Chamonix offers a multitude of slopes for all levels, each ski area having its own merit. From tremendously long slopes, skiing through the trees, freeride and off-piste, to beginners slopes—there are an infinite number of possibilities for snowriders and mountain lovers alike.
One of the most impressive ski areas has to be the 'Grands Montets', however. Situated next to a glacier, between the altitudes of 1235 m/4052 ft and 3300 m/10,827 ft, the 'Grands Montets' features some of the greatest ski-run height losses in the world. The pistes are spread over three slopes – the Argentière glacier, Lognan and the Pendant, known throughout the freeride skiing world for its magnificent off-piste. For freestyle riders there is also a snowpark and boardercross upgraded every year. The quality of the snow coverage is also remarkable up until May, meaning a very long season.
Other Excursions and Adventure Activities
If you want a quick break from traditional mountain sports but still need an adrenaline kick, then Chamonix's adventure park is for you. One of the first woodland high ropes parks, a variety of courses (set at different levels) combines tree climbing with zip-lining and even a pretty rad luge track. Perfect for an afternoon off of the mountain.
Page 1 of 8