Hasbro has just released a new twist on Monopoly. I know, I know—who cares about another Monopoly reskin? But, this time it's actually kind of cool. Well, at least if you're a fan of Mario Kart…but then everyone's a fan of Mario Kart.
For those that don't know, Hasbro released Monopoly Gamer last year—which featured some added game mechanics over the classic version—and Mario Kart Monopoly (officially Monopoly Gamer: Mario Kart) follows on from this. While it's still about circling around a square board, buying up properties, and charging rent, there are a lot of twists and turns (go-karting pun intended) in this new version.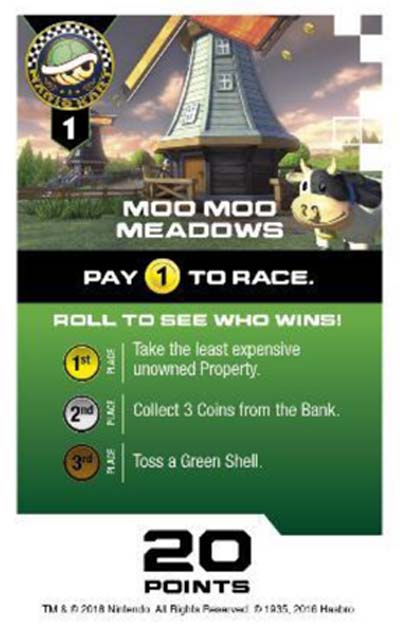 Every time a player passes Go, they flip over a Grand Prix card, which starts a Race. Players then have the option of paying one or more coins (that replace dollar bills) as an entrance fee to the race. You roll a die to see who places where, and prizes are passed out according to the card.
Another twist is that, on each turn, a player rolls a Power-Up die in addition to the Move die. This lets you use a signature Mario Kart power-up; if you roll a Green Shell, for example, you'll cause the player directly in front of you to drop three coins on their space. Any player who passes by those coins can then pick them up.
Unlike Classic Monopoly, Mario Kart Monopoly doesn't end when you bankrupt the other players. It ends after the final Grand Prix card has been drawn and the last race is run. At that point, players total up all of their points that they got from winning races, buying property, and collecting coins.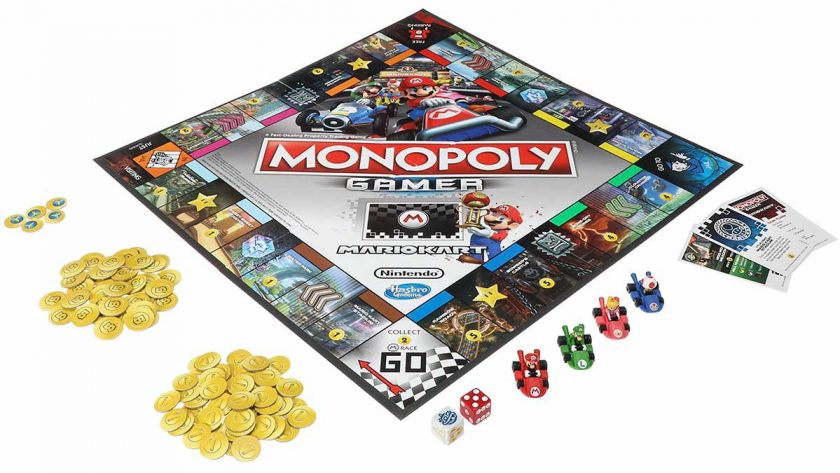 Additionally, each player character—Mario, Luigi, Peach, or Toad—has different player mechanics, like the video game. Specifically, each character has a special affinity for one power-up. For example, if Mario rolls Coins, he can choose to either take three coins or move three more spaces, whereas other players would only get to take the coins. Each player also has a different Super Star ability that they activate when they land on one of the four-star spaces.
To increase the character roster, Hasbro is also selling six more player tokens, each with their own unique special moves, separately: Bowser, Rosalina, Shy Guy, Metal Mario, Donkey Kong, and Yoshi (sounds like a money-grab to me).
Where can I buy Mario Kart Monopoly?
Mario Kart Monopoly is available at GameStop now and at other retailers on 1 June.