Building on the company's history of merging digital programming and physical building, LEGO® BOOST will inspire a younger generation to build and code their way to limitless play.
The new set
On 4 January, the LEGO Group announced LEGO® BOOST, a supercharged building and coding set that lets children bring their LEGO creations to life by adding movement, sound and personality.
Unveiled at the Consumer Electronics Show in Las Vegas, Nevada, LEGO BOOST was previewed to members of the press and will be demonstrated to CES attendees as part of the Kids@Play Kids & Technology Marketplace from 5-8 January.
Build the creation you want
LEGO® BOOST combines the endless play opportunities of a traditional LEGO set with an endless variety of movement and sound capabilities made possible through an easy-to-use, app-based coding environment.
Developed for children aged seven and older, the new set featured a LEGO stud-covered brick with built-in tilt sensors. Children can then add LEGO elements, motors and a sensor bringing movement to any creation.
The set includes building instructions for five models: Vernie the Robot, Frankie the Cat, the Guitar 4000, the Multi-Tool Rover 4 (M.T.R.4), and the Autobuilder. Each design gives children an introduction to basic building and coding skills.
Design lead for LEGO Group, Simon Kent said:
We know that children dream of bringing their LEGO creations to life, and our chief ambition for LEGO BOOST is to fulfil that wish. Once children build a LEGO creation, we give them simple coding tools to 'boost' their models by adding personality. We want children to first and foremost have a fun and limitless play experience, adding the coding opportunity is the means to get there.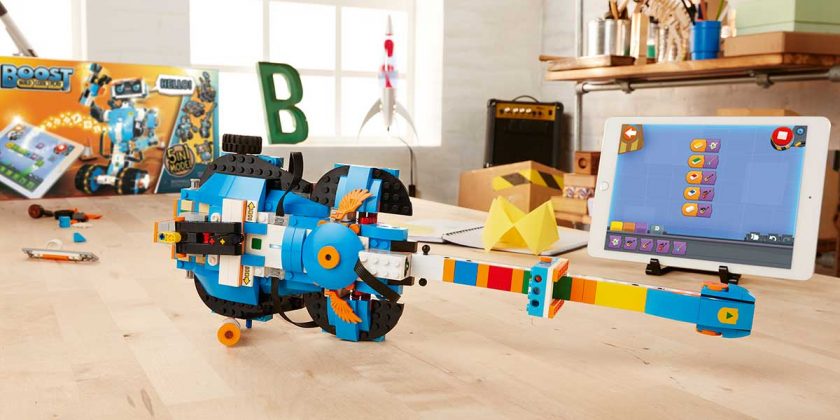 Coding brings your creation to life
LEGO® BOOST introduces children to coding through a free downloadable app that contains the guidance, building instructions and simple coding commands to bring their creations to life. To further personify the experience, the app lets children add voice recordings to their creations, adding personality without requiring spelling and typing. It also includes more than 60 activities designed to inspire additional building, coding and play.
A creative canvas
Furthermore, the LEGO® BOOST app also includes a "creative canvas" that includes basic building instructions for three simple base models that children can use to customise their own LEGO creations.
The three bases available at launch include: a walking base for making animals like a dragon or a pony, a driving base for building vehicles like a dune buggy or rover, and an entrance base so that children can make their own castle, fort, or even a futuristic space station.
Once children are comfortable with building and coding the various LEGO BOOST models, they can use the kit to "boost" any LEGO creation – from LEGO City and LEGO Friends to LEGO Ninjago and The LEGO Batman Movie.
The new kits are planned for release in the second half of 2017 with a suggested retail price of $159.99 / £130.00
Featured image: LEGO BOOST sets. Photo: LEGO Group