It's fair to say that Nintendo has successfully brought their magic Mario Kart formula to mobile with the release of Mario Kart Tour.
However, even though the pocket racer is a surprisingly near-fully-featured iteration of a classic Mario Kart game, the transition from playing on the Nintendo Switch to mobile is not seamless. In fact, many players are struggling with the new 'mobile-friendly' control scheme (see: Best Mario Kart Tour memes).
By default, you will either steer or drift by tapping and swiping on the screen, but the settings menu provides a number of options to customise the control scheme further.
I've had some time to experiment with the different control settings and think I've found the winning combo.
Mario Kart Tour control settings
To access the control settings in Mario Kart Tour, touch the menu button at the bottom of the home screen and then select the settings option in the bottom right corner.
This will bring up four options:
Manual Drift
This option gets explained to you in the early tutorial. With this option enabled, every time you swipe to turn, you will hop straight into a drift. This means that you will no longer be able to steer normally with your finger.
However, the option does enable ultra mini-turbos—key to gaining an advantage over the competition. For this reason, I recommend that you turn this option on.
Smart Steering
This is essentially an aggressive auto-correct for players struggling with mobile controls. It will cleverly keep you on the track as you move forward, allowing you to focus on speed boosts and items.
If you come too close to the boundaries of the track, smart steering will slow down your kart and push you back in the right direction. While this sounds useful, it prevents you from taking off-track shortcuts. Therefore, I recommend you turn this option off.
Auto-item
Auto-item is one of the more interesting options. If enabled, the items you currently have equipped will be used and items you are holding will be dropped when you hit a new item box.
This means that you don't miss out on getting a completely fresh selection. While this sounds appealing, on paper, it's not great if you intend to save a Red Shell or another key item for use at the optimum moment. For this reason, I turn this option off.
Gyro Handling
For devices with an accelerometer, this option allows players to steer by tilting their device like a steering wheel, as with Real Racing 3. With Manual Drift enabled, Gyro Handling allows you to make the small steering inputs that you can no longer make by swiping your finger. For this reason, I recommend turning this option on.
Bonus tip: If you want the most realistic karting controls, turn off Manual Drift and turn on Gyro Handling. You can then control your kart entirely with motion controls.
Best control settings for Mario Kart Tour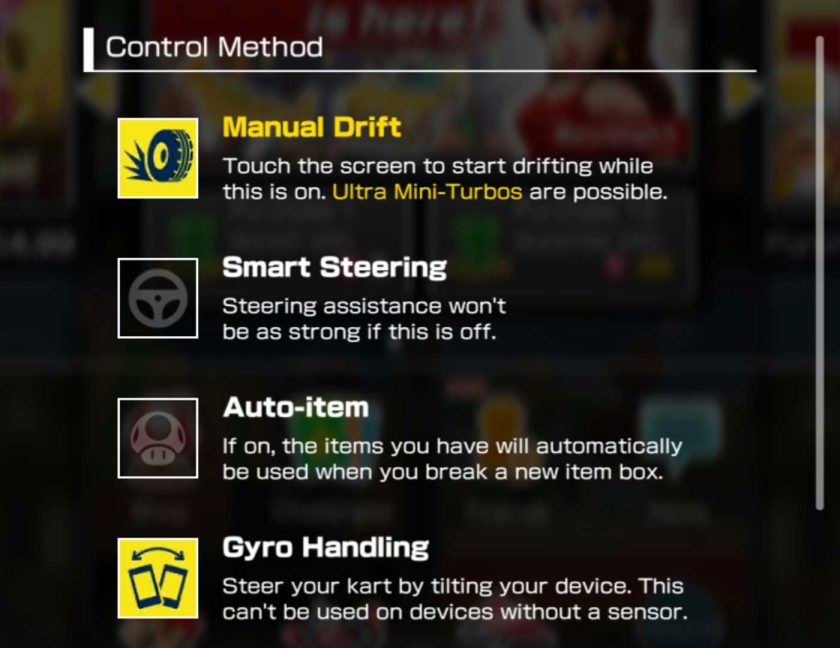 For the very best manual controls possible, I recommend:
Manual Drift – On
Smart Steering – Off
Auto-item – Off
Gyro Handling – On