It's finally here; Mario Kart Tour, the first ever Mario Kart game on mobile, has launched on iOS and Android today. Initially slated for a Q2 2019 release, it's been a rocky road (pun intended) for this little racer.
Candid feedback, regarding the aggressive use of microtransactions, from the beta over the summer further pushed back the release date but that hasn't stopped Nintendo adding a 'Gold Pass' subscription option.
Still, Mario Kart has been one of the most successful video game franchises ever, since it first launched back in 1992. Its simple controls and fun multiplayer has always been a hit with gamers, bringing together players of different ages and skill levels with its magical formula.
Read more: Hasbro releases Mario Kart version of Monopoly board game
I've been hands-on with the pocket racer for a few hours this morning. Here's everything I've learnt so far.
What's the Mario Kart Tour release date?
Mario Kart Tour is out today (25 September 2019).
The game was officially announced in February last year and was meant to come out early 2019, but Nintendo does like making sure their titles are polished, so it was pushed back until September.
You can download Mario Kart Tour now on Android and iOS.
Do I need a Nintendo Account to play Mario Kart Tour?
To start the game, you need to have a Nintendo Account; if you have played other Nintendo mobile games in the past you most likely already have one.
If you do not have one you can click the link here and create one.
How much will Mario Kart Tour cost?
Mario Kart Tour is free to play; you can complete the whole game without spending a dime—unlocking drivers, cars, gliders and special items as you go.
But, there are some pretty pricey premium packages for those that want to unlock things faster and are able to shell out (I just can't help myself with these Mario Kart puns).
If you want to unlock Mario straight off the bat, for example, you'll have to purchase the New York Set for £19.99 (UK) / $19.99 (US). Back in the day, I could pick up a 2nd-hand N64 game for that price, but the pack does come with 45 rubies (that you can use to unlock 10 more items) and five star tickets.
There's also a monthly subscription package, called the 'Gold Pass'. This gives you various in-game items and badges as you play, and also unlocks the faster 200cc mode. It's not really clear from the game's website what any of these items are for. There's a two-week free trial, after which you'll have to pay £4.99 (UK) / $4.99 (US) a month!
£4.99 a month is also, you may have noticed, the price for a month of Apple Arcade, Apple's excellent new service specifically designed to fix the microtransaction-riddled hellhole that mobile gaming has descended into. Maybe Mario Kart Tour is an incredible experience that will be worth subscribing to, but my bet is that you'll be better off spending your fiver on Sonic Racing and, um, every other game on Apple Arcade.
How do you play Mario Kart Tour?
Like Mario Run, Nintendo has designed Mario Kart Tour to be played one-handed. The game is played vertically and karts auto accelerate. You can slide your finger left or right to steer in that direction and tap the screen to use items.
For Mario Kart vets, you can turn on manual drift mode, which basically means that every swipe results in a drift and ultra mini-turbos are possible.
By default, the auto steer is rather aggressive and it won't let you drive off the track. But you can turn this off and use motion controls for basic steering in combination with manual drift. In this mode, I wish Nintendo allowed horizontal gameplay for easier steering as its really hard to fine-tune your turns—if anyone from Nintendo is reading this, please pass this feedback along.
What characters are in Mario Kart Tour?
When you start playing Mario Kart Tour, you unlock a random character (mine was Toudette). You can unlock more drivers as you gain points throughout the game. See the full list of currently available drivers below (I'm sure Nintendo will be adding more characters soon—I mean, where's Wario?)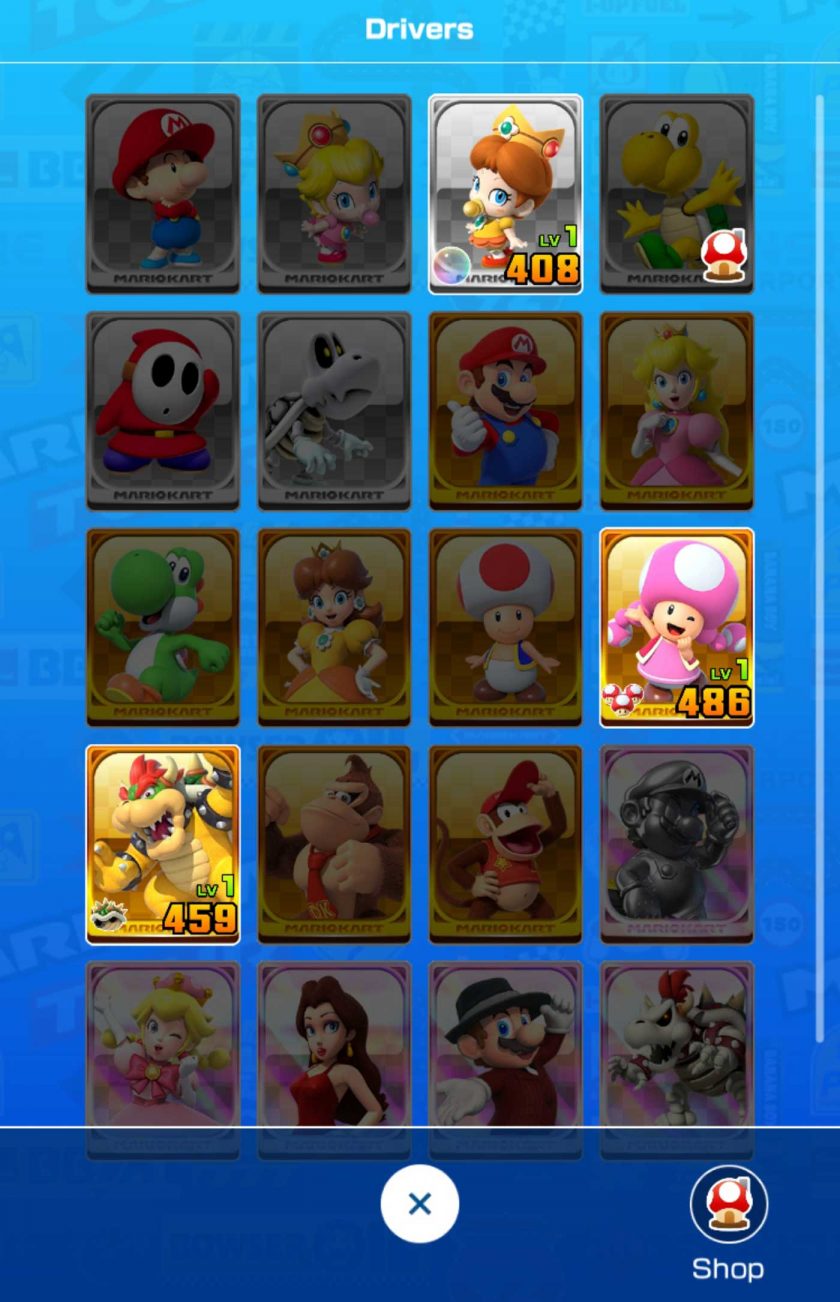 Baby Mario
Baby Peach
Baby Daisy
Koopa Troopa
Shy Guy
Dry Bones
Mario
Peach
Yoshi
Daisy
Toad
Toadette
Bowser
Donkey Kong
Diddy Kong
Metal Mario
Peachette
Pauline
Mario (Musician)
Dry Bowser
What courses are in Mario Kart Tour?
16 courses from previous games are available in the initial release, including some fan favourites like Luigi's Mansion from Mario Kart DS and Mario Kart 7.
Here's the list:
Mario Circuit 1 (SNES)
Choco Island 2 (SNES)
Rainbow Road (SNES)
Koopa Troopa Beach (N64)
Kalimari Desert (N64)
Bowser Castle 1 (GBA)
Dino Dino Jungle (GCN)
Yoshi Circuit (GCN)
Luigi's Mansion (DS)
Waluigi Pinball (DS)
DK Pass (DS)
Toad Circuit (3DS)
Daisy Hills (3DS)
Cheep Cheep Lagoon (3DS)
Shy Guy Bazaar (3DS)
Mario Circuit (3DS)
Rock Rock Mountain (3DS)
Nintendo has also announced five reverse tracks, while Mario Kart Tour will be the first Mario Kart game to use real-world locations as the inspiration for tracks. Two of these are in the initial release: Tokyo and New York. And, from a recent video on Nintendo Mobile's YouTube channel, it looks like a Paris-inspired track is currently under construction.
Mario Kart Tour multiplayer
In order to play Mario Kart Tour, you must have an internet connection. This is because every race is against real players. Currently, you can only race in cup races, but there is a translucent multiplayer option and a friends list that will presumably be available for custom multiplayer matchups soon.
So, if you fancy a race feel free to add me at 'ADAPTiveBen'. See you on the track…