2015 was a great year for sim racing and iRacing.com's annual Pro Race of Champions, at the end of the year, showcased more that just the realism and technology at the core of the sport.
IndyCar Series race winner Sam Schmidt, having worked for the past 18 months with Arrow Electronics to develop technology that enables paraplegics—and in Schmidt's case, quadriplegics—to operate a motor vehicle, was invited to take part in the race.
Anyone who follows racing knows that Schmidt's story is inspirational. With modern race car chassis and gearbox technology, SAFER barriers and the HANS device, a driver today would likely walk away from the crash that injured him.
Sam has used his father as his inspiration moving forward; he was also paralyzed in a racing accident in the 1970s.
"He didn't let it slow him down at all, and 40 years ago, they didn't have all the technology that they have nowadays," Schmidt said of his father at the iRacing Pro Race event. "He adapted. He adapted his car; he adapted his lifestyle to be able to continue working and support the family and grow his business.
"When I got hurt, it was kind of like 'plug it in,'" he continued. "We had to go on. We had to do whatever was possible to continue on with life. If it has inspired other people, that's great. That's not a driving force, but you kind of see it after the fact that you can help people get back into life."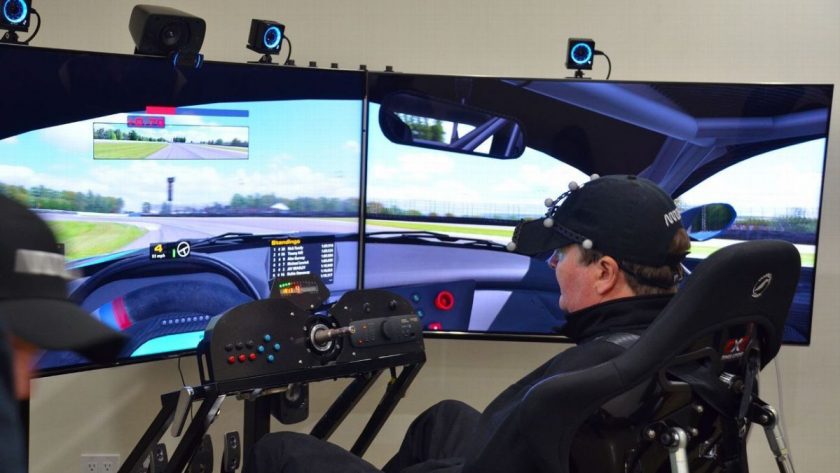 For Schmidt, the iRacing Pro Race invitation was more than just a chance to race in a competitive scene again, though this is awesome in itself. It was an opportunity to demonstrate a world of new possibilities for people like himself and others.
Schmidt has also been able to demonstrated the rapidly evolving driving system, developed alongside Arrow Electronics, in a specially modified Chevrolet Corvette. He first took the car for a spin on the Indianapolis Motor Speedway oval, where he reached speeds of over 100mph (see video below). He then advanced to the more complex environment of the Long Beach street course and the hilly terrain of Sonoma Raceway.
Control takes the form of a number of well-designed inputs. The driver wears a headpiece, with infrared tracking points, that combine with a set of infrared cameras to translate small head movements into steering and throttle controls. A pressure-sensor mouthpiece is also use to control the braking system of the car.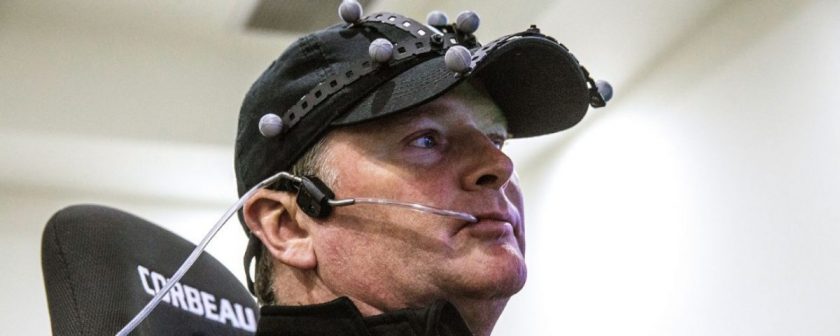 Schmidt has logged plenty of development miles in Arrow's Corvette development car, moonlighting from his day job as the owner of the Sam Schmidt Motorsports team, that competes in the Verizon IndyCar Series. But the December 16 iRacing competition was the first time he has actually participated in a race since before his accident almost 16 years ago.
His participation was made possible by CXC Simulations, which collaborated with Arrow to translate the real-world controls into a virtual environment where Schmidt could compete against 24 other drivers in GT3-class BMW Z4 race cars at the Watkins Glen International short course.
This is the fifth year the iRacing all-star race has taken place. Aston Martin sports car racer Richie Stanaway was the 2015 victor, leading all 20 laps from pole position to win by 4.8 seconds over NASCAR Xfinity Series driver Timmy Hill, the defending champion.
Whilst Schmidt didn't feature, after getting swept into a first corner accident, he put in an impressive recovery drive from the delay to advance from 23rd place to 16th and hopes to make a top 10 finish next time.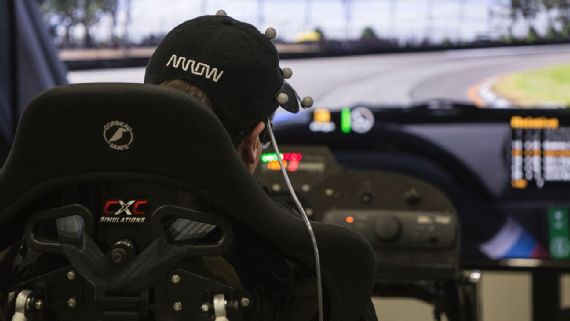 "I think I anticipated the anxiety of the excitement throughout the whole deal, but what I didn't anticipate was how quickly it came back and how it was really very natural," Schmidt said. "Even though it was a simulated experience, it was very real and just really cool. It was like setting a reset button to flash back 15 years—here we are on the grid, and we're going racing!
"It's a completely different perspective being a team owner versus driving and after all those things I've been hammering my drivers over for the last 10 or 15 years, I got put back into a driver's viewpoint," he added. "That was kind of interesting, and I can't wait to do it again because I learned so much that I can apply the next time and be better at it."
As much as Schmidt enjoyed the experience of again being an active participant in a race, he said the real point of the exercise was to promote the work that is going into making dreams of mobility come true for paraplegics and other disabled people.
He conceded that as recently as two years ago, he never considered the possibility that he would be able to drive a car around a racetrack or pilot a virtual vehicle in the same kind of simulator that four other pros used as they ran the Race of Champions from CXC's Los Angeles headquarters.
"I really didn't think driving was an option for 15 years since the accident," Schmidt acknowledged. "I just sort of wrote it off. I thought, 'Well, since we're not going to be able to do that, let's focus on the things we can do.'
"But they came up with the idea and the concept," he continued. "It seemed rather outlandish; it was a little crazy and sort of out there, but from the time it was brought up to the time we drove it was about five months.
"Like anything in technology, it's really evolved substantially in the 18 months we've been working on it. But that's what this race was all about—to show that normal everyday technology can really change people's lives."
Schmidt visits hundreds of disabled patients every year at VA and civilian hospitals and rehabilitation centres, and he believes that the competitive spirit he had as a race car driver motivated him to make the best of the situation he was placed in.
"I think it's sort of inbred in athletes and people who have been very, very active before they were disabled," Schmidt said. "They don't want to take no for an answer; they don't want to write it off and say, 'That's the end of that.' They do everything humanly possible to get back into life and be productive and try to change situations for themselves and others.
"I've always been of the nature that you can do whatever you put your mind to," he added. "But this is really cool to find a private corporation with the desire to get something done."