This post is brought to you by Leatherman. The content and opinions expressed below are that of ADAPT Network.
A travel-friendly wearable multi-tool—that's the Leatherman Tread in a nutshell. When I was first introduced to the device, I was fascinated by the concept and eager to test it out. Our hands-on review found that the Tread is surprisingly capable—especially when considering it's 'bracelet' form factor.
It's this unique design that got us thinking outside of the box. If you're willing to be creative, the Tread's 'bracelet' construction can be used for more than just it's tool-kit. So, after a few weeks carrying the Tread with me, we've put together a list of 15 creative uses. The list is by no means exhaustive but is meant to inspire you to use your Leatherman Tread in new ways.
https://www.youtube.com/watch?v=2hEDmxnXha4
#1. Skate Tool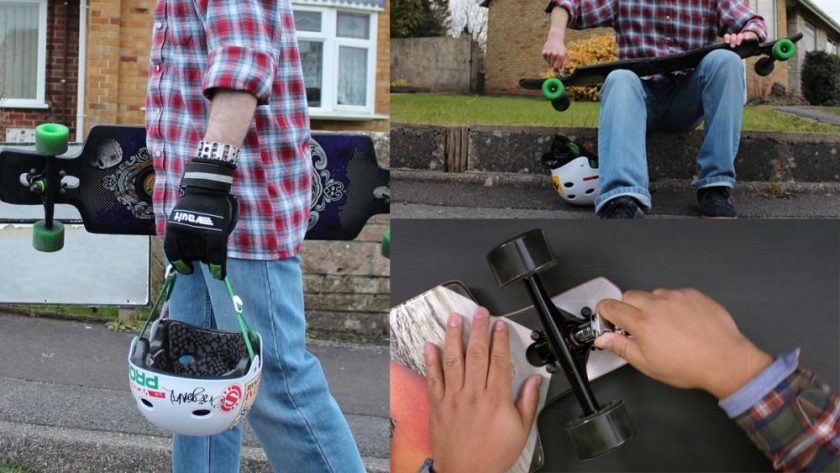 I always like to carry a Y-tool with me, when I go skating. It allows me to make adjustments to the truck kingpins, on the fly, so that I can switch between downhill and freestyle in the same session. The problem is that a Y-tool is quite bulky and if you fall on it, while it's in your pocket, then it's going to hurt.
Wearing the Leatherman Tread on my wrist was a great replacement. It comes equipt with the allen keys I need for the truck bolts, and the ¼" socket adapter can be used with a hex wrench socket-set piece for kingpin adjustments.
#2. Power-Kite Brake Strap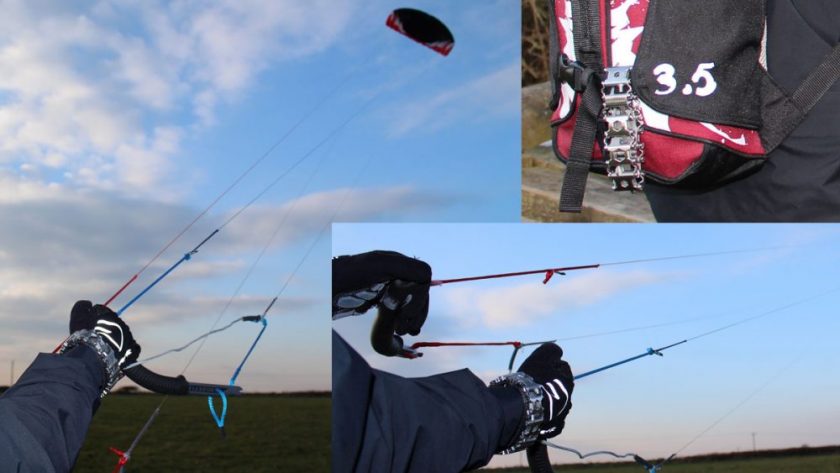 Flying a power (traction) kite without a brake strap can be a bit risky. If you lose your grip, in high winds, then the kite will go flying, and you could be dragged along with it. A brake strap or harness attachment means you always have a direct connection to the brake lines if something goes wrong.
If your kite doesn't come with a brake strap, then it's easy to fashion a 'DIY' solution by tieing a piece of paracord to the Tread. Since you're wearing the Tread on your wrist, it forms the perfect anchor point.
#3. Power-Kite Handle
If you need a quick fix for a broken power kite main-line handle, then the Leatherman Tread can do the job. Simply attach two pieces of paracord to the Tread and then tie those to the main and brake lines of your kite using two Larks Head knots.
Leatherman has employed an expensive injection moulded process to make each of the Tread's individual links from 17-4 stainless steel. The bracelet can, therefore, stand up to the high forces imparted by a power kite. Leatherman has also included their 25-year guarantee. Within that time, they'll repair or replace the Tread if it breaks.
#4. Surf Fin Key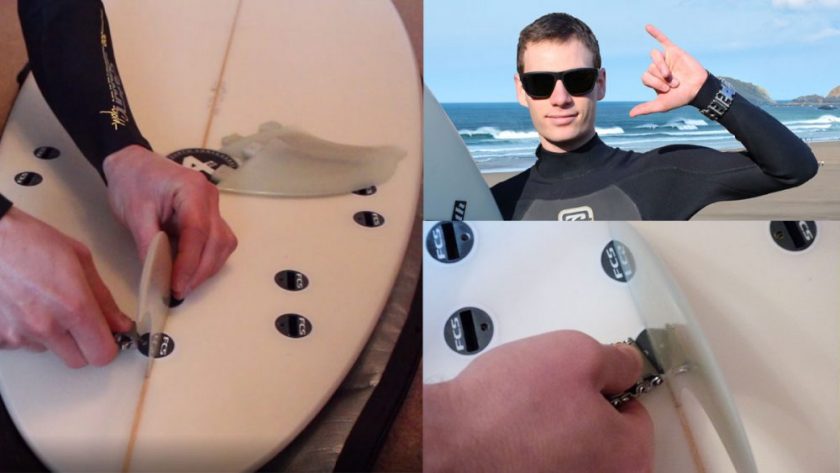 Since the Leatherman Tread is made from stainless steel, it won't rust—so the multi-tool can be used in the water, for sports such as surfing and diving. Surprisingly, I was even able to use the Tread to attach the fins to my surfboard. The width of the bracelet means that you can't screw the fin lock-screws in one continuous motion, but it does the job. I've actually had to ask a fellow surfer for a fin key when I forgot mine at the beach. Now, as long as I have my Tread with me, I know I will always have a backup.
You can even wear the Tread while surfing. If you're wetsuit or board shorts don't come with a key pocket, then you can also use the Tread as a secure attachment point. Unless you're one of the freshwater surfers of North America's Great Lakes, then just remember to rinse the Tread with clean, fresh water after a surf.
#5. Bodyboard Leash Strap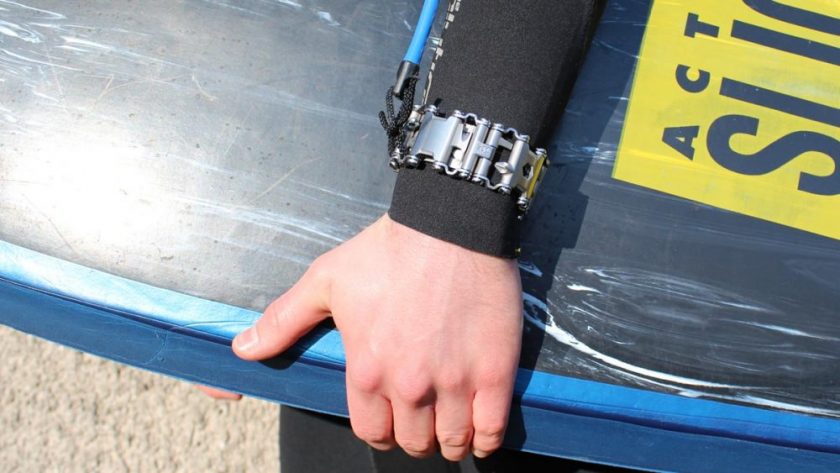 The Tread come to the rescue with another quick fix—this time for a forgotten or broken bodyboard leash. Again, if your bodyboarding in salt water, just remember to rinse the Tread with clean, fresh water, after your session.
#6. 'DIY' Climbing Chalk Bag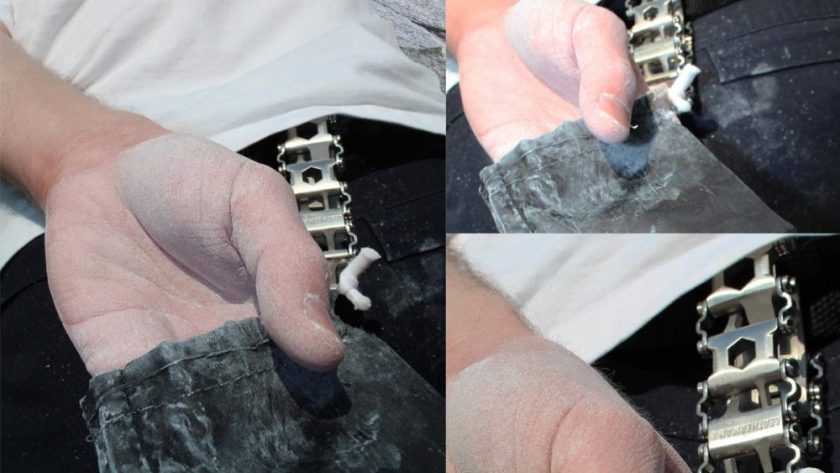 To create your own 'DIY' chalk bag, simply connect a small fabric bag to the Tread and attach this to your climbing harness. The Tread can also come in handy mid-climb if you need to make any adjustments to climbing bolts. For a bouldering chalk bag, when you're not wearing a harness, simply loop your belt through the Tread to attach it.
#7. Climbing Harness Attachment Loop
The Leatherman Tread can be looped through your climbing harness to create a great attachment point for bolts and other climbing equipment. It can also come in handy for mid-climb bolt adjustments.
#8. Bike Tool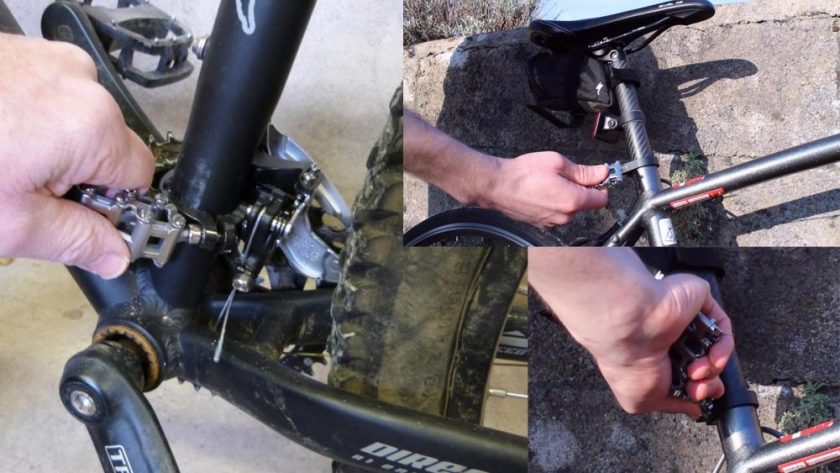 From hex (allen) drivers, flat-head and philips screwdrivers, to box wrenches, the Tread comes packed with a tool-kit perfect for roadside bike repairs and adjustments. Throw a couple of useful socket-set pieces, along with a pair of tyre levers and a chain tool, into your saddle bag, and you've got everything you need for a day on the saddle.
#9. Bike Saddle-Bag Extension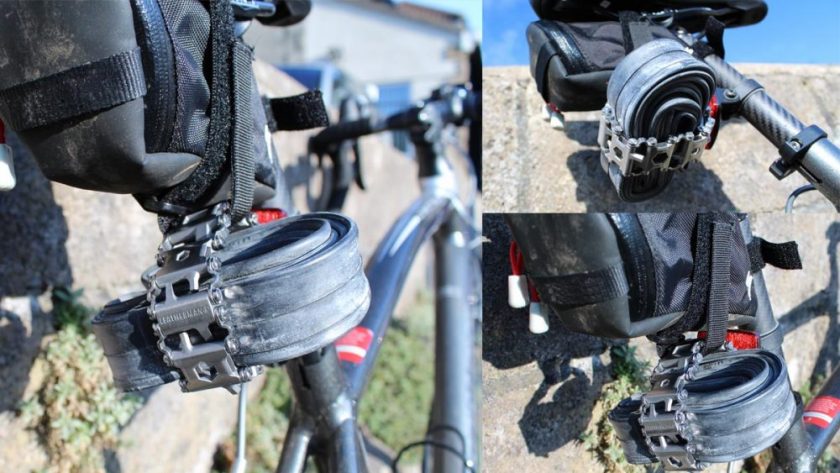 This is a great way to make extra use out of your Leatherman Tread when cycling. Instead of wearing the Tread on your wrist, attach it to the bottom of your saddle bag or saddle to create an extra inner-tube carrying loop. Standard 26"-29" inner-tubes will fit securely, and the Tread remains easily accessible for roadside adjustments and repairs. Watch the video (above) to see a demonstration.
#10. Bike Water Bottle Spacer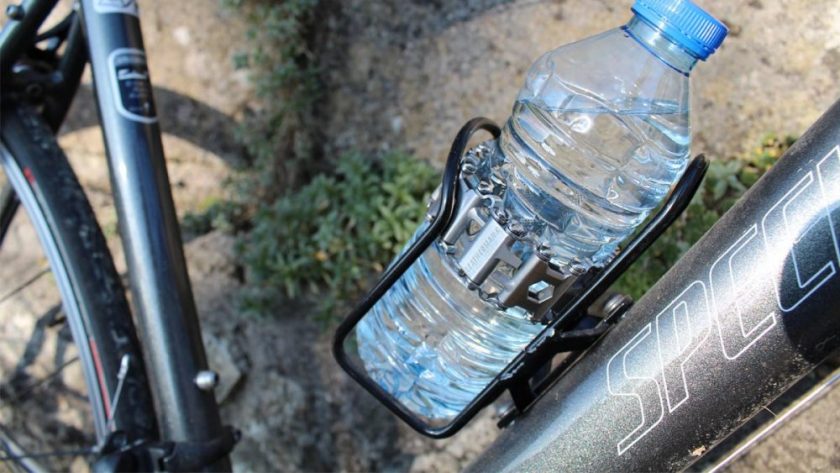 If you're using a cheap plastic water bottle that doesn't fit properly in your bike's bottle cage, then you've probably noticed your bottle rattling around, and maybe even falling out, mid-ride. To fix this, simply put the Tread over the bottle, to act as a spacer and ensure a snug fit in the bottle cage. As before, the Tread is easily accessible for roadside adjustments and repairs. Watch the video (above) to see a demonstration.
#11. Trekking Pole Loop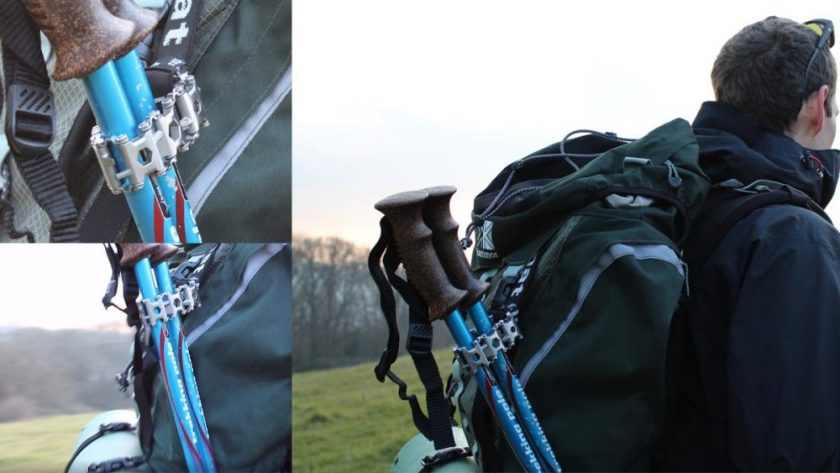 Trekking poles are perfect for looking after your knees during long descents. Personally, I like to strap my poles to my backpack when climbing. Most backpacks—even some hiking specific packs—don't come with a trekking pole loop, though. Here's where the Leatherman Tread comes in. Attach it to your backpack, in a position of your choice, and "voila," you can carry two trekking poles on your backpack easily.
#12. Letter, Box, and Package Opener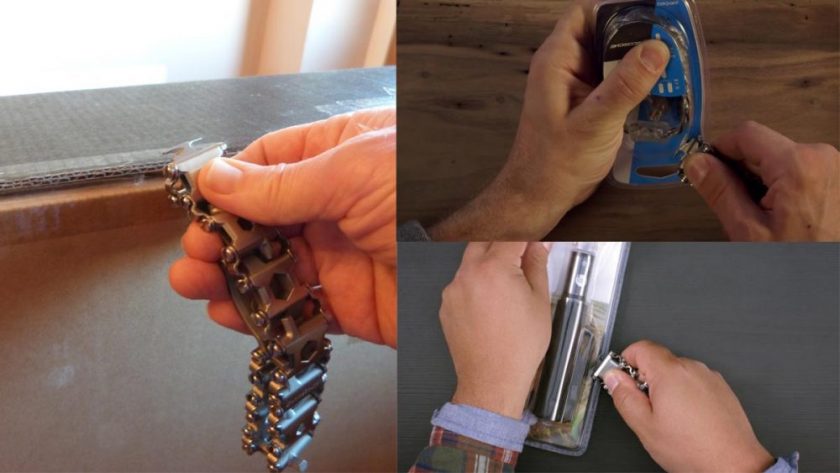 The cutting tool, capable of cutting through paracord, is one of my favourite tools built into the Tread. We get lots of letters and packages at ADAPT, and the Tread's cutting tool is perfect for opening envelopes and cutting through parcel tape and plastic packaging with ease.
#13. Radiator Key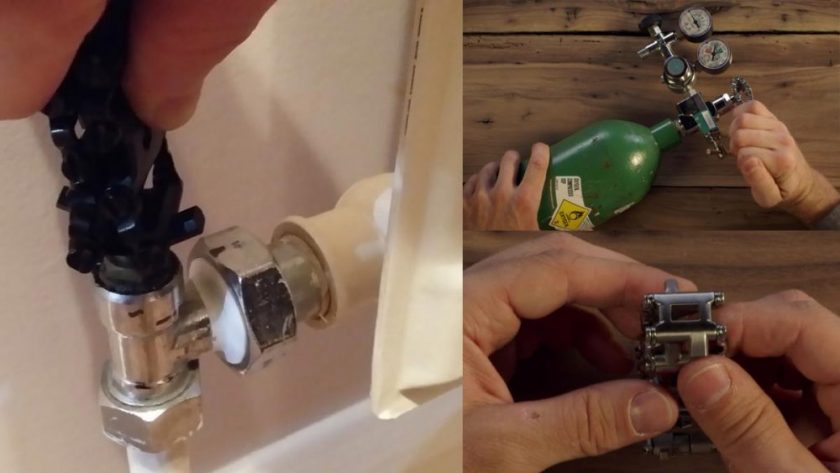 The oxygen tank wrench is well suited for radiator valve adjustments. While it isn't a perfect fit, it does the job well.
#14. Pry Tool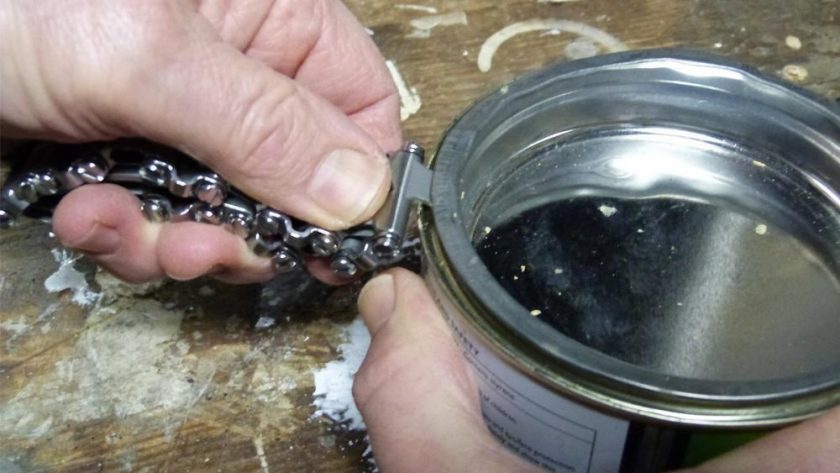 The largest flat-head screwdriver of the Leatherman Tread makes an excellent pry tool. From paint tins to wood-filler tubs, you've always got a reliable pry tool at hand.
#15. Reset Button Pick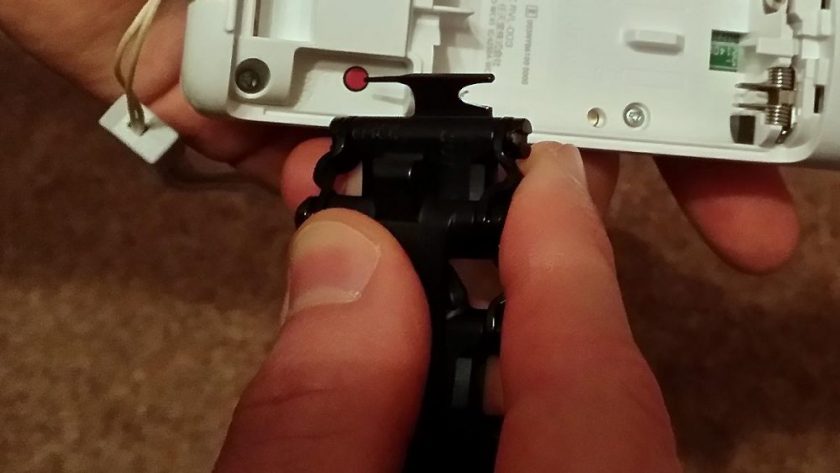 The sim card pick can be used for any reset button.
Versatility of the Leatherman Tread
After a few weeks carrying the Leatherman Tread with me, I'm still surprised by the versatility of this unique multi-tool. The Tread is one of those gadgets that becomes more useful, the more you use it. This list was by no means exhaustive, and I'm sure I'll be finding new uses for the Tread, in my day-to-day and on my adventures—'Anytime, Anywhere'!
If you missed it, click here to see our full hands-on review of the Leatherman Tread.