Running on varied and challenging terrain is a welcome break from the monotony of pounding pavement, or even worse—the belt of a treadmill. Trail running is also a very accessible sport—all you need is a good pair of trail running shoes and you're good to go. Trail running is, therefore, becoming increasingly popular and almost all well-known outdoor and athletic brands are now designing specific trail running shoes. These, as opposed to road running shoes, provide better stability, traction and protection on rugged terrain without the weight or bulk of hiking boots.
Here are our top trail runners for spring/summer 2018, from flexible and lightweight shoes for smooth trails to tough and stable designs for tackling more technical or mountainous terrain.
Best trail running shoes for easy trails
Merrell Trail Glove 4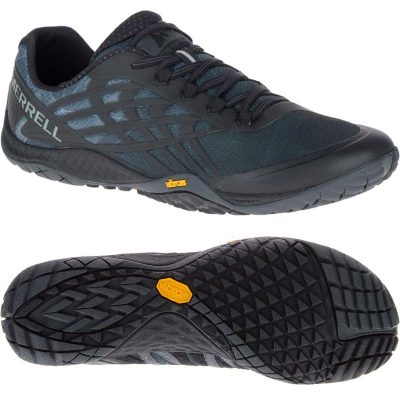 Best for: Easy trails
Weight: 230g/8oz (per shoe)
Cushioning: Minimum
Drop: 0mm
Pros: Light and low
Cons: Minimal protection and stability
The Trail Glove 4 is a minimal trail running shoe by Merrell. The minimalist shoe craze has been overshadowed in recent years, but the emphasis on cutting weight and connection to the trail means that there is still a demand for them in the market. What makes the Trail Glove 4 stand out is its particularly low profile, zero-drop shape and superior feel underfoot. It's the lightest shoe on our list at 230g/8oz but thanks to the close fit, rock guard and Vibram outsole, Merrell's minimalist offering is surprisingly robust.
That said, there are inherent compromises in the barefoot design. Firstly, the thin construction doesn't offer as much protection and rollover stability as the other trail running shoes on this list. Furthermore, if you're transitioning from a traditional running shoe it will take some time to get used to the zero-drop ride. But if the minimalist style works for you, then the Trail Glove 4 is a great choice for smooth trails over shorter distances.
Asics Gel-Venture 6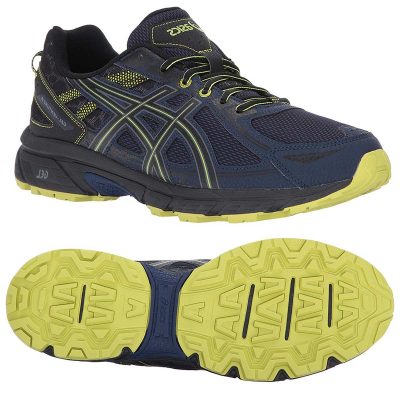 Category: Easy trails
Weight: 318g/11.2oz (per shoe)
Cushioning: Moderate
Drop: 10mm
Pros: Affordable road shoe that can hold its own on dirt and rock
Cons: Not intended for technical trails
Yes, the Asics Gel-Venture 6 is a road running shoe, but if you plan to stick mostly to smooth trails or want to mix in some road miles, then it makes a lot of sense to consider it. It's fairly substantial for a road shoe and offers great lateral stability and support. The tread is also impressive and will outgrip most other road shoes without the need for massive lugs.
Like the Nike Terra Kiger 4 (below), the Gel-Venture has a mesh upper resulting in the light and airy feel of a road runner. For light trail use, the Venture is a solid choice at a great price. However, if you're looking to tackle more technical terrain then you're better off picking a more specialised trail running shoe from this list.
The Asics Gel-Venture 6 has now been discontinued but you can still find it online at a bargain price.
Nike Air Zoom Terra Kiger 4
Category: Easy trails/all-around
Weight: 275g/9.7oz (per shoe)
Cushioning: Moderate
Drop: 4mm
Pros: Great fit and lightweight
Cons: Thin upper material and limited protection underfoot
If you prefer the aesthetics of a road running shoe, then Nike's Terra Kiger 4 is definitely worth considering. Don't let the urban style fool you though—these runners are trail ready and deliver impressive performance across a variety of terrain. The Kiger 4 has ample cushioning underfoot and a tread pattern that climbs as well as it brakes on the downhill.
Nike's highly breathable Flymesh material is utilised extensively throughout the shoe and adapts well to a variety of foot sizes and shapes without feeling loose or compromised. With a mid-range drop and weight, the Terra Kiger is a good choice for trail running on a variety of trails and the shoe's excellent fit optimises comfort over ultra distances.
Best Trail running shoes for all-around trail use
New Balance Leadville v3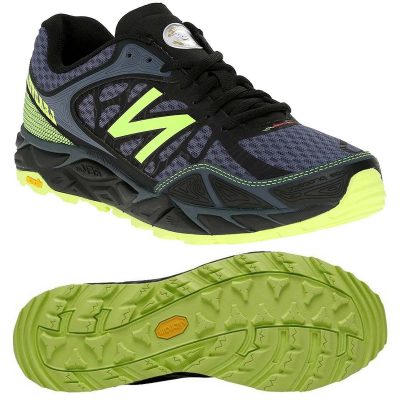 Best for: All-around
Weight: 248g/8.7oz (per shoe)
Cushioning: Moderate
Drop: 8mm
Pros: Comfortable over long distances
Cons: Minimal feedback from the trail
The Leadville v3 takes its name from the legendary 100-mile mountain race. As such, New Balance has packed this trail runner with substantial cushioning to protect your feet over the dicey terrain that the Leadville course is known for. A wide toe box and durable construction add to the shoe's comfort and help you feel stable and planted on the trail.
However, the shallow lugs on the Leadville's tread lack the same level of bite as some of the competition. Additionally, runners that like a lot of feedback from the trail should look for a closer fitting trail running shoe. Overall the Leadville has decent all-around performance, but it doesn't stand out in any particular category.
North Face Ultra Endurance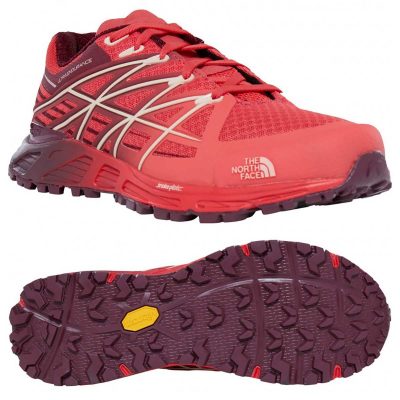 Category: All-around/rugged trails
Weight: 312g/11oz (per shoe)
Cushioning: Moderate
Drop: 8mm
Pros: Excellent all around traction from Vibram outsole
Cons: Heavy and clunky feel inhibits faster-paced trail running
The North Face Ultra Endurance is a balanced, all-trail running shoe designed to tackle tough conditions over the longest ultras. The sticky Vibram Megagrip outsole offers excellent all-around traction, while the Ultra Protect cradle stabilises the heel and foot well. However, some people have found issues with the fit and the weight of the shoe may slightly increase fatigue when clocking a lot of miles in a single session. Additionally, while the construction is certainly sturdy, the over-built upper limits drainage when your feet get wet.
Brooks Cascadia 12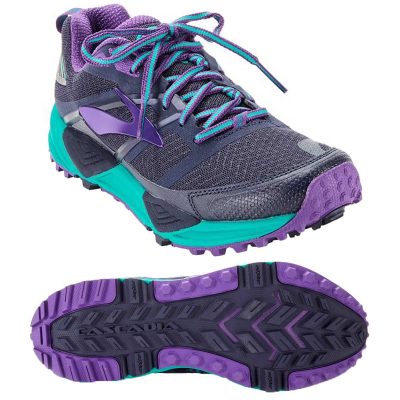 Category: All-around/rugged trails
Weight: 343g/12.1 oz (per shoe)
Cushioning: Moderate
Drop: 10mm
Pros: Excellent protection and stability
Cons: Heavy and slow
As a testament to its longevity, last year marked the launch of the 12th generation Brooks Cascadia. If you're familiar with trail running, thru-hiking, or fastpacking gear, it's likely you've come across this shoe, which is popular in all three communities for its stability and comfort. For this lightly updated model, Brooks tweaked the midsole and outsole, but the fit and feel are largely unchanged.
However, the Cascadia 12 weighs 8.5g/0.3oz more than the 11, and, while this isn't a substantial amount, it does push the Cascadia to a rather heavy 12.1 ounces per shoe. If you mix in a decent amount of hiking or like the bulletproof feel, the Cascadia still has its place, but we think there are better options on this list for trail running.
Adidas Outdoor Terrex Agravic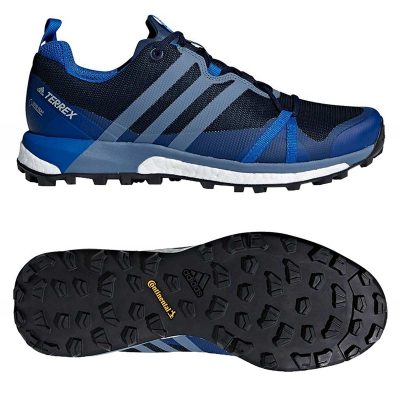 Category: All-around/rugged trails
Weight: 340g/12oz (per shoe)
Cushioning: Moderate
Drop: 6mm
Pros: Durable, great traction, and stable
Cons: Poor ventilation and heavy
Like the Nike Terra Kiger 4 (above), Adidas has added some urban flair to the Outdoor Terrex Agravic (I think they're one of the best looking stompers on this list). The aggressive Continental outsoles share a lug pattern with a mountain bike tire, providing high levels of grip on varied terrain (from harder surfaces like rock to looser terrain like mud and snow). A cushioned ride helps the Terrex Agravic better isolate shocks from sharp rocks and missteps, while a low stacked height and semi-stiff platform contribute to a stable feel over technical terrain. However, what's most impressive about the Outdoor Terrex Agravic is its all-around build and versatility. These shoes are comfortable on both steep and flat trails, and people have even used them as a fastpacking or light-weight hiking shoe.
The downsides to the Terrex Agravic are a slightly heavy feel that makes them less fun on long runs and poor ventilation in hot conditions. Otherwise, the Agravic gives the La Sportiva Bushido (below) a real run for its money as our favourite shoe for all-around/rough trails.
Best trail running shoes for rough and rugged trails
La Sportiva Bushido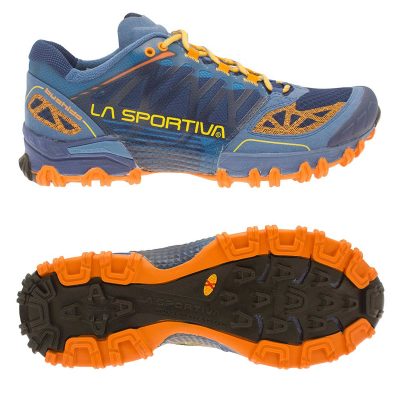 Category: All-around/Rugged trails
Weight: 298g/10.5 oz
Cushioning: Light/moderate
Drop: 6mm
Pros: A superb technical shoe with awesome traction
Cons: Overkill and stiff for easy trails
La Sportiva is a climbing company at its core, so it should come as little surprise that their Bushido trail runner is most at home in the mountains. With a semi-stiff platform and beefy lugs on the tread, the Bushido is our top choice for technical trails. By keeping the weight of the shoe down, La Sportiva has also been able to retain excellent trail feel, resulting in a confidence-inspiring build for moving fast on uneven terrain. On the downside, the lack of cushioning means that the Bushido doesn't dampen impacts as well as the Adidas Outdoor Terrex Agravic (above).
Another thing to keep in mind with such a serious mountain runner is that the shoe is stiffer than a standard trail running shoe. The Bushido is intended for long runs where you'll have to climb and descend for extended stretches, and on a smooth trail this extra support is overkill and less comfortable than an all-around shoe. Overall, if you tackle the steeps and want a reliable trail partner, then you won't go far wrong with the La Sportiva Bushido.
Salomon Speedcross 4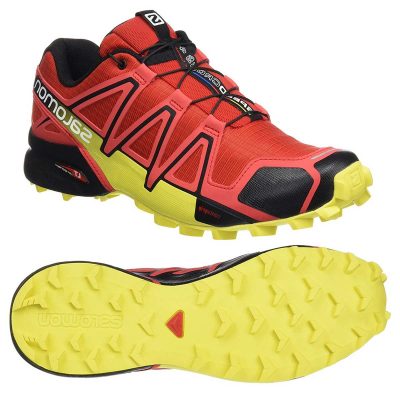 Category: All-around/rugged trails
Weight: 309g/10.9oz (per shoe)
Cushioning: Moderate
Drop: 10mm
Pros: Soft cushioning and fantastic traction
Cons: Less stable than others trail running shoes on this, like the Bushido (above)
Salomon has been in the trail running game for a long time. In fact, when you think of trail running you probably think of Solomon. The Speedcross 4 is one of their most popular trail runners and for good reason—it has all their signature features: a single pull lace system, supportive fit and a sturdy but still reasonably light chassis. What sets the Speedcross apart are the 6mm arrow-shaped lugs on the tread (most trail running shoes are about 4mm), which provides incredible levels of traction on soft ground like dirt, mud and even snow. Along with a thick midsole, the Speedcross is one of the most capable and comfortable mountain-ready designs.
It's a close call between the Speedcross 4 and the La Sportiva Bushido above. In the end, it comes down to personal preference, however, the Bushido has a more stable feel over rough stretches of trail and over rocks. That being said, if you're running in a lot of mud or dirt, like you would find in a Tough Mudder event, then you can't beat the levels of grip that the Speedcross provides. Salomon also makes Gore-Tex and ClimaShield versions of the Speedcross 4 with full or partial waterproofing, respectively.
Inov-8 X-Talon 212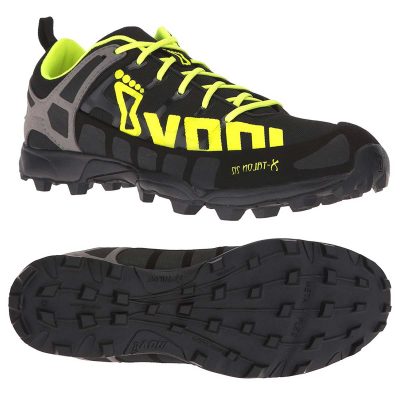 Category: Rugged trails
Weight: 213g/7.5oz (per shoe)
Cushioning: Light
Drop: 6mm
Pros: Super lightweight with incredible traction on loose and soft terrain
Cons: Not protective or particularly comfortable
With its origins in British fell running, Inov-8 is no stranger to steep terrain, cross-country travel, and wet conditions. The X-Talon 212 has been designed specifically with this type of terrain in mind. This superlight shoe is equipped with 8mm lugs that bite into soft and slippery ground like butter, making it a favourite of obstacle course racers and fell runners alike. With a DWR coating and thin, water-wicking upper, the X-Talon also keeps your feet dry through mud and streams.
Year after year, the Inov-8 X-Talon and the Salomon Speedcross top the list for the adventure racer's shoe of choice. While similar in most respects, the X-Talon is almost 7 ounces lighter per pair and sports even longer (8mm vs. 6mm) lugs. For those who appreciate feeling the ground underfoot, the X-Talon offers a more responsive ride, but the Speedcross certainly is more protective and comfortable. We prefer Salomon's version as the better all-rounder, which is more bearable over long distances and slightly less overkill on packed dirt.
Our top picks
Best trail running shoe for easy trails: Nike Air Zoom Terra Kiger 4
Best trail running shoe for all-around trails: Adidas Outdoor Terrex Agravic or La Sportiva Bushido
Best trail running shoe for rough and rugged trails: Salomon Speedcross 4