Terra Hiker Ultra-Light Sleeping Bag – £27.99
Great all-rounder
Weighing 862g, it's not the lightest option in our list. But this Terra Hiker sleeping bag packs down to a tiny 22cm in height—smaller than a standard flask. With a comfort temperature rating of 8 °C – 15 °C, it's an ideal choice for spring/summer excursions with the inside filled with silk-like cotton that is warm and comfortable. It's also received some of the best reviews amongst its competitors.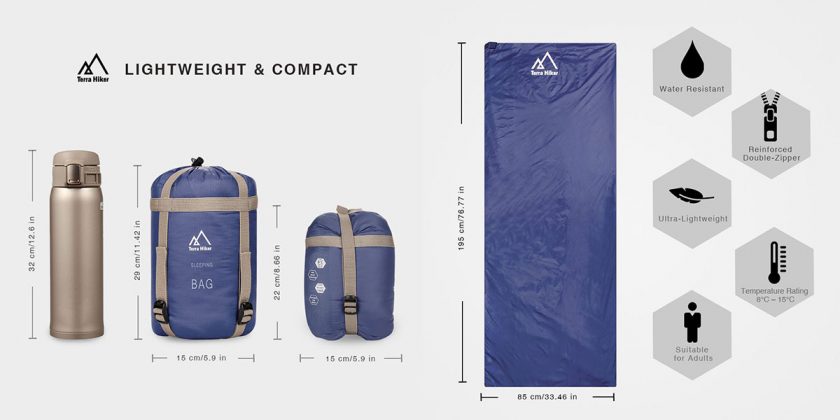 Lixada Envelope Outdoor Sleeping Bag – £16.99
Cheapest
Lixada's offering comes in at 680g and folds down to an equally impressive size—smaller than a water bottle. Comfortably fitting people up to 6.2ft, this sleeping bag is again ideal for spring/summer months with a comfort temperature rating of 9 °C – 15 °C. A useful feature is the bag's double zip which you can unzip completely—turning the bag into a blanket.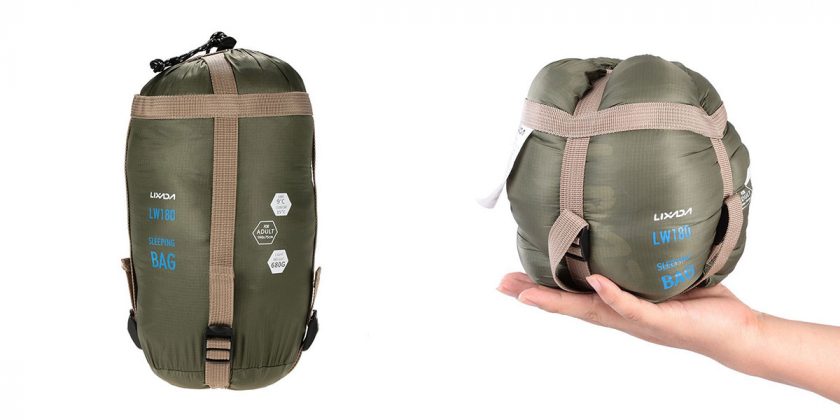 Besteam Ultra-light Sleeping Bag – £19.99
Ideal for summer
This sleeping bag, which packs down to a tiny 16cm, rolls out to 190cm making this an ideal option for anyone 6ft and smaller. It also weighs just less than 700g and can be unfolded to use as a blanket. However, this one is a real summer sleeping bag and can only really be comfortably used in temperatures around 15 °C. Likewise the sleeping bag material does feel quite slippery so be careful when stepping over it.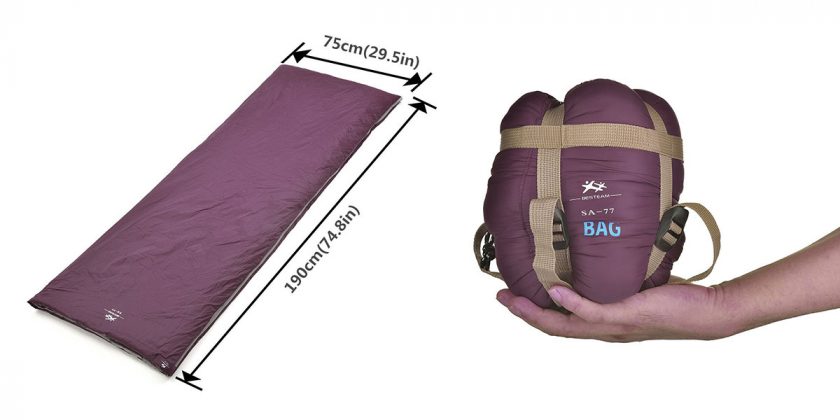 Snugpak Travelpak 2 Sleeping Bag – £44.95
Best for early spring/autumn
This sleeping bag is incredibly lightweight in comparison to other sleeping bags in its criteria. It's an ideal choice for an autumn excursion with a comfort temperature rating of between 2 °C and -3 °C. While it's slightly heavier than our other best bag picks, weighing in at 1.1 kg, it's longer in length measuring just over 7ft long. It also comes with a built-in mosquito net which can be rolled away when it's not required.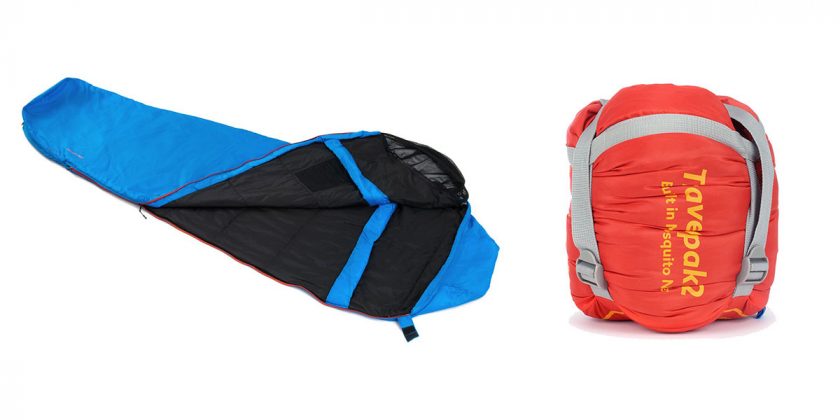 5. Highlander Trekker Superlite Sleeping Bag – £26.99
Lightest
Weighing just 480g and packing down to 18 x 12cm in size, Highlander's offering is the lightest sleeping bag in our lineup. With a comfort rating of 14°C, it's designed for warmer, tropical climates and is an ideal choice for anyone travelling abroad. Highlander do claim its bag can accommodate extreme temperatures of -2 °C, so it may be useable in autumn/winter with a bivy bag. A useful addition is the hidden security pocket inside the bag, perfect for storing valuable items.