Every season, ski jackets are becoming more high-tech, having long benefited from trickle-down technology from their backcountry brothers. The features developed for serious backcountry shells work just as well when you're huddled on a wet chairlift, hiking in the mountains, or even on a cold and wet urban visit.
This year sees a newcomer enter the ski jacket market and—even though they are competing with the likes of Arc'terex and The North Face—they've hit the ground running (or perhaps I should I say skiing).
Cortèz—a burgeoning direct-to-consumer brand based out of Amsterdam, Netherlands—has recently launched their flagship ski jacket on Kickstarter.

After 12 months in development, the Cortèz jacket comes packed with high-tech features—with a feature list longer than some of the market-leading top-spec models. Our favourite stand-out features are the: helmet compatible hood, removable snow skirt, lift-pass pocket, anti-slip shoulders and RECCO avalanche rescue reflectors. A picture is worth a thousand words, so check out the caparison diagram below for a full list of features packed into the Cortèz jacket.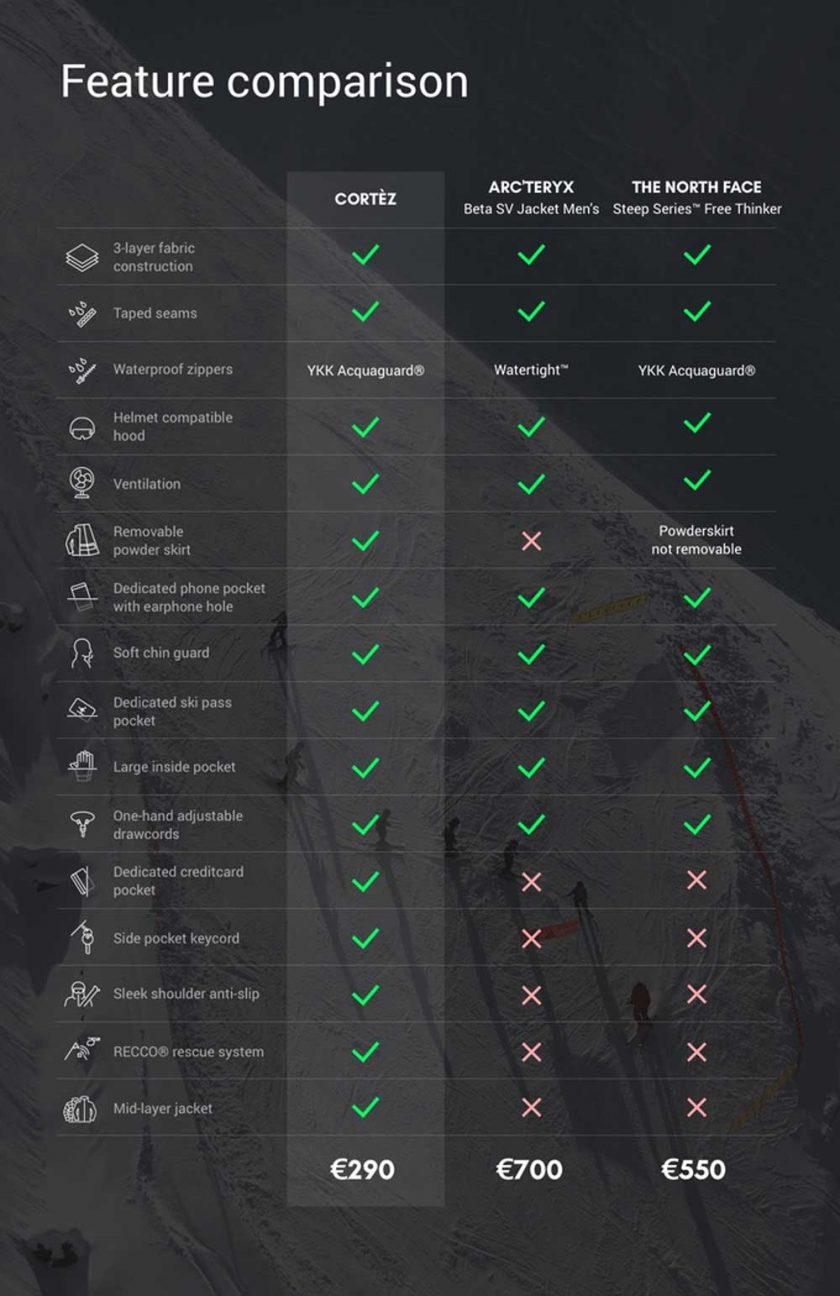 The Jacket is constructed from a specifically developed waterproof membrane, called Dermizax. This forms part of the 3-layer fabric that Cortez says "provides maximum protection against all kinds of demanding activities and weather conditions."
Comparable to the Gore-tex waterproof technology, that we all know and love, the fabric is "durable and lightweight [and] can be washed like any other textiles." According to Cortèz, Dermizax even outperforms Gore-tex (performance and pack lite membranes) in terms of breathability—that's impressive.

The jacket comes in men's and women's designs and in three colourways (we're partial to the blue given that it matches ADAPT's brand colour.) The Cortèz ski jacket has been funded through a hugely successful crowdfunding campaign—the team has smashed their campaign target by over 400%, with more than 20 days to go!
By utilising a disruptive direct-to-consumer model, and cutting out the middlemen, Cortèz is offering the jacket for a reduced price, compared to equivalent jackets on the market. Additionally, they are throwing in a free Cortèz mid-layer jacket for its Kickstarter backers. Cortèz says that they "care about the environment and our animal friends." That's why all Cortèz mid-layer jackets come with the 3M Thinsulate Insulation—a man-made high-performance alternative to natural down—we can definitely get on board with that.
So if you're in the market for a high-quality versatile ski jacket, the Cortèz ski jacket is definitely worth a look. The Kickstarter campaign finishes on April 8—until then you can grab a bargain and get the Cortèz ski jacket + Cortèz mid-layer for €315 (£275 UK/$340 US).
We'll be bringing you a hands-on review of the Cortèz ski jacket when it's released in November, so stay posted for that.