British start-up Headkayse has developed the world's first flexible, foldable helmet that passes safety standards after multiple impacts.
Headkayse
Using quality British manufacture, Headkayse One is understood to be the only cycle helmet made in the UK.
The helmet is made from new material Enkayse, making it both flexible and incredibly tough. Likewise, the durability of the helmet is unparalleled and easily withstands the knocks of everyday use that damage conventional Expanded Polystyrene (EPS) foam helmets.
Enkayse was the result of three years of intensive research and development by the team who were initially inspired to create a flexible helmet for hire bike schemes and when on the move.
Of the helmet co-founder, Tony Walker, said:
The ethos of Headkayse is quite simple: 'Do it the right way!' That includes sourcing top quality materials and production close to home.
Technical Director, George Fox, added:
Headkayse One is incredibly tough. Even after driving over it with my car, it still went on to pass the safety tests. Of course most riders won't be doing that, but Headkayse provides riders with peace of mind, knowing they can rely on it for protection after the knocks of everyday use that damage ordinary helmets.

Headkayse in action
In answer to the original brief, the innovative flexible construction means you can simply fold the Headkayse flat like a book, to less than 10cm thick. This makes Headkayse the simplest compact folding helmet, and it's very easy to slip into a bag when travelling.
Riders were at the forefront of the design effort, and the helmet includes a host of user-friendly features. Due to its flexibility, the helmet can sit much closer to your head. It's also easy to adjust and is comfortable, given it doesn't include padding.
London Bike Show
We met up with the team when we saw their stand at the London Bike Show earlier in February. Ben even tried one of their helmets on for size. He said:
The re-usability of the helmet means you can have confidence that the helmet will protect you even if it's been dropped before. This would be perfect for adventure activity centres where users may unintentionally abuse the hired gear. It's a great innovation and about time it's come to the industry .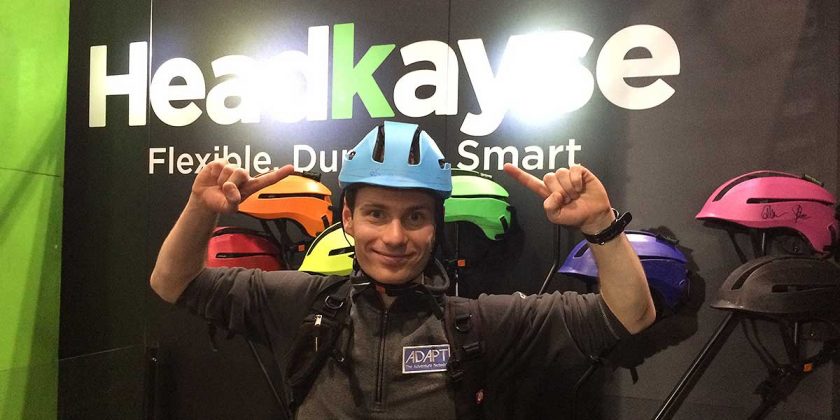 After being financed by a successful crowdfunding campaign, the Headkayse One will go into production for availability mid 2017.