Camping doesn't just have to be a summer activity. With the right kit, you can beat the chill of autumn and winter and extend your camping season to all year round. Here are our top tips and pieces of gear to help keep you warm at night.
Tent heater
Tent heaters are a popular choice when to comes to keeping your tent warm in colder months. However, there are a few important points to consider before buying one:
Tents are designed to keep the rain off and wind out, but they don't insulate well. As such when using a heater you can expect an initial boost in temperature, but this heat will not be retained throughout the night if you switch the heater off.
We would not recommend a gas heater. Using a gas heater increases the risk of fire and carbon monoxide poisoning.
Electric heaters, radiators and electric fan heaters are all safer options—but all require access to a power supply. Of these options, I would personally recommend an electric fan heater. They are lightweight and very easy to transport, effective for their size and can help reduce the build-up of condensation on the inside of the tent. Ideal on a chilly winter morning.
The downside is they can be noisy—especially if the thermostat keeps going on and off. While you can buy fan heaters which automatically cut out if it gets too hot, I wouldn't recommend keeping the heater on overnight—for the risk of fire. Instead, use one for taking the chill off before bed and in the morning.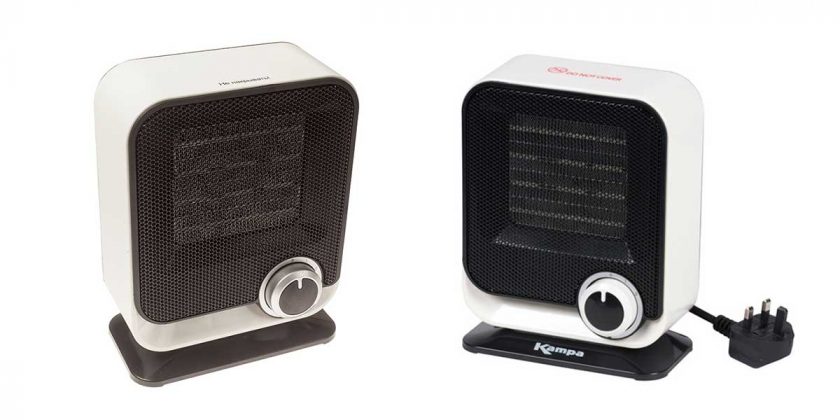 Kampa Diddy Portable Heater – Buy Now
Things to remember:
Check with your campsite what power supply they have to make sure the heater will work,
Run the heater on short bursts of 10-15 minutes, just to take the chill off,
Make sure to position the heater off the ground and away from the side of the tent.
Insulating carpet
While adding carpet to your tent can seem a luxury, it may be worth the investment. Without one, you're faced with walking barefoot across the cold groundsheet or bringing in your dirty wet boots. They not only offer insulation but also protect the groundsheet from wear and tear. Outdoor brand Outwell offers a range of heat insulating carpets to suit different weather conditions and tent sizes. When buying a carpet to fit your tent, opt for a wider size over one too narrow. You can always fold it in.
If that's not enough, Outwell has also designed a range of electrically heated carpets. Quilted on top and with anti-slip dots on the bottom, this is the ultimate luxury for campers. Of course, the major downside is you'd need to be camping with an electric hook-up to use the carpet.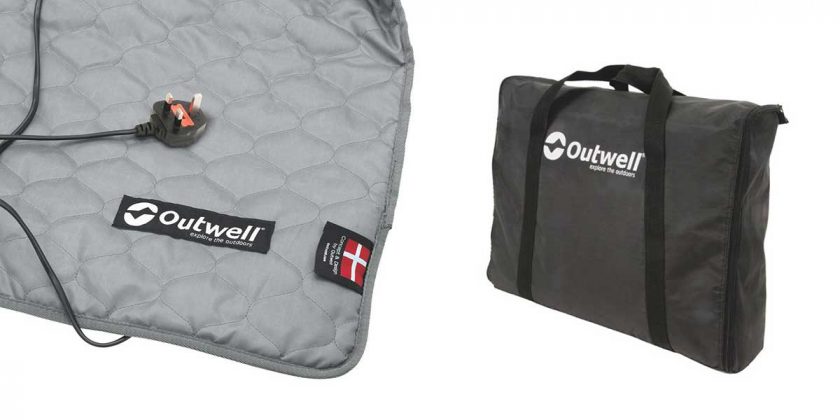 Outwell Large Heated Carpet – Buy Now
An alternative option, which is much cheaper, is to line your tent floor with cardboard. While not as effective, it will have an insulating effect.
Invest in good quality gear
Regardless of whether you have access to an electrical supply or not, the best way to stay warm in a tent is by choosing the right gear.
Camping Kit List
Use a sleeping bag with a 3/4 season rating. You'll want one with a comfort rating of at least zero degrees.
Add a thermolite sleeping bag liner to keep warmer in your sleeping bag.
Sleep on a sleeping mat. Sleeping mats offer more insulation than an air mattress and are easier to carry. Place a sleeping mat on top of a mattress if you want extra comfort.
Tape a mylar solar thermal blanket across the top of the inside of your tent using duct tape. It will reflect much of the heat inside the tent back down at you.
Put a tarp over the tent during winter camping. It helps hold in heat and keep rain out.
Wear dry thermal socks to bed. Put on a thermal hat and scarf if necessary.
Pack a hot water bottle, and of course a stove and kettle.
Thermals are essential. Opt for a set of long-johns or leggings and a long sleeve thermal top in bed.
Pack extra thermal/wool blankets to place over your sleeping bag.
Use hand warmers. The Hakkin Peacock Warmer is one of the best rated liquid fuel hand warmers on the market.
When wild camping, or camping without electrics, candle lanterns give off a surprising amount of heat. The UCO Candlelier Lantern holds three nine-hour UCO Candles. These not only provide a bright and long-lasting ambient light but for its size, the lantern can also generate a remarkable amount of heat in an enclosed area such as a tent, snow cave or small room. The heat shield can even be used to heat small amounts of water, melt snow or keep food warm.
It's important to remember that being too warm can actually make you colder, as you start to sweat. Don't bundle up too much and if you start to feel too warm remove some layers. Don't sleep with your head inside the sleeping bag as your breath will create condensation which will have the same cooling effect.
Happy camping!
Optional Gear List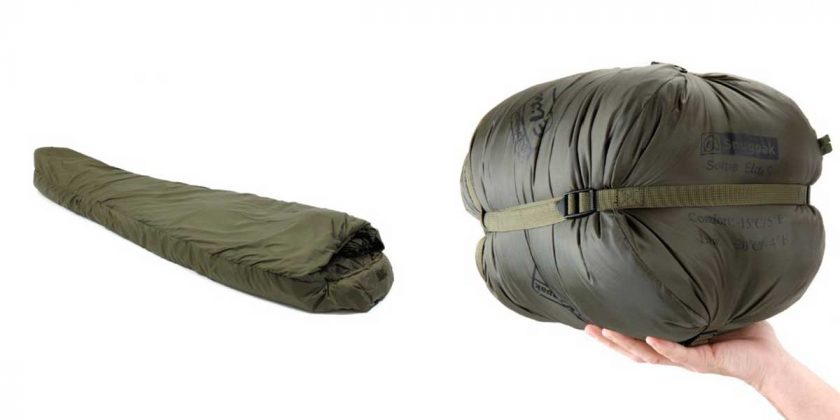 Snugpak Softie Elite 5 – £95 / $127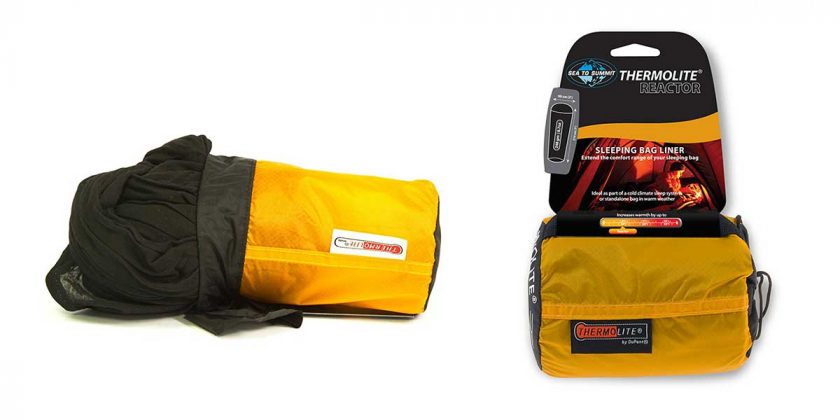 Sea To Summit Reactor Thermolite Sleeping Bag Liner – £38.36 / $57.95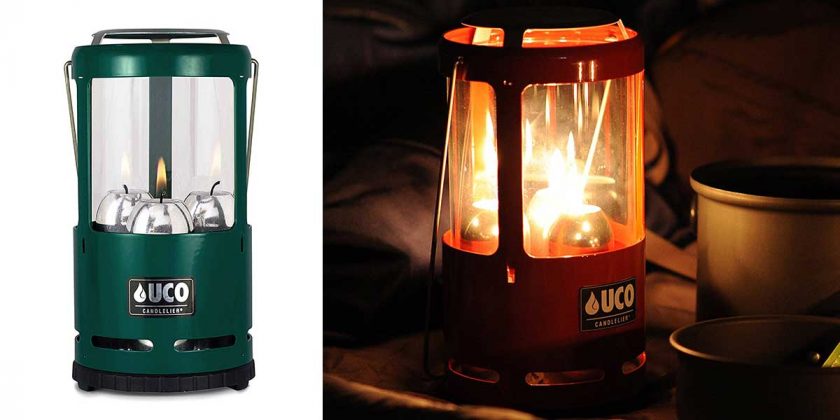 UCO Candlelier Lantern – £35.66 / $29.99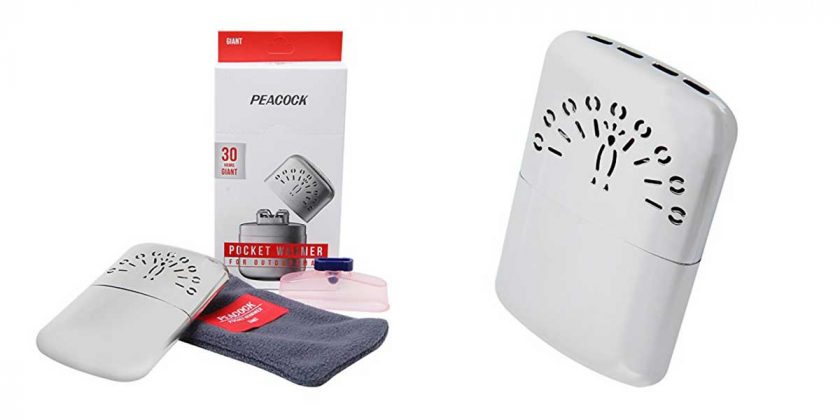 Hakkin Peacock Giant Handwarmer – £30 / $19.50