Cycling safety startup Park & Diamond made waves throughout the industry last year when their innovative baseball cap bike helmet took the top spot in the Red Bull Launchpad program. Now, after much anticipation, the Brooklyn based company has started taking pre-orders for the bike helmet on Indiegogo. Those looking for the best deal will want to grab the early bird price of £60/$79, at 50% off the full retail price.
The Park & Diamond helmet looks and feels just like a baseball cap and form-fits to your head for greater comfort and safety. Like a baseball cap, it can also collapse down to the size of a large bike water bottle, making it easy to store in a backpack, messenger bag or large handbag.
A bike helmet that is comfortable, stylish, portable and safe
Park & Diamond's co-founders, David Hall and Jordan Klein, were driven to create the revolutionary new bike helmet following a tragic event. In 2016, Hall's sister was the victim of a hit-and-run bike accident while she was on her way to campus. She wasn't wearing any head protection and spent four months in a coma. Thankfully, she made a full recovery but it inspired the pair to create a baseball cap bike helmet that was both functional and stylish so that more people would wear one.
"My sister was the victim of a hit-and-run accident while cycling through the intersection of Park & Diamond near Temple University. She wasn't wearing her helmet," says Hall. "Rachel, who is healthy now, spent four months in a coma, and we named our company after that intersection."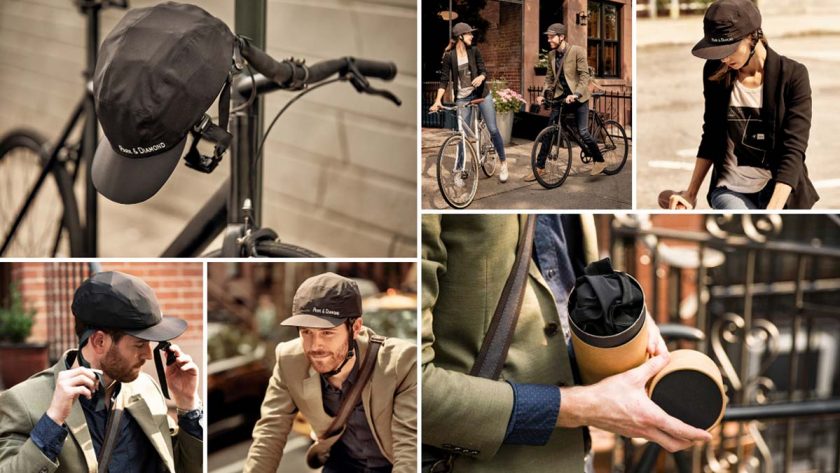 Studies show that 97% of cyclists who died in an accident were not wearing a helmet. However, despite the growing awareness around cycling safety, many cyclists are still choosing not to wear a helmet while riding. Following a research phase, the Park & Diamond team found that there are three main reasons for this: traditional bike helmets are uncomfortable, unattractive and inconvenient to carry. The Park & Diamond helmet is designed to solve all three of these issues while also providing improved protection.
"Now my co-founder Jordan and I have used our engineering backgrounds to design a bike helmet that everyone will want to wear" explains Hall". The Park & Diamond helmet provides the highest level of protection and comfort—plus, it's portable enough to be carried in your backpack or handbag."
A bike helmet that looks like a baseball cap
The Park & Diamond helmet features an outer skin that looks and feels just like a baseball cap, making it a fashionable choice for most cyclists. The hope is that this will encourage more people, particularly those that ride their bike for commuting or sightseeing, to wear head protection and improve their safety. Initially, the helmet is only available in black, but there are plans to release multiple colours soon. Additionally, the outer and inner skins can be removed, hand-washed and swapped out for a different skin to allow cyclists to personalise their helmet.
Between the inner and outer skins is Park & Diamond's proprietary shell, which collapses to the size of a large water bottle. Unlike other collapsible helmets, Park & Diamond's shell features a unique geometric design that provides greater energy absorption and dissipation while allowing it to collapse down with no wasted space.
Unlike traditional rigid foam helmets that bounce and crack on impact, Park & Diamond's helmet shell does not bounce when it hits the surface. This is because it is designed to immediately absorb and dissipate energy. With Park & Diamond's baseball cap helmet, energy from an impact is dissipated and directed away from the rider's head. This means that the helmet surpasses all current U.S. CPSC and EU EN-1078 certification standards.
Technical specifications
Size: Available in three sizes, offering a secure, personalised fit for each user (Adult Small, Adult Medium and Adult Large)
Folded Size: When folded, the helmet will easily fit into backpacks and large handbags.
Material: Proprietary composite material
Weight: 227 g/8 oz.
Colours: Available now in black, with additional colours to rollout at a later date.
Protection & Safety: Helmet offers UV protection and meets U.S. CPSC and EU EN-1078 safety standards.
Availability
The Park & Diamond baseball cap bike helmet is available for pre-order on Indiegogo and will begin shipping in early 2019. Pre-order pricing starts at $79. Stay posted for a hands-on review following shipping.
Related: If you're looking for a traditional bike helmet that's comfortable and lightweight, check out our review of the Kask Mojito road cycling helmet.