If you don't have a bike shed or garage, storing your bike can be tricky. If you live in an urban environment, perhaps in an apartment building, one option is to bring your bike indoors. While this ensures the safety of your two-wheeled steed, it also means bringing mud, dirt and oil into your home—which can be hard to clean up.
The VeloSock aims to be a solution to this. It's essentially a sock for bicycles—designed to wrap around your bike and keep dirt away from your interior storage space. While surfboard socks have been around for a long time, this is the first time I've ever seen one for bikes.
Design and construction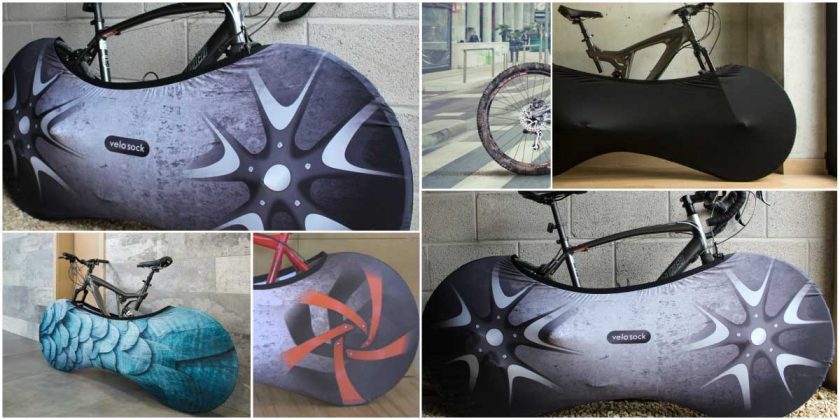 The VeloSock is constructed from one piece of material—a super stretchy blend of 90% polyester and 10% spandex. This means that the VeloSock will stretch wide enough to fit around your bike wheels, but will wrap snug once in place.
There are a wide range of designs to choose from, from flamboyant peacock feathers to plain black. So there's a style to suit everyone's taste. If I was storing my bike indoors, I would personally go for one of the more colourful options—it makes a great talking point and adds flare to your interior design.
Uses for the VeloSock
We caught up with the founding team, based out of Latvia, at the London Bike Show. They sent us one of their 'Silverbird' designs to check out and suggest three uses for the sock:
After daily rides for storage in the home and office
Carrying a bike on public transport
Inside a car
Having tested the sock in scenarios 1 and 3, I can definitely say that it works well and does a good job at keeping your floor and car seats free from mud and dirt. Fitting the sock is a little fiddly, but once I got used to the process it was fairly straightforward. I would suggest fitting the sock outside of your home, before bringing it indoors, because the process is likely to displace some of the dirt you are looking to keep off your hardwood floor or carpet.
https://gfycat.com/SlowLawfulGordonsetter
The sock does a great job at keeping grease off objects surrounding your bike and any mud is kept contained within the sock. You can also machine wash the Velosock and it's quick-drying, so it's easy to keep it clean. If you are looking for a solution for use after a rainy ride, though, the Velosock isn't waterproof—so any water will soak through and onto the floor.
Fitting the VeloSock onto the bike could be made easier by splitting the sock along it's leading edge and adding velcro straps. However, the fact that the sock forms a sealed wrap means that its holds in dirt and oil more effectively. The stretchy material means that it fit's most bikes, with a length of 1.6m to 2m, and there is also a kids bike edition.
Currently, the VeloSock is retailing at £44 (UK) / $54 (US), which is a little pricey for a non-waterproof bike cover. However, you can pick up a number of the designs for a cheaper price and in the interior design world that's not expensive.
Verdict
The VeloSock is not just a bicycle cover, it's a piece of art and looks great as part of your interior design. While fitting the sock is a little fiddly, it's straightforward once you know how. The cover does a great job at keeping oil, dirt and mud away from your car seats and hardwood floor. If you're looking for a waterproof cover, then this is not for you. But it's quirky designs sets the VeloSock apart from the competition and makes a great talking point.
Pros
Quirky and attractive designs
Wraps snug around bike to keep in dirt
Super stretchy material aids fitting
Fits most bike sizes
Cons
Not waterproof
A little fiddly to put on (but we had fun doing it)
A little pricey (but not for an interior design piece)
3.8
Keeps floors clean + looks great