People love to cycle; whether to keep fit, to socialise or to relax. Not only is it an enjoyable activity, but it's also a great way to generate energy. Electric Pedals, based in South East London, caught on to this idea and began to devise a way to harness pedal power and use it for something good. The team have since held pedal powered cinema screenings across the world and we caught up with founder Colin Tonks to find out more:
1. Tell us about Electric Pedals. What inspired it to start up?
Electric Pedals is a small company spearheaded by myself. For over five years, we've been using the energy generated by people to power cinemas, music venues, radio stations, theatre productions, art installations and educational workshops—all of this without using a single battery.
We're inspired by the power of human energy. We believe that human energy is not only a great way to generate electricity, but also an amazing way to promote sustainability, exercise and energy appreciation.
Local people can bring their own cycles to their local events. Connecting with people through cycling is a way to help translate their excitement into lifestyle change, i.e. the bicycle as a transportation choice. We also offer help, support and know how to set up other organisations to replicate what we do. This is generally done during workshops and building all of the equipment needed for these partner organisations to run their own bicycle cinemas.
2. How does it work?
The bicycle powered cinema uses the energy generated from cycling to directly power the sound and projection equipment. The system uses no batteries. Rather the people are the batteries—harnessing their energy to provide a fully interactive and immersive experience for all involved.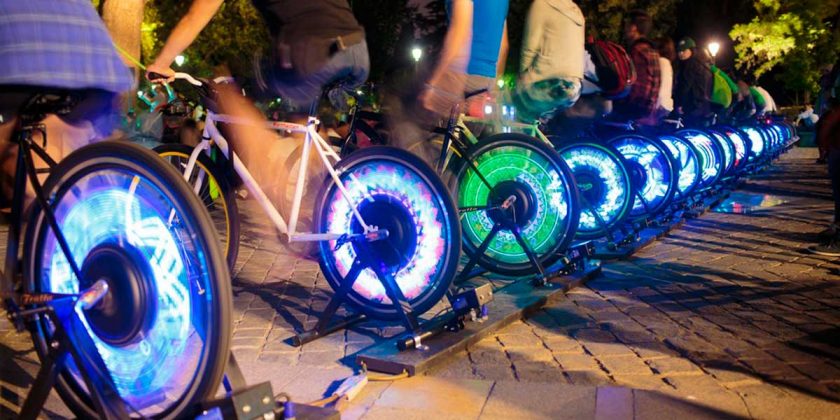 3. What was your first event? And what were the initial challenges?
Our first event was a bicycle powered Christmas tree at the TATE Britain. The tree itself was a wooden structure made of recycled materials, including sandwich boards and an oil drum. Eight bicycles of various sizes were then fixed to stands around the trunk, each holding a generator to convert the pedal power into electricity for the light bulbs that decorate the tree.
There were no real challenges in this project aside from ensuring that the very old bikes we used stayed operational. Technically it was very easy!
4. What's been the best event you've hosted so far? Why?
My favourite event is the big outdoor cinema and our relationship with the Freefilmfestival.org.
It's about connecting people together, whether through outdoor entertainment or classroom education, the focus is on community. Our collaboration with Newcross and Deptford Free Film Festival (NXDFFF) meant that more than 700 people came together to sing-along to 'Greased Lightning' and swoon over John Travolta.
Power phrasing the words of Jacqui Shimidzu, Community Volunteer and Founder of NXDFFF, people don't quite believe that a cinema can be completely powered by themselves; it's a spectacle! This active participation transforms cinema into an immersive and unpredictable performance where escapism becomes a team-effort, rather than the solitariness of a dark auditorium. Relying solely on constant, real-time pedal power throughout the screening means that when the human batteries stop pedalling, the film stops and blackout. It's this added jeopardy that really brings people together with a common goal of keeping the cinema alive.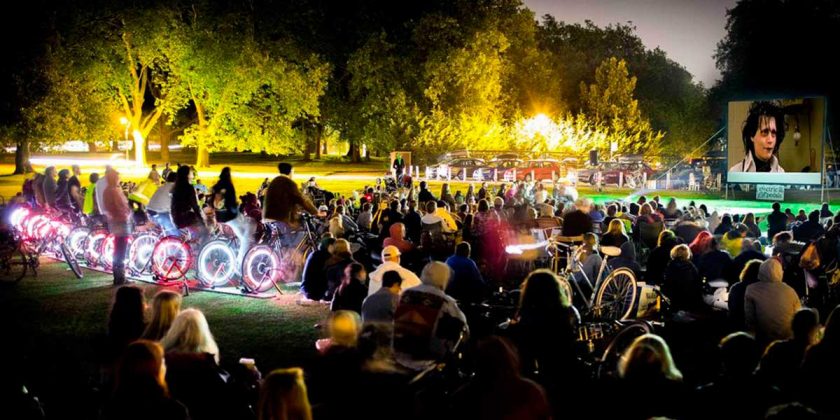 5. How do you think this changes people's attitudes toward electricity and the environment?
It's really hard to say. People have different reasons for pedalling to power an event.
We never talk about environmental issues during our events. Rather, we hope that by powering an event themselves, people feel empowered. Our events allow people to physically feel the energy that it takes to power our world and consequently change their behaviour and attitude towards energy.
6. What's in store for 2017?
1) Huge event on 25 March for WWF's earth hour. We will be the UK flag ship event for what has become a global movement. Our event will be in front of the London Eye.
2) Back to Africa to continue work on the backpack cinema. I built a really rough prototype in 2010 which has since stopped working. I need to revisit the project and take some new equipment: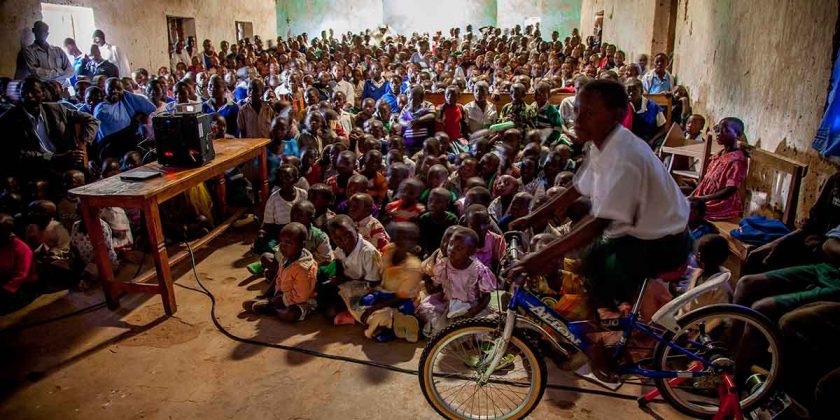 3) We now have three of our big bicycle cinemas touring through South America with our partner Efecto Cine. We're hoping to add a few more countries in 2017 (currently Chile, Brazil and Uruguay)
It's fantastic to see how Electric Pedals are changing the way we think about human power and are using it for something that brings the community together. Find out more about the company and its events.