TrueStart is a young UK start-up, inspired by adventure, which is on a mission to change our view of coffee. TrueStart's 'performance coffee' has been specifically designed for sport enthusiasts to increase their level of physical endurance and accelerate muscle recovery. We caught up with co-founder Helena Hills to find out what inspired her and her partner Simon to start the brand and how their sense of adventure influences them.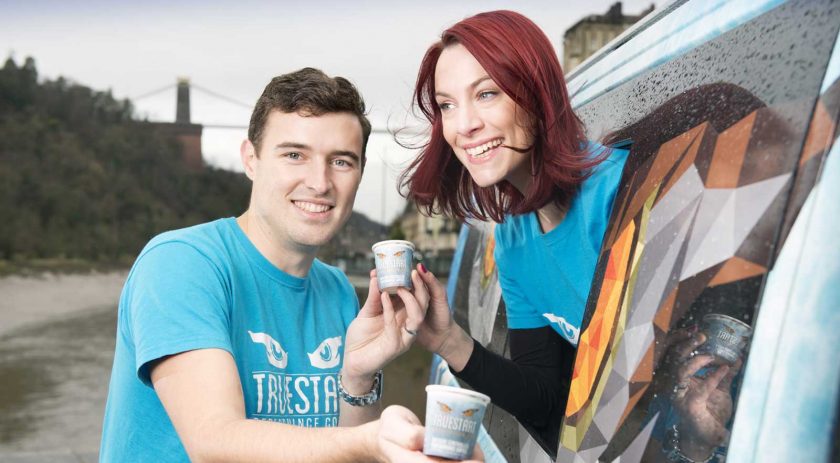 1. How did TrueStart come about?
The idea for TrueStart came about in March 2014 whilst training for an IronMan 70.3 triathlon. We've always enjoyed coffee before training and started to notice a real difference in how we felt from one day to the next. I'm quite sensitive to caffeine so was having heart palpitations out on the bike one day, then nothing at all the next! Not ideal when drinking coffee to improve sports performance!
2. What inspired its creation?
It was Simon's lightbulb moment – how much caffeine was actually in the coffee we were drinking? We started to look into it; how much caffeine is recommended for sports performance, how much is the right amount, how much is too much and how much is actually in coffee. That's when we found out about the massive variation and couldn't believe it! It's fine if you're having a latte in a coffee shop, but useless when you're drinking it for a functional reason. It's quite well known now that at the right level, caffeine increases endurance and improves mental focus so you can train harder for longer.
We also noticed the huge global trend toward natural energy and the move away from sugary energy drinks. With all this in mind, we made it our mission to develop and launch a coffee designed specifically for sports performance, with a controlled level of natural caffeine. Really high quality, clean coffee you can rely on. People really loved the concept and we soon realised we were onto something.
3. What were the biggest challenges you faced in the very early days of the company?
We have met and overcome so many challenges along the way… it's been the best part of the journey really, so it's hard to pick the biggest. When we really think about it though, it was working out how we could possibly turn our audacious goal of building the Red Bull of coffee into a real life plan and strategy, then building an incredible team of passionate dedicated people around us to join us in our quest. We've discovered that finding the right people is an art and a joy!
4. What part does adventure play in the brand?
The entire journey from idea to today and everything we plan to do in the future is all one huge adventure, both for us as founders and for the brand itself. Our values are heavily set in authenticity, determination and team spirit, which forms the backbone of our growing global fan-base, known as #TeamTrueStart. Every person in the team is on their own personal adventure, whether that is running a marathon, winning IronMan races, getting on the bike for the first time or getting in shape.
Stay tuned for an exciting joint giveaway with TrueStart, which we will be announcing on Facebook & Twitter this Friday (8th April 2016.) If you can't wait till then, head over to truestartcoffee.com to find out more and why not give 'performance coffee' a try while you're there.
All Images: Courtesy TrueStart