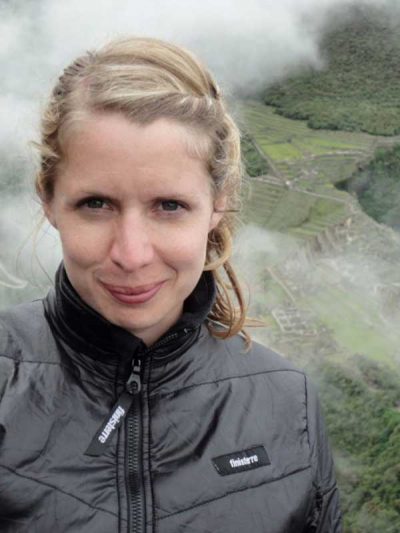 As one of our favourite UK surf brands, Finisterre, launch their first beachwear collection, we caught up with brand Product Director Debbie Luffman to find out more about the inspirations behind the collection and the ethos behind the brand as a whole.
Tell us a bit about yourself. Where are you originally from and where did you grow up?
I'm from near Brighton originally. I grew up by the sea, and always had the coast and outdoors around me. I went to uni at Kingston and did sportswear fashion design. I stayed in London after uni and got a couple of different jobs that were generally more high street fashion. I ended up at Zara, so very much high street fashion – sequins! It was very, very different from what I wanted to do. After a while, I'd had enough of being in London. I missed the sea and got a bit of wanderlust, so I went travelling around South America for a year, retrained in journalism and started working with a few different charities out there. Then I randomly got involved in an organic cotton farm and sort of got dragged back into textiles and clothing again.
So how did you end up at Finisterre?
When I got back to the UK I got talking to the designer at Finisterre. The long story short was that I got on a train, came down to Cornwall and was met off the train by designer Tom and Tom Kay, who started the business. I had my portfolio and dressed up expecting a formal interview, but instead, they threw me a wetsuit and we went and jumped off some rocks. So I just floated around Cornwall for the weekend and went back to London and basically they said, 'Do you want to come and move to Cornwall and work at Finisterre?' So I did that, made a bit of a lifestyle change, sold up and moved to Cornwall.
What was it like working for Finisterre back then?
We all kind of lived together. It definitely wasn't London; you would turn up in the mornings at 9 and no one would be there – they'd all be surfing! It was very chilled and we just sort of made it up as we went along. It wasn't seasonal and it wasn't target-driven or anything like that. That was sort of it for a couple of years and it was amazing because it was a real platform for passions and innovation – very, very different to what I'd been used to on the high street. My passion is textiles and innovation within textiles, and being able to test things properly, get feedback and tinker with fabrics was just really, really good fun.
Do you think your passion for the outdoors is reflected amongst the rest of the team and do you think it's a necessity almost to have a passion for surfing and the outdoors in order to work at Finisterre?
Yeah, I would say so. It's partly due to the location. We're literally on a cliff-edge right by the sea. Naturally, we attract people who are looking to have more of an experience with the outdoors. It's not like a pre-requisite that everybody surfs but everybody appreciates the outdoors, it's a pretty unique environment we're in so it's a definite draw. Not everybody is a surfer – lots of people have dogs and a lot of people love swimming, cycling, running. We just have a general love of the outdoors really.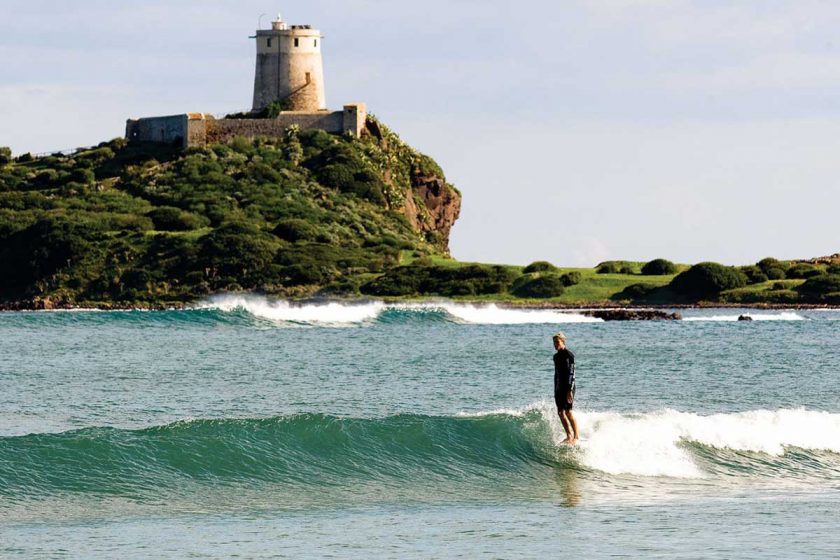 How do those that are really into their surfing cope when the surf is going off and you're in the workshop? Is it quite laid back? Do people still just pick up their boards and head to the water?
Well, things have definitely changed a bit. Five years ago, it was a lot more relaxed. It still is, but people work to live in that respect, so there's a real balance. You get the work done, and it's not the sort of place where you clock watch, so if people want to go surfing they'll work later. People are their own bosses in that respect.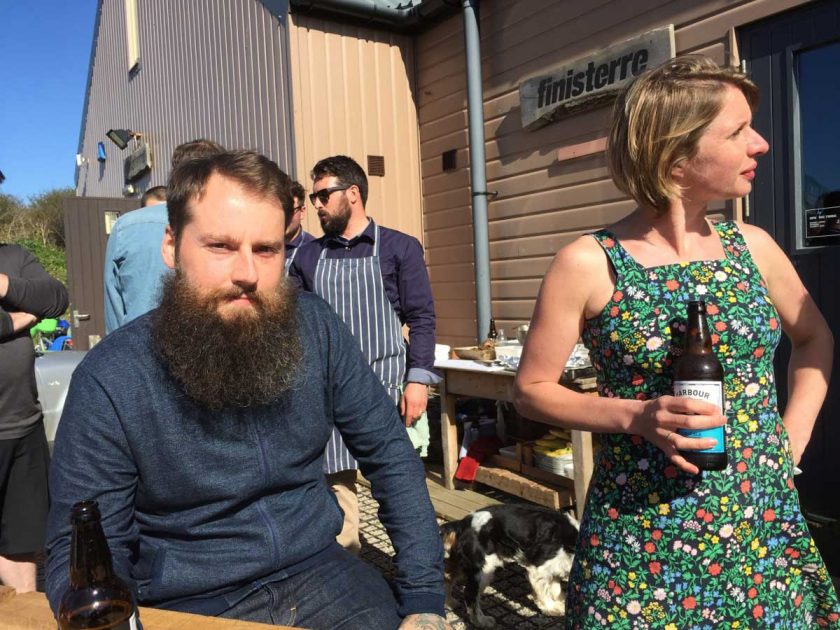 How much of an influence do you have on the overall aesthetics of a product?
I'd say quite a lot, to be honest. My passion is the product, which comes from the concept and the textiles. But it's also down to what the product looks like. More than anything it's what the product means. We have a real passion for creating a product that is innovative and has meaning. It could be that it's from a sustainable background, or that it's authentic styling. We're looking to evolve and improve upon what's come before, so that's very much my passion. If you look at the inside of a garment, the fit and the detail – that's down to Niamh and Todd on the design and production side of it. In terms of fabric and general range of architecture, that's me.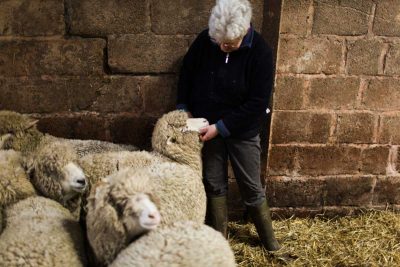 As a brand you're known for working with smaller, niche suppliers and building strong relationships with them, like Lesley Prior who produces your Bowmont wool.
That's one of the most incredible and fortunate things that we have within our supply chain. It's really exciting, it's the complete opposite of what it's like to design at Zara – there, you'd get given a price and a bit of fabric and if you're lucky you might find out what it's made of. But the process with Bowmont is about creating a supply chain from zero and then going about how to actually get the process under way.
How did that come about?
Lesley lives about a hundred miles up the road from us, she's an incredible lady. She has a huge passion for fibre so she's all about making the finest fibre with the best animal welfare that she can. She's a Cashmere goat farmer originally who – by luck, rather than design – came across a flock of sheep who had been bred to be pure Merino. That's something that in the UK doesn't exist. There'd been no Merino wool previously, so it was a sort of testing ground up in Scotland to create this perfect Merino fibre. It didn't really work and the funding got cut and all the sheep were about to be dragged off to the abattoir. Lesley bought about 6 or 7 of these sheep and decided to bring them back to her farm to try and keep the purity of the breed going, which is easier said than done. It's an incredibly complex thing you have to do, because you have to line breed back to the father ram. It's a ten-year process and you can't let the sheep wander off, you have to keep getting them IVF and it's mind-boggling, it's something I knew absolutely nothing about.
My passion is the product. More than anything it's what the product means. We have a real passion for creating a product that is innovative and has meaning. That could be that's it from a sustainable background or it may be from an authentic styling. We're always looking to evolve and improve upon what we've done before.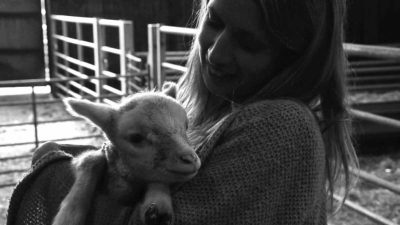 How did the process develop from there?
From there, it took us about two years to find people who could process the wool. Because of the fineness of the fibre you can't process it in the same way you would a carpet. It took us a very long time to find a fine fibre scourer and spinner who would accept the challenge and accept quite a small run and we've been working with them ever since! They have a beautiful little mill called Gledhill, just outside Oldham. Then we had to find people who would spin it for us, dye it for us and knit it for us. It took about 2 years to get that process up and running and we're now in about our 5th year of the Bowmont products. We now produce jumpers and beanies, about 150 jumpers and 100 beanies – that's all that the fleece of the sheep will give us. We've been in it from the very beginning through to the end so it's an amazing project.
Is it difficult to source niche suppliers and manufacturers?
Sometimes we're very specific but a lot of it is finding the right suppliers for the right products. There are certain regions and certain countries which excel in other areas and have more heritage. For knitted products we work in Portugal, mainly because it's fundamentally what they do. We speak to them and we visit them regularly, talk to them and learn from them, trust them and improve as we go. It's a real relationship. And then, in other cases, we will look for something specific, like we did with our knife. The heritage of British steel and knife making is up in Sheffield, our socks are made in Leicester and Loughborough and they have been for about 600 years. Sometimes it's about finding out where the best things are made and sometimes it's the snowball effect from one product to another and just trusting the suppliers in that relationship.
You don't use duck feathers as insulation in your products. Would you say Finisterre feels strongly about animal welfare?
Yes, 100%. If we can't get the full information then we don't touch it. I won't rule it out completely, but we're not comfortable with goose down from a sourcing point of view. We're not comfortable with the supply chain. We're still a small company and it's important for us to be powerful and drive that animal welfare issue. We personally feel that it's unnecessary. You can mimic nature nicely with recycled polyester insulation, which actually performs better in a British climate. For us, PrimaLoft ticks the boxes from a performance point of view and there's no murkiness or grey areas around animal welfare. There are also a lot of misconceptions around animal welfare. Organic might be better from a seed if you're talking about linen and cotton – it's great – but actually from an animal welfare point of view, 9 times out of 10 doesn't mean it's better for the animal. We're just very, very nosey! We ask all the questions we visit everybody and if we're not sure, we just don't touch it.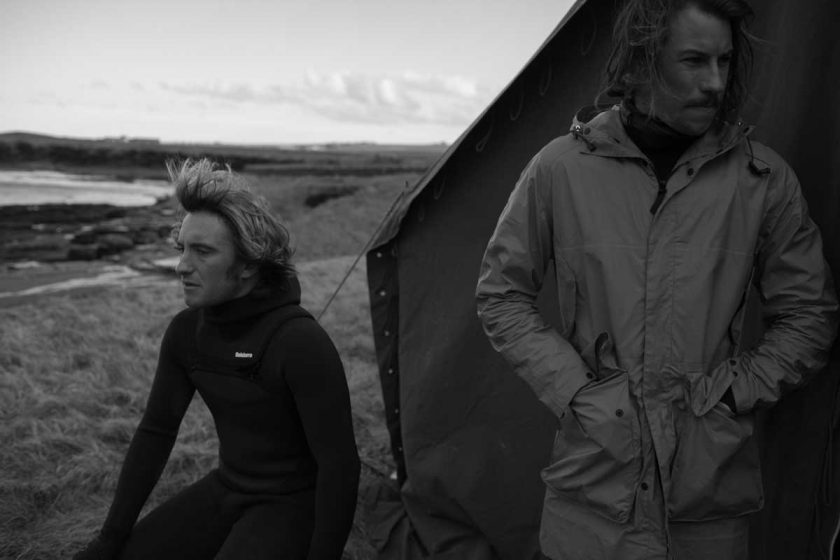 What are the other key elements of the Finisterre ethos?
Longevity and durability. It starts for us in making something that will last the test of time. That comes from a trend but it also comes from a fibre and fabric point of view. If we make something trend based, it will only look aesthetically pleasing to the customer for one or two seasons, and that's not longevity of design. If the fabric is a fabric which is ultimately not designed to perform, or after a few washes tends to not look as good, or twists, or ladders, then that would also be a no-no.
It's the same from a technical fabric point of view. In our minds, it's better to produce a waterproof jacket which lasts for ten years which may have a flurocarbon finish than to produce a non-waterproof jacket that looks the part but doesn't perform and maybe doesn't satisfy what you need out of a waterproof for just a couple of years. There's a lot in there really, there's more than just one but the overwhelming ethos behind our products is the durability and longevity.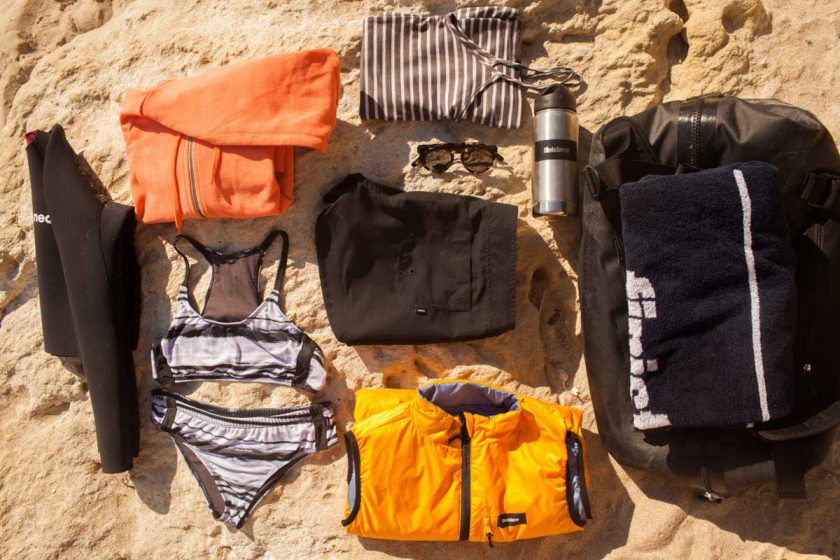 Finisterre have just launched a debut beach collection. Was that a big challenge?
It was just a new challenge for us. We're used to keeping people warm, dry and comfortable so it was a challenge in some respects because it was about having a bit more fun with the collection, maintaining the innovation and the ethical aspects of our fabric sourcing, but also opening it up a bit more to colour and print. It was a fun collection to deliver – we were working with brand new suppliers on some of it, which was great.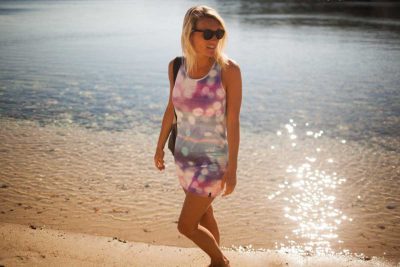 The Sun Flare fabric featured in the new collection was designed by local Cornish designer Rose Darling. How did that collaboration come about and do you tend to work specifically with local artists?
Well, a lot of what happens at Finisterre is quite organic; we generally surround ourselves with creative people. Rose, who did that print, is a friend of the brand really. She's been involved for about 6 years and done a few different prints along the way. She's also a surfer, she loves the environment she lives in and she's exposed to the exact same inspiration as we are so it feels generally quite organic. Todd, our designer, does a great job of working with international artists as well.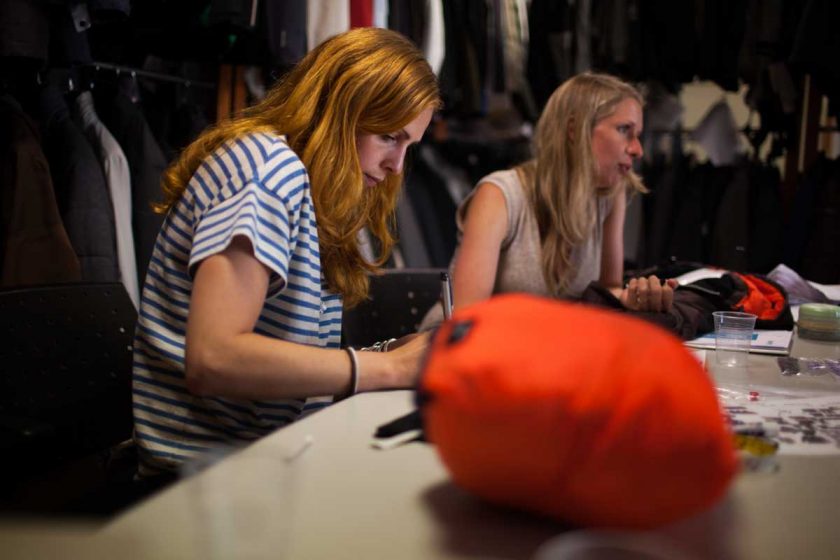 Can you explain the process a product goes through from conception to production, including how you source materials?
I'll use the swimwear range as an example. It always starts with the fabric. This fabric, in particular, is an Italian fabric called Carvico. Carvico is a warp knit, which basically means it's sort of a hybrid between a woven and a jersey, so it's really durable. You can wash and wear it a huge amount and it will stand up to anything. We were looking for the best fabric we could get: not just a bikini fabric for sitting on the beach or being in the ocean, we wanted it to wash and wear, offer UV resistance and be quite a substantial fabric that would give comfort, support and confidence. That was the beginning of the process, looking for the right fabric.
Once we had the fabric, we began talking to a new supplier in Portugal who makes high-end swimwear. While this had been going on, Todd had been researching the market and current products. From there, he did the spec, put the fabric details on there and sent it off to the supplier, who then made us a first garment to trial. Bex, who is one of the keenest surfers in the office, took it with her on a surf holiday and came back with feedback. We then fitted it on our model from a fit, comfort and sizing point of view.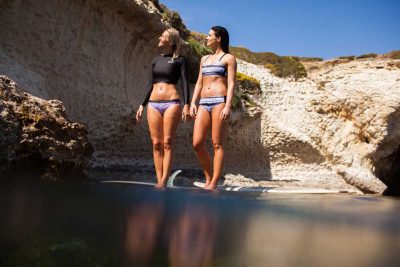 At this point, we had about three samples going back and forth. Niamh will then send comments to the factory that outline areas of improvement on the samples. This is the point that we'll also send digital prints and artwork to the printers, who send us what we call 'strike-offs' – basically mock-ups of the fabric printers for us to approve.
The entire process takes about 6 months, from first design through to delivery. We'll then use the feedback we get from our customers in the development of the next Finisterre swim range, which will be out next summer.
I'm very much committed to the brand and where we can take it. It's an exciting opportunity for everybody here, because you can really be part of it. You can forge your own little universe.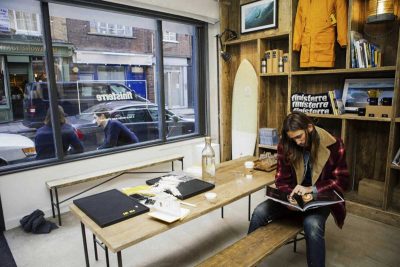 Finisterre has obviously come a long way from its humble beginnings above a surf shop with a three-page website, where do you see the brand heading in the next 3 to 5 years?
More of the same to be quite honest! We very much see ourselves rooted in Cornwall and we don't want to move. It's a beautiful place to be. We'd also like to continue extending our international reach – we've got passionate customers in North America, Japan and Germany now, which is great. We also opened our store in London (right), which has really enabled us to interact with more people, and continue with our mission of becoming the hub of a community of people who want to experience cold water surfing and the myriad things that Finisterre stands for.
Founder Tom Kay is obviously very well known as the man behind Finisterre. Was it a conscious decision of yours, to stay behind the scenes?
If I'm completely honest with you, I'm so busy I hardly get out! What I love is the products. That's my passion. My passion is the product and the textiles, and I'm very much committed to the brand and where we can take it. It's an exciting opportunity for everybody here, because you can really be part of it. You can really forge your own little universe. You don't get those opportunities every 5 minutes within clothing and within fashion so it's an awesome opportunity.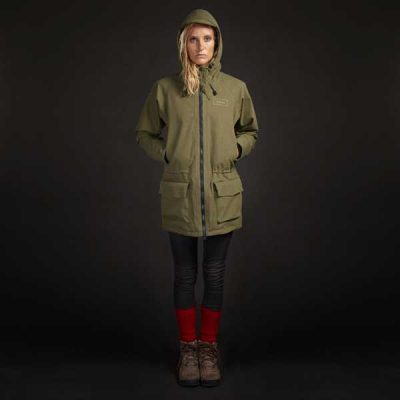 If you could choose one Finisterre item to keep and wear forever, what would you choose?
That's easy actually. Last season we did a jacket called the Caelus Parka and it was a real culmination of everything that we work towards and we believe in. It's a very Finisterre product. It's not a traditional outdoors jacket in that it's not lightweight, it's not just waterproof, it's not just warm, it doesn't follow a traditional outdoor techy outer-layer/mid-layer/base-layer design. It confounds a lot of breathability and lightweight stories that you find in waterproofs. It's 100% waterproof, it's very, very warm, it's got a really great PrimaLoft fill and it's recycled. It's a polycotton blend which is made up of recycled polyester and organic cotton so if you look at it, you'd think it's just cotton, it's got a really lovely cotton texture to it. Overall it doesn't feel like a techy jacket but I feel confident that the jacket I have will still be hanging up on my coat hook in ten years time. It stands for everything that we believe in.
This interview originally appeared on All Conditions Media and has been republished with permission.