After all the excitement that bubbled up on the web surrounding the Back to the Future hoverboard reveal a couple months ago, it was a tough blow for all the believers, when Tony Hawk and Doc himself (Christopher Lloyd) revealed that it was all a trick. While the boards did look fake and the hovering Tony Hawk, super unstable in the promo video, it was hard not to ignore better judgment and cling on to the believe that 'Back to the Future 2' was right and hoverboards were to be in existence by 2015. Well, we had to let that go but earlier this month it emerged that a company called Aerofex are planning to start selling hoverbikes. Yep, you heard right, that's bikes that actually hover! Check out the video of the Aero X Hoverbike in action below.
The futuristically slick-designed device is the culmination of 15 years of research and development in low-altitude flight technology. Countless hover-contraptions have been designed over the years but haven't succeeded in successfully achieving the dream of relatively affordable hovering without any problems.
Founder of Aerofex, aerospace engineer Mark De Roche talked about these problems surrounding low-altitude flight in an interview with Discovery News. He explains that many hovering devices produced in the past have suffered from the "coupling effect" and that Aerofex has worked hard to overcome this issue. Coupling is a result of the rotational forces exerted by spinning rotors. These forces, if not corrected for, will turn the vehicle (attached to the rotors) when the rotors are pitched forward. These forces are observed on prop. driven planes and of course helicopters and need to be compensated for either electronically or mechanically (by trimming the controls) or manually by the pilot. The Aero-X, however, automatically compensates for coupling so riders can control the hoverbike intuitively.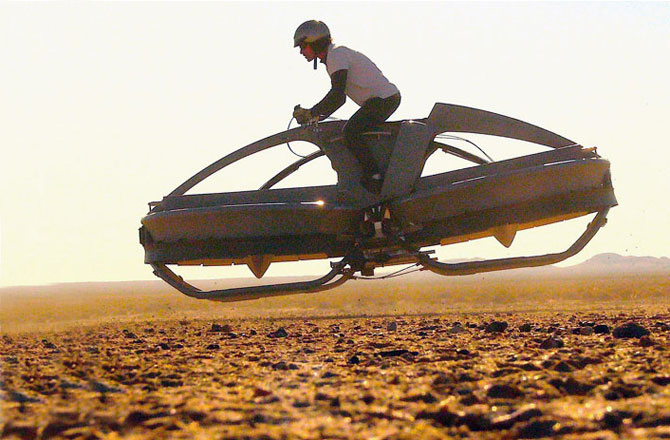 The Aero-X responds to "movements just as a motorcycle would," and the company promises that anyone can be zipping across an open expanse with very little training required. The bike runs on gasoline (petrol) and the company claims that "maintenance is simple and inexpensive," since the hoverbike consists of only a with few moving parts and is powered by a simple rotary engine. While the construction might be simple, the bike looks to be very capable; it will be able to hover up to 12 feet above the ground, carry two passengers and travel up to speeds of 72 km/h according to the company's website. The machines, which have been in development since 2007, won't actually be available to customers until 2017.
Of course, a bike that hovers is going to cost you more than one that doesn't and anyone interested in owning an Aero-X Hoverbike will have to shell out $85,000. You can pre-order one on the Aerofex site for just $5000 USD, which will go toward the vehicle's final price tag. So, who wants one?