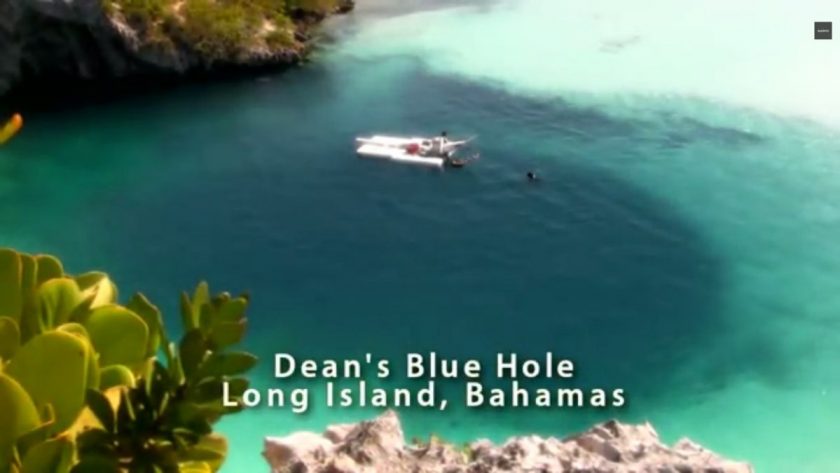 UK-born William Trubridge is the World Record holder for Free Immersion (FIM) freediving, at 121m and Constant Weight No Fins (CNF) freediving, at 101m. The video below show him setting the CNF record, diving to a depth of 101m with no fins, on a single breath into the eerily dark depths of Dean's Blue Hole, Bahamas. Dean's Blue Hole is the world's deepest known blue hole, a water-filled sinkhole, with an entrance below the sea level. It plunges 202 metres so Trubridge dived half-way down to set the record.
The first few years of Trubridge's life was a nomadic existence sailing around the world on his parents' yacht before the family settled in New Zealand. He learnt to swim at the age of 18 months, and was freediving to 15m by the age of eight, competing with his older brother to see who could bring back a stone from the deepest depth. But it was not until he was 22 that he discovered it was a sport. Since then, Trubridge has broken numerous freediving records.
Although considered the world's best 'no-fins' freediver, Trubridge is also a multiple record holder in 'Free Immersion', where divers descend pulling on a rope. Recently he's focused on 'Constant Weight', diving with a monofin.
In 2011 and 2012 he received the World's Absolute Freediving Award (WAFA), which ranked him as the world's top freediver. For much of the year he is based in the Bahamas, where he trains at Dean's Blue Hole. It is also the location of Suunto Vertical Blue, one of the largest freediving events in the world, which Trubridge organizes.
If you want to see how far you can freedive, Will teaches people to freedive in France, Germany, Italy and the Bahamas with his school Vertical Blue!