This article originally appeared on Fix.com and has been republished with permission. Words by Amy Whitley.
Family camping trips are an excellent way to spend time together in the outdoors and enjoy a vacation on a budget, provided you have some camping tips and hacks up your sleeve. Otherwise, it can take as long to prepare and pack for a camping trip as the trip itself! To ensure that you're ready for that next weekend trip to the woods, use the following camping packing lists and tips.
The Camp Kitchen
Organizing and packing your camp kitchen is often the most complicated part of preparing for a camping trip. The workaround is having dedicated camping pots and pans, utensils, and kitchen gadgets stored apart from your home kitchen, which will save you time and effort in packing and unpacking daily supplies. Here's what you need:
Kitchen Packing List:
Camp stove: Opt for a lightweight backpacking stove or traditional car camping stove.
Fuel: Make sure you have the correct propane fuel for your stove.
Plates, cups, and eating utensils (1 per family member): Use paper products or opt for reusable mess kits, which are available in outdoor stores.
Tablecloth: Buy a cheap one at a dollar store.
Dishwashing tub: Opt for a plastic tub or nylon, sealed, collapsible tub.
Dishwashing supplies: Paper or cloth towels or dishrags; dish soap; and sponge.
Matches
Fire starter
Ice
Cooler
Tarp
Grill (optional): Most campsites provide a grill over the fire pit.
Camp table (optional): Helpful for organization, but not necessary.
Kitchen tools/utensils: Spatula, all-purpose knife, potholders, serving ladle, butter knife, tongs, long skewers for s'mores or meat-on-a-stick, and tin foil.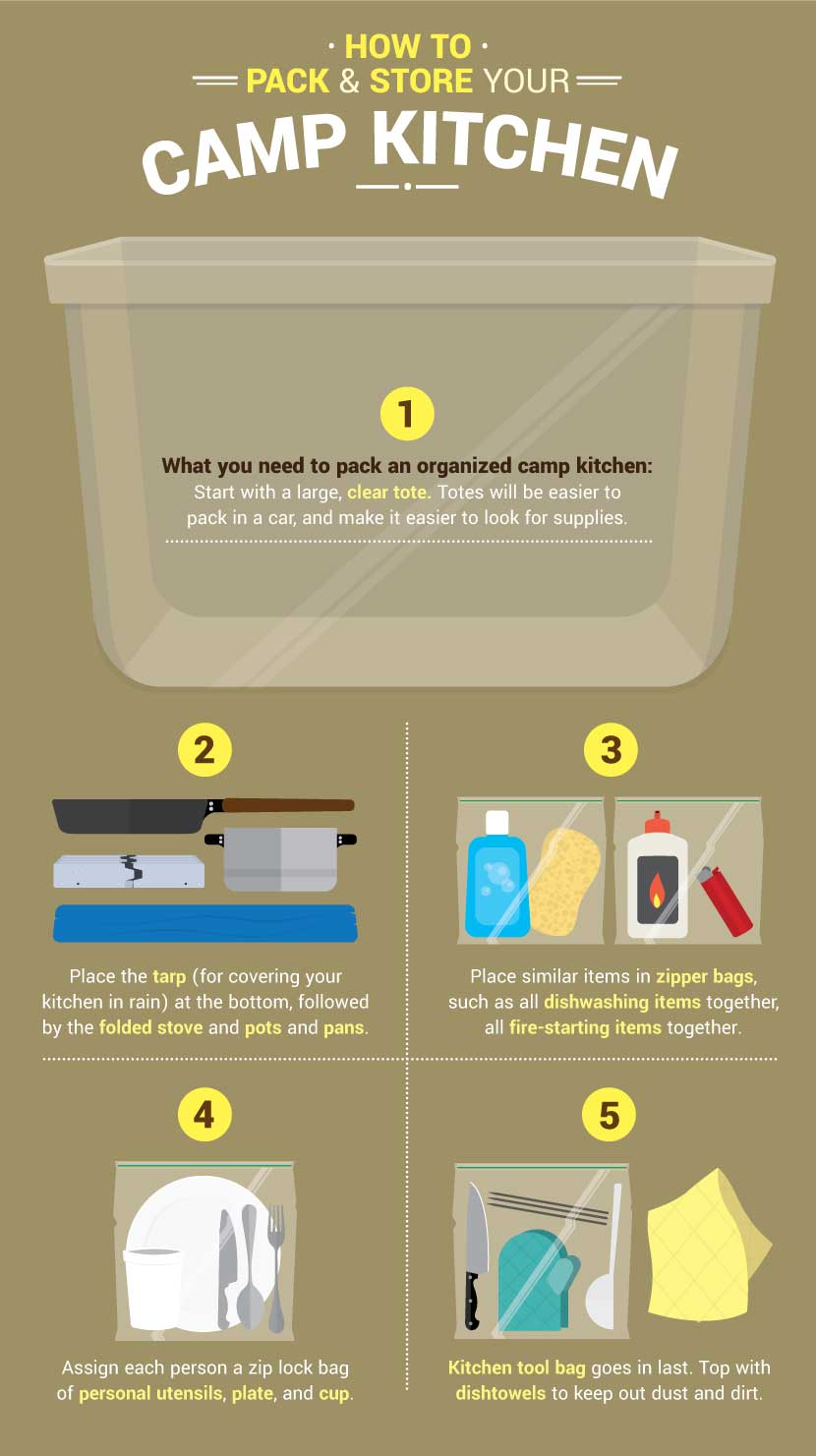 Try this kitchen packing hack: Store your kitchen tools and utensils in a toiletry bag or other small bag to keep them organized and clean between uses at a dusty campground. It will be easy to hang them from a tree branch for easy use when you're at your site.
The Camp Sleeping Quarters
Everyone wants to be warm and cozy at night! Whether you're camping in warm or colder climates, everyone in your family will need the essentials to ensure that they're safe at night. Store tents and sleeping pads in a second large tote, making it easy to pack up the car and head to the campsite at any time.
Sleeping Packing List:
Tent(s): Opt for one large family tent or 2–3 smaller tents. Larger tents have the advantage of space, but small tents fit in cozier campsites.
Sleeping bags: Buy sleeping bags rated at 20 degrees F, unless you know you'll be camping in colder climates. A 20–40 degrees F bag works for most camping experiences. Down or down-alternative bags pack down smaller and are lighter and warmer than cotton or nylon/polyester bags.
Sleeping pads/Roll mats: Opt for thick blow-up mattresses for car camping, or save space with backpacking pads that inflate with just a few breaths of air.
Ground tarp: Don't skip the ground tarps. They protect your tent floor and keep the dew and cold at bay.
Towels and personal hygiene items: One per family member!
Flashlights or headlamps: One per family member. Everyone should have their own light source for safety and convenience.
Lantern: One per family will do. Ideally, your lantern can transition from kitchen area to tent and back.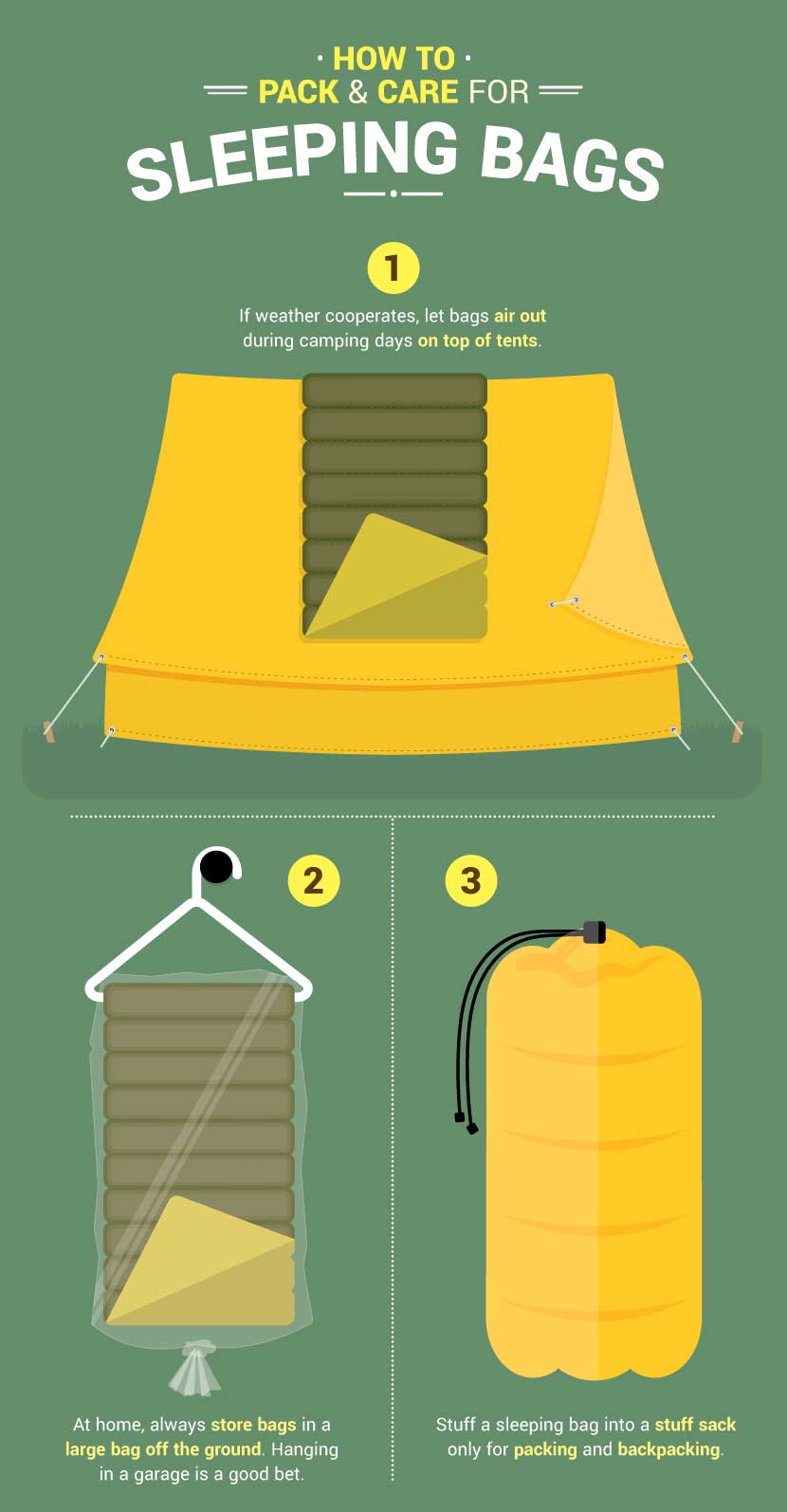 Try this sleeping quarters hack: Buy a ground tarp one size larger than your tent, and use the overhanging space as a place to take off shoes and wipe off feet before entering the tent.
The Campfire Area
Camping just isn't camping without a comforting campfire, right? The campfire area is important, but there's good news: it's easy to pack for!
Campfire area packing list:
Firewood: Buy on-site, or save money by buying it at a local grocery store.
Matches and fire starter: You'll already have these in your camp kitchen supplies. The type of fire starter you use is up to you; we like fire disks or fire cubes.
Axe or hatchet: Useful for breaking down firewood. Store away from children.
Camp chairs: Some campsites include a bench around the fire ring, but for most, you'll want collapsible camp chairs. To save space in the car, opt for the smaller, lighter versions sold in backpacking stores.
S'mores: Be sure to bring the ingredients for this tasty campfire treat!
Deck of cards or board game: Everyone enjoys playing a game around the fire.
Lantern: This item is already with your sleeping supplies!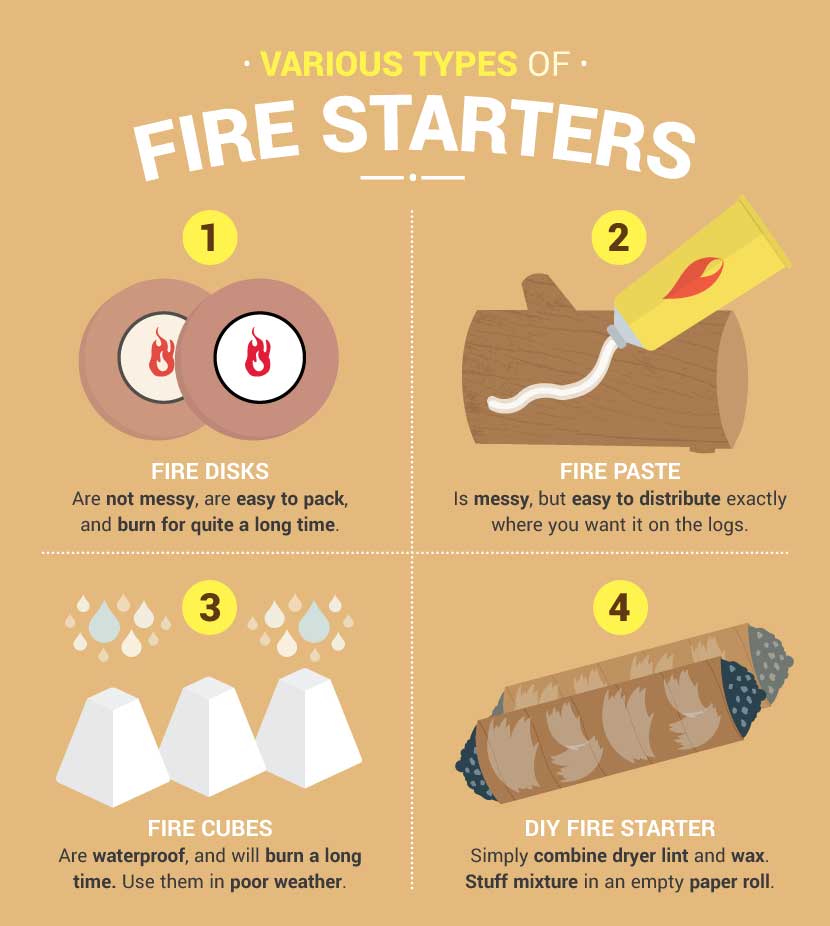 Try this campfire area hack: Never bring firewood all the way from home. It takes up lots of room in your car or truck, which could otherwise be used for other items, and it could be banned from your campground if you're driving any distance. Campgrounds often require local wood to be burned in an effort to reduce foreign insect species from invading new areas.
Miscellaneous Items Campers Love
Think you have everything you need? Probably not! Read the list of extras below and decide what you can't live without!
Insect repellent or wristbands
Sunscreen
Toilet paper and shovel (if you don't have a campground restroom)
Inflatable wading pool for small children to play in
Playpen for babies to stay off the dirt (sometimes)
Clothespins and a clothesline to hang wet clothing
Extra sheet or towel to hang in the tent to create "rooms"
Hammock
Baby wipes to clean hands and faces
Camera
Water/wading shoes
Small net and bucket to use in streams
Small toys for kids to use in camp
Bikes or scooters for larger campgrounds
When you get settled in at the campsite, don't forget to pack a list of camp rules and games for kids. Kids and campgrounds go together perfectly, as long as a few safety rules are in place. Make sure kids know the following in the camp kitchen, sleeping, and campfire areas:
1. Never run around the campfire.
2. Ask before using any kitchen knives or hatchets.
3. Turn off flashlights and headlamps after using to save batteries.
4. Ask a parent before exploring a campground.
Once you're set up at your campground, entertain kids at the campsite by encouraging them to collect natural objects like sticks, moss, leaves, or bark to make into art pieces. Kids also love having scavenger hunts around the campground (bring a list of items to collect) or riding bikes or scooters around the camp loops. If you have a cell phone with you, encourage kids to look for geocache treasures. There are caches at lots of campgrounds across Europe and the US.