Snorkeling is a great and really accessible adventure. It opens up the underwater world for anyone who can swim, regardless of whether you have scuba gear or not. All you need is a mask, snorkel and flippers (you can get away without flippers if you are just giving it a go). Snorkeling can be a daunting prospect for a lot of people however; many find it difficult simply to submerge their head in the water. Breathing through a snorkel with your mouth is also a barrier for some and when you don't breath correctly, fogging of the mask can massively reduce your visibility and enjoyment. While fogging can be fixed with defogging sprays available at most dive shops, it's added work and expense that first-timers simply wouldn't bother with.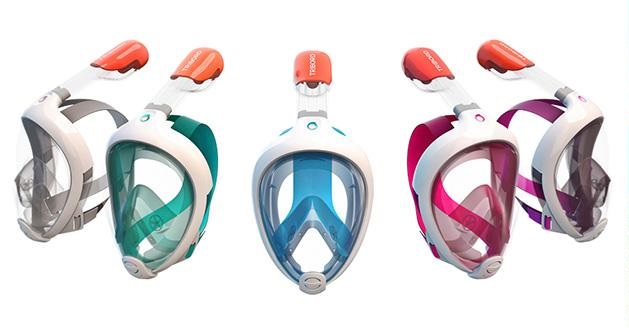 For those people, French watersport company Tribord have designed the Easybreath Snorkeling Mask – the first full-faced snorkelling mask. It's constructed with a silicone skirt and polypropylene rim and like full faced diving masks, users can intake air through both the nose and the mouth meaning they can breath as they would on land. The design also provides a much wider field of view than most traditional masks offer – users have an unobstructed 180° field of vision.

Fogging is prevented by a double air-flow system that is identical to the system used in domestic extraction fans. The Easybreath is also designed to ensures that water does not enter via the snorkel; the mask is equipped with a mechanism that plugs the top of the snorkel when immersed in water. This is an important feature since without it, water would simply fill up the mask when freediving and, unlike standard snorkels, the design does not make it easy for water to be cleared without taking off the mask.
Here's a quick video giving an insight into the design of the Easybreath:
While the mask has a larger form-factor than traditional equipment and will make you look like a colorful Darth Vader, the design it sleek and modern and will hopefully help those who have struggled with snorkelling in the past. Two adult sizes will be available in spring 2014, with a RRP of €39.95 in Decathlon stores. A kid sized version is also due for release in 2015.