Stephen Orlando is a photographer to remember. Using LED lights and long exposure photography, he captures incredible images of movement. Of his art form he says:
I'm fascinated with capturing motion through time and space into a single photograph. Using LED lights with custom colour patterns and long exposure photography, I'm able to tell the story of movement. This technique reveals beautiful light trails created by paths of familiar objects. These light trails have not been artificially created with Photoshop and represent the actual paths of the objects.
We spoke to Orlando to find out more about his technique and his photography.
1. How did you get into photography?
My father is a photographer so once I got one of his old digital cameras I started taking photos on a regular basis. Although I've been taking photos for some time now, I only started my Motion Exposure project two and a half years ago.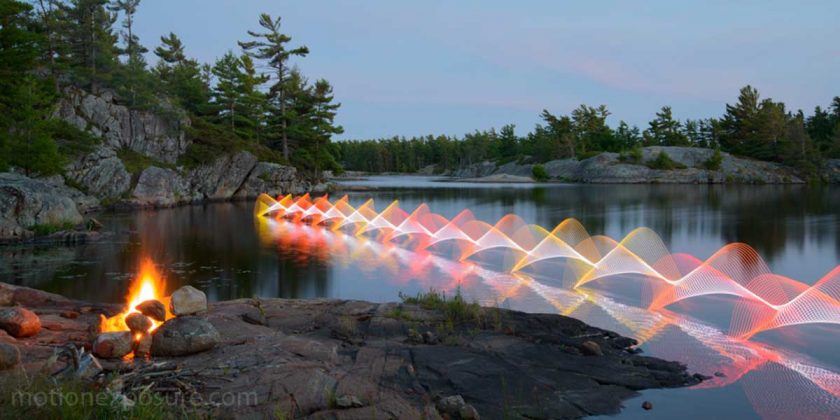 2. What influences your style?
I have a masters degree in mechanical engineering where I researched experimental aerodynamics and aeroacoustics. Essentially I did tests in a wind tunnel where I used high speed cameras and microphones to measure the flow around a wing. I work as an aerodynamicist and part time as a photographer. I see a lot of similarities between the streamlines of fluid flow which I see on a daily basis and the lines in my photography. So I am heavily influenced by my aerodynamics and engineering background. I am also influenced by the artists Christo and Jeanne-Claude, and Cai Guo-Qiang because of their massive outdoor exhibits.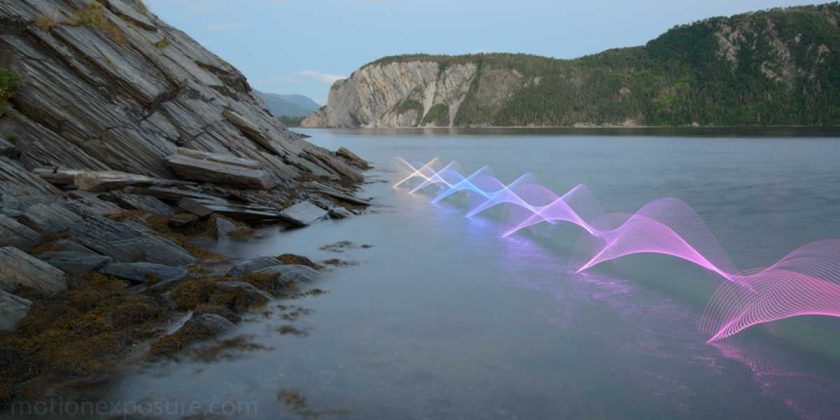 3. How do you capture each image? What equipment do you use and to what extent do you use Photoshop?
Each photo is a single exposure and the lines of light have not been added in Photoshop. My equipment is simple, a digital camera, tripod, remote and led lights. For these photos, the camera's shutter is open for approximately 10-30 seconds, during which time the camera's sensor is collecting light. Since the photos are taken in low light conditions, the only things that will show up in the photo – the only things emitting enough light to be picked up by the sensor – are either very bright, or stationary. The trees in the background are dark but stationary, so they get exposed in the photo. The LED lights are very bright so they emit a large amount of light for every point in space and get exposed in the photo. The kayaker and the canoeist do not emit much light and since they're moving, they're not in the same spot long enough to be exposed on the camera's sensor. For the images where the subject is visible, I used a flash to light up the subject.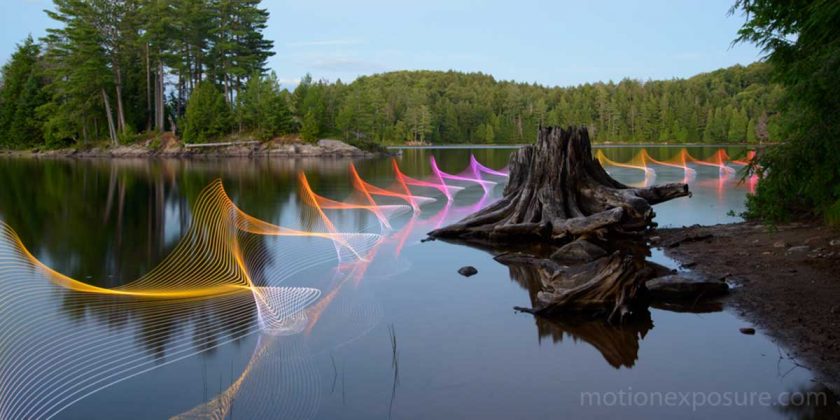 4. What do you think people like about your style of art?
People are always impressed when I tell them that what they are looking at was created without Photoshop and shows the actual path of the paddle.
5. Are you working on any particular projects at the moment? / What have you got planned for 2017?
I've lots of projects on the go at the moment. I'm planning for: skiing photos, pianist's hands photos, an improved system for attaching lights to people, and creating a sculpture based on the photos.
To find out more and to purchase Orlando's photography visit www.motionexposure.com. You can also follow him on Instagram.