British environmentalist and artist Richart Sowa has created a floating solar powered island using over 100,000 recycled water bottles. Situated off the coast of Isla Mujeres Bay in Cancun, Mexico—the island, initially 20 metres (66 ft) in diameter, has expanded to 25 metres (82 ft), with plants and mangroves already growing on it.
Sowa first attempted to build a floating island in 2005. It was called Spiral Island (an awesome name reminiscent of Spiral Mountain from the Banjo-Kazooie video game series) but was sadly destroyed in a hurricane. His second attempt named Joyxee Island (let us know what you think of the new name in the comments), was created in 2008 and, although requiring constant maintenance, is fully functional 8 years later.
Joyxee Island features three beaches, a house, two ponds and comes with a solar-powered waterfall, a wave-powered washing machine and solar panels for power. The house, developed to withstand a hurricane (this-time), has three-storeys and contains three showers, a kitchen, two bedrooms and even internet.
The base of the island is a very simplistic structure, especially when considering the weight it must hold. The base is supported with bags full of water bottles which is then connected to a bamboo frame, filled in with wood pallets and sand. This simple structure, gives the entire island enough buoyancy to remain afloat.
Sowa has also come up with an innovative solution to waste less water, using conch shells to funnel rain water into the house. He then uses this water for washing and cleaning. He also built a 'ferry' made completely out of water bottles which can carry up to eight people to-and-from the island from he mainland.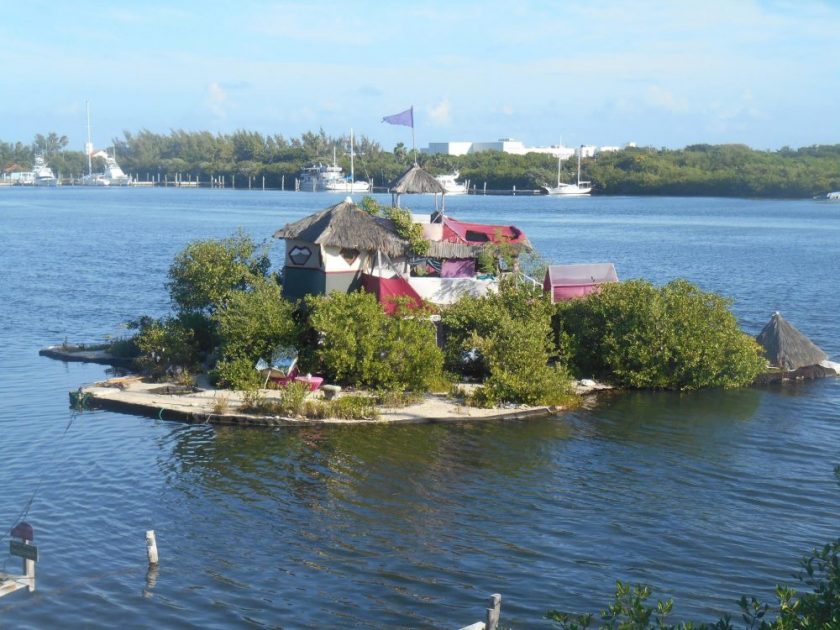 Since 2014, Sowa has lived on the island with his partner Jodi Bowlin. "Living on the island looks like a carefree lifestyle, but there is a lot of physical labour involved in keeping it up, especially in the early years before the mangrove roots weaved through the base to strengthen everything," revealed Bowlin.
Despite certain hardships, the pair continues to thrive on the island and make a living through music, art and by opening up their island for tours to visitors and tourists.
With the plan to add additional features to the island, Sowa also hopes to become completely self sufficient in the next couple of years.
All photos: Richart Sowa/Facebook
For all things adventure, keep it right here on ADAPT Network