An Australian photographer has captured images of space lightning, a meteor shower and the Southern Lights—all in a single night.
David Finlay was filming the Lyrid meteor shower—as it reached its peak on Saturday, April 22—just as lightning sprites and the Aurora Australis dazzled those watching the night's sky from Kiama, New South Wales.
According to Storyful, through which Finlay's footage is licenced, the annual Lyrid meteor shower produces between 15 to 20 meteors per hour during its peak. The display typically last for about 10 days, from April 16 each year, and are produced as the Earth passes through the dusty trail of Comet Thatcher.
Finlay joked that the Lyrid shower had been "photobombed" by the electrical storm and Aurora Australis, the southern hemisphere's equivalent of the Aurora Borealis—a radiant excitation of atoms created when plasma is ejected by the Sun.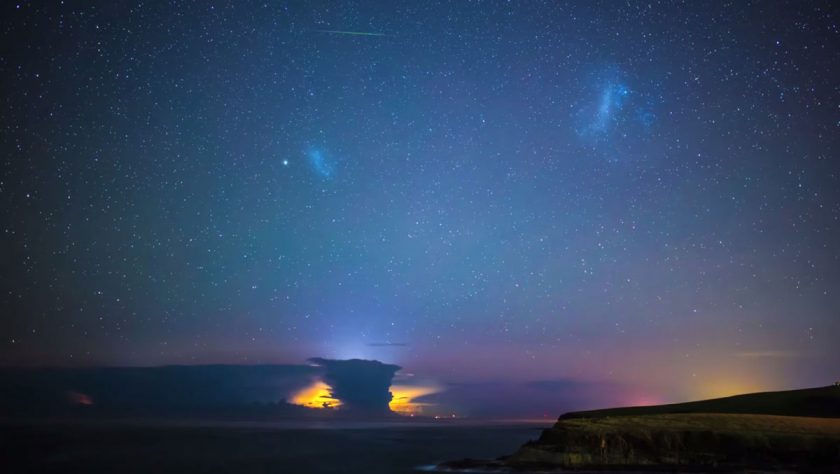 Space lightning
Space lightning, scientifically referred to as lightning sprites, are flashes of electricity that occur above a thunderstorm. They can reach the Earth's upper atmosphere, often displaying as a brilliant light.
Speaking with the BBC, Finlay said:
I've been looking for them for about 15 years. I didn't know if you could see them in New South Wales.

Usually, when you get a storm it messes up all the air around it. The sky was virtually crystal clear.

One of my friends said all you need now is a Tasmanian tiger to wander along the headland and you've got just about everything rare that you could possibly photograph in one night
Believe it or not, Finley captured the shots using an off-the-shelf DSLR camera. It just goes to show that being in the right place at the right time is pretty special.