Remind me not to get on the bad side of a sea lion. This past weekend, an onlooker captured the terrifying moment a sea lion leapt onto a seaside dock in British Columbia and dragged an unsuspecting young girl into the water. The video (below) is currently at the top of YouTube's trending list:
The incident occurred at the Steveston Fisherman's Wharf, Richmond, British Columbia, Canada, and was filmed by university student Michael Fujiwara.
In an interview with the Canadian Broadcasting Corporation (CBC), Fujiwara explained that a crowd had gathered to observe the large male sea lion as it swam near the docks. He also mentioned that some of the onlookers began feeding the sea lion bread crumbs before the unnamed girl decided to sit precariously close to the dock's edge. He continued:
[The sea lion] initially jumped up to the girl to read her I guess, and then it came back up a second time, but this time grabbing the girl by the waist and dragging her down into the water.
Thankfully, the girl survived without injury, but Fujiwara noted that the girls' family were "pretty shaken up" by the encounter.
Experts caution people to respect sea lions' boundaries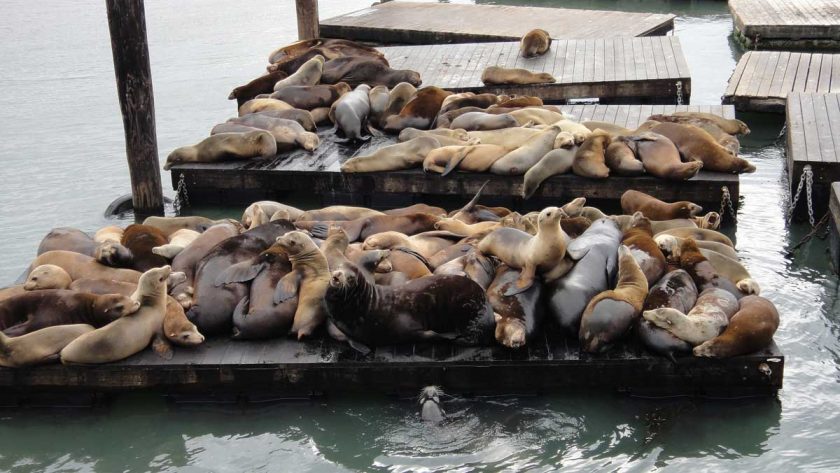 Officials with the port authority and marine mammal researchers point out that the girl's parents should not have allowed her to get so close to a large wild animal. They are also referring to the video to caution future visitors to respect sea lion's boundaries.
Andrew Trites, the director of the University of British Columbia's Marine Mammal Research Unit, told the CBC:
My first reaction to the video is just how stupid some people can be to not treat wildlife with proper respect. This was a male California sea lion. They are huge animals. They are not circus performers. They're not trained to be next to people.
Giving advice to future visitors of the dock, Trites said, "You keep your distance. Watch the animals, but let wildlife be wildlife."
In a separate interview, chair of the Steveston Harbour Authority, Robert Kiesman, said:
You wouldn't go up to a grizzly bear in the bush and hand him a ham sandwich, so you shouldn't be handing a thousand-pound wild mammal in the water slices of bread, and you certainly shouldn't be letting your little girl sit on the edge of the dock with her dress hanging down after the sea lion has already snapped at her once. Just totally reckless behaviour.