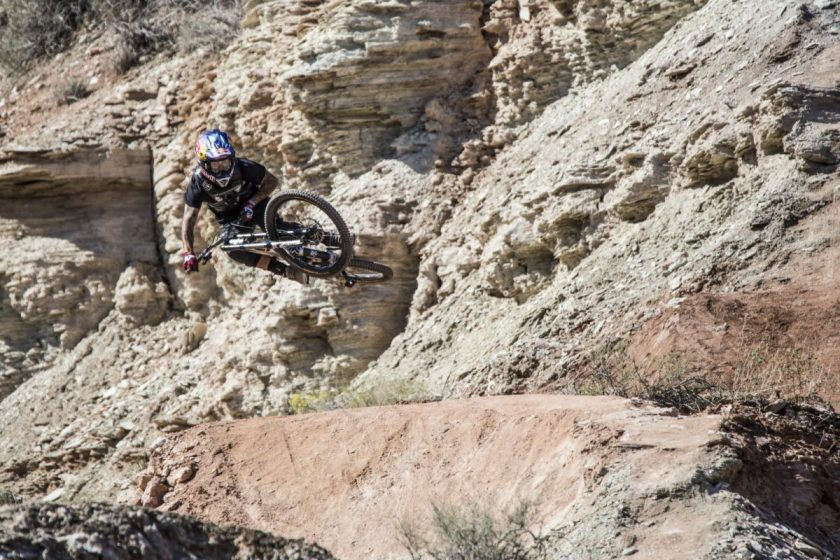 After three straight years of coming in 4th place, Spanish mountain biker Andreu Lacondeguy broke his curse in a big way, coming out on top with an emotional victory after fighting back nerves and a stacked field of competitors. Set against the picturesque backdrop of the Southern Utah landscape (at the new course in Virgin), 20 riders thrilled fans tuning in live across the globe to watch an event considered the pinnacle of freeride mountain biking.
The sun came out in Virgin after a weekend that saw severe weather and flash floods in the area, and many of the biggest names in freeride mountain biking were shining with superb runs that combined speed, style and big tricks. Lacondeguy topped the field with one of the steepest and most difficult runs possible, capping with a huge flatspin backflip off the Polaris RZR booter.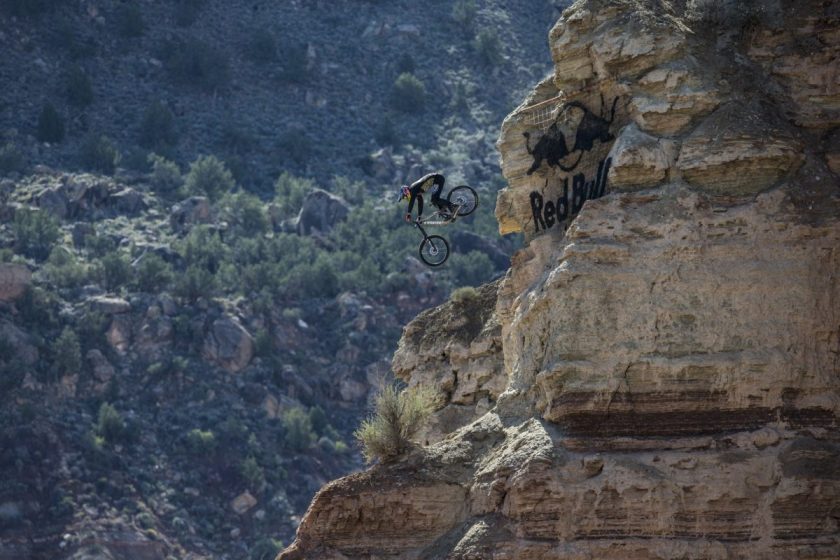 Previous Rampage champion Cam Zink earned the Best Trick, presented by Utah Sports Commission, for a massive 360 drop 60 feet off a cliff. His run also earned him the second place spot on the podium. Canadian rider Brandon Semenuk earned 3rd place and the People's Choice with a line stacked with tricks, including an opposite 360 and backflip one footed can-can.
While top qualifier Graham Agassiz had to drop out of competition due to an injury sustained in practice, several qualifier athletes and Red Bull Rampage rookies made their mark, including Jeff Herbertson and Szymon Godziek who both back flipped a 73' canyon gap. The new course for 2014 started as an open canvas for athletes, who alongside a team of builders shaped their lines 10 days previously, working their way down 1,000 vertical feet of cliffs. Athletes are judged not just on tricks but the difficulty of the route they choose, as well as their speed and style on how they get from top to bottom.
As Andreu Lacondeguy prepared for his run, his nerves were running high, but so was his desire to finally be on the podium. His first run proved to be all that he needed to finally accomplish his dream. "I knew I needed that extra little bit to be on the top and this year I just picked the steepest line. As soon as I heard the countdown I just got out of the cage and pinned it to the bottom." As he went to the top to prepare for a second run, he watched the rest of the riders try to beat his score without success. As soon as his fiercest competitor Brandon Semenuk finished his run and he saw the score would not top his, he put down his bike and wiped away tears, as his dream was finally realized.
Check out highlights of the event below:
Via: Red Bull