In a tribute to their favourite childhood game, Dominic Roithmair, Georg Lettner, Marco Waltenspiel and Marco Fürst have achieved what could be the longest swing in the world — the Mega Swing.
This summer, a balloon served as an anchor for the swing, while the four skydivers jumped from a second balloon. Both were placed at a height between 1,500 and 2,000m.
Of the stunt, Waltenspiel said:
Everyone knows what it's like on the swing at the playground. You swing as hard as you can and jump off. We wanted to do the same, but on a much bigger scale. It's all about the right timing and jumping. When the rope is perfectly tout to swing nicely forward, it's just perfect.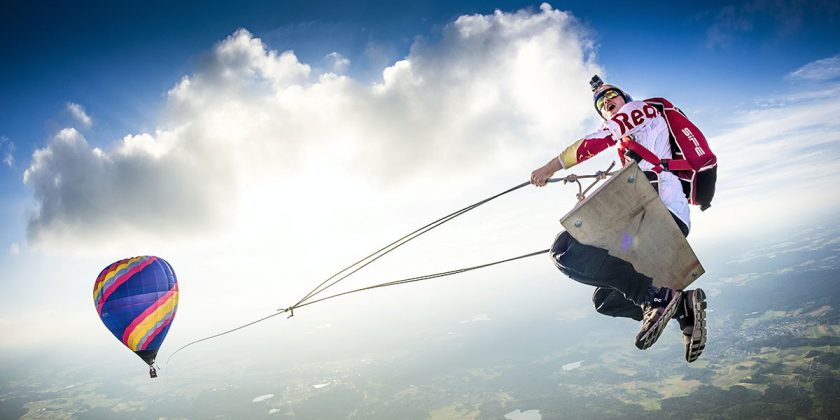 A hot-air balloon was the ideal aircraft for this trick. Piloting them required a huge amount of experience though, hence why the skydivers turned to Austrian experts from the Pink Klatovy center. After an intensive planning and preparation phase, the whole crew did a test run in superb weather conditions.
After a few attempts, they pulled off the perfect swing with a length of 125m.
Roithmair added:
The great thing was that you don't have any off-putting noise. Unlike in a plane, it's silent in a balloon, you swing out and it starts to swoosh. After the swing it's quiet until the noise starts again. We've fulfilled our childhood dreams of going on a giant swing!

You accelerate in a completely different direction to what you get in normal base or parachute jumping. You jump down, fall and wait for the moment when the pressure kicks in. Then after a few seconds you go forward with a non-motorised acceleration, which gives you an unbelievable feeling. I can't recall any free-fall that has such different patterns of movement.