According to Back to the Future 2 (1989), the hoverboard is in existence by 2015. Well our dreams may have become a reality. Tech company HUVr Tech has released a promo video on youtube of the hoverboard they've designed and build. The debut video, entitled BELIEF, sees actor Christopher Lloyd, a.k.a. inventor Dr. Emmett Brown in the "Back to the Future" trilogy, present the hoverboard to legendary skateboarder Tony Hawk. After taking the board for a spin, Tony said "I can't believe how well it works."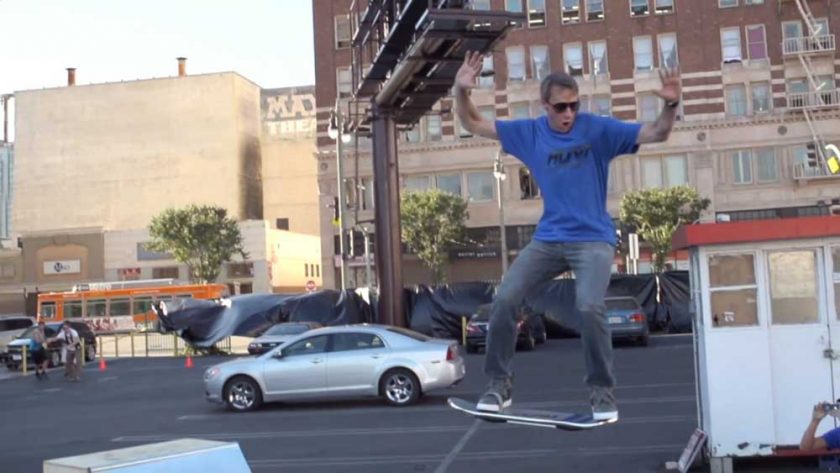 Moby, Schoolboy Q, and more also demo'd the board, that came in a number of different style designs, included the original pink board from Back to the Future. "The feeling is indescribable," Owens said as he stepped on the Hoverboard. "I felt like I was out of this world for a second, and I looked down and my feet are off the ground. And I'm like 'this is really happening.'"
According to the video the board has more technology in it that the satellites being sent into space in 2010. The HUVr Tech website states:
'"This is clearly a new frontier for science, and we're excited and honored to share this first chapter with the world." —HUVr Team
What began as a summer project in 2010 at the MIT Physics Graduate Program has evolved into one of the most exciting independent products to be developed out of MIT since the high-powered lithium-ion batteries developed by Yet-Ming Chiang in 2001. Our team consists of materials science, electricity, and magnetism experts who've solved an important part of one of science's mysteries: the key to antigravity.
The HUVr Board team ultimately aims to improve the efficiency, speed, and sustainability of mass transportation. Yet rather than spend several more years closed off from the world while investing in research and development, the team and our world-class investors have worked to change the economics R&D by marketing this exciting consumer product in order to fund ongoing R&D.'
Mark Cuban, who owns the NBA Dallas Mavericks and is known to invest on 'Shark Tank', has invested in the hoverboard saying "Once in a rare while do you get the chance to be part of something this big. This is one of those times. I've never been so excited for a product I've invested in. This [expletive] thing is going to change the world!"
The website and the video look awesome and like so many Back to the Future and action sports fans I really want this to be real. Hidden in the websites legal terms section however, it states, 'The inclusion of any products or services on this website at a particular time does not imply or warrant that these products or services will be available at any time.'
And in the final paragraph it gives more reason to doubt.
'The information and materials on this website may contain inaccuracies and typographical errors. HUVr does not warrant the accuracy, completeness, or usefulness of such information and materials or the reliability of any advice, opinion, statement or other information displayed or distributed through the site.'
To further cast doubts, someone pointing out on Facebook: HUVr Tech's lead engineer, Nelson Cheng, is a real actor. Companies hire actors for promo stuff all the time though so that may not mean anything.
There's been a lot of excitement on the  HUVr Tech's Facebook page and the company have reached out stating "Yes! This is real!"
TechCrunch.com surmised that this video could be a teaser for "Back to the Future 4," which would still be cool. It looks like we will have to wait until December 2014 to find out though.

One thing's for sure, if this board is real it would revolutionize board sports forever. Thanks, Doc!
UPDATE: HUVr Tech have addressed a few more questions on their Facebook page.
UPDATE: Tony Hawk has revealed that the hoverboard is not real. While the video did not look entirely convincing a lot of people believed that the board actually worked. It still remains an incredible concept!