For three years, Russian born BASE jumper, Valery Rozov, had dreamt of BASE jumping off the sixth highest peak in the world—the Himalayan mountain Cho Oyu.
In October 2016, Rozov finally managed to fulfil this dream. After several first attempts, he managed to take off from 7,700 metres before spiralling to the ground for 90 seconds. In doing so, he successfully achieved a world first in the discipline.
It was also a world record – although un-ratified – for base jumping. Rozov broke the previous highest mark of 7,220m, which he set himself in 2013 from Changtse in the Everest Massif.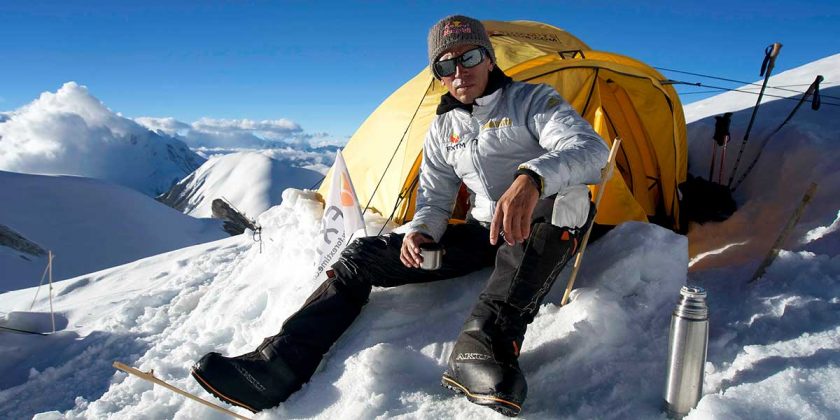 For the 51-year-old, it proved a particularly poignant expedition. He dedicated it to renowned climber and close friend, Alexander Ruchkin, who died tackling a climb in Peru last year.
Three years ago, Rozov and Ruchkin had been climbing together when the idea was born. Of the venture, he said:
It was my dream and my goal for the last three years since I found a new exit spot on the top of the south west wall. Now that I've pulled it off I'm very happy I was able to make this jump not because it's a world record or because it's a personal athletic achievement for me but also as commemoration for my late friend Alexander Ruchkin with whom we were scouting locations for this jump three years ago.
During the expedition, conditions were so difficult that the flight was in danger of being called off altogether. A cameraman and two sherpas joined Rozov on the journey but, his first attempt was cancelled because of too much snow.
Upon return, he said:
We had to come back after one week when the snow had melted and we were then able to finish our work.

Valery Rozov on Mount Cho Oyu, Himalayas. Photo: Nika Lebanidze / Red Bull Content Pool
On 5 October, Rozov successfully managed the descent, plunging into the ravine for a minute and a half before opening his parachute and making a perfect landing on the glacier below.
Rozov, backed by FXTM, had prepared for his record attempt with a series of jumps in France and the Dolomites, and by climbing the 5,750m Mount Pisco in Peru.
Featured image Valery Rozov on Mount Cho Oyu, Himalayas. Photo: Nika Lebanidze / Red Bull Content Pool