Dario Pegoretti is leading the next generation in artisan bike builders. After making frames for over 30 years, he still retains his title as one of the most innovative and original artisan bike designers in the world. With his small factory in the Italian Dolomites, Pegoretti is a pioneer in bike building technique and was one of the first bike builders to utilize TIG welding in Italy.
Inspired by art, each of his bikes is painted, in his factory, and showcases the stunning fusion of sport and creativity. We spoke to Pegoretti to find out more: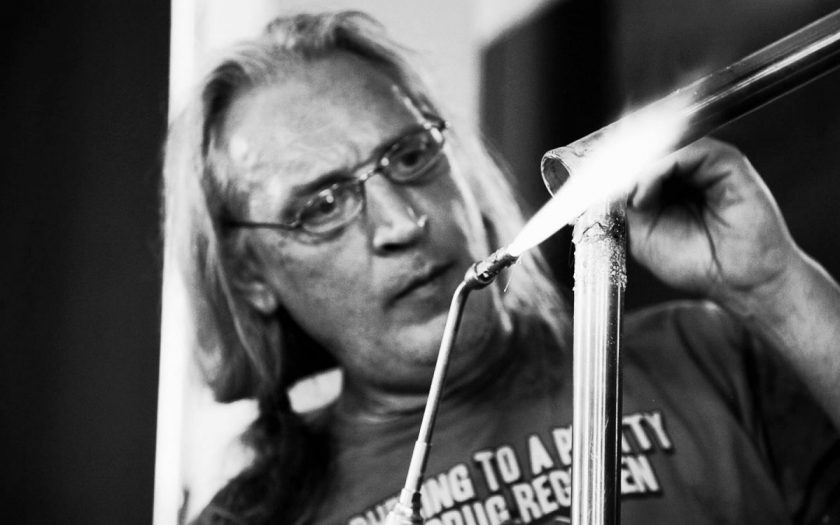 1. Tell us about your brand. What inspired you to start-up and when did you launch the company?
I used to work as a contractor until my biggest client dumped me and I found myself on a turning point.
Being a frame builder with his own brand, working on something original without big brands as clients, wasn't an easy path back in those days.
Steel handmade frames were not a niche market; they were the mass market. So I had to do something different, something I believed was better—to compete with the big companies that made thousands of frames at a reasonable price in dozens of different models.
I tried and luckily my ideas were appreciated by customers, especially in the US (one of the few markets where the knowledge and skills of an artisan were and still are highly esteemed.)
Rapha and RSA Films present a fantastic mini-doc about Pegoretti's hand-built bike factory below. It also gives an insight into Dario's passionate passion for his craft:
2. You've been making frames for over 30 years and have worked alongside cyclists like Indurain and Pantani. What did you learn from these two iconic world class cyclists and how did this influence your designs?
In my youth, I was a cyclist—so I understand that riding and designing a frame are two very different things. It is like looking at something from two different perspectives: the thing you are looking at is the same, but the way you see it is different.
When I met the great racers of the 80's and 90's,  I was the frame builder, and they were the cyclists—we had a meeting point, the frame, but different ways to look at it—so I would say that we learned from each other.
3. You've devised some truly innovative techniques to create your steel bike frames. What do you think has been the most significant?
Thinking about the frame for what it is supposed to be and designing it with common sense, functionality and objectivity.
4. Let's talk about your paint schemes. Why did you decide to mix sport with art?
I was just tired of painting my frames with the most traditional and fashionable colours organised in sterile graphics and patterns. I started thinking about frames as canvases. I had always loved art, especially abstract expressionism, so I started there.
To see Pegoretti's design work in action at the North American Handmade Bicycle Show, watch the video below:
5. What inspires each pattern?
A moment, a situation, a person, a song, a phrase, this is what inspires me.
6. Any favourite designs?
Each design I created is a memory, so I like them all.
See our gallery of Pegoretti's inspired designs here.
7. In your opinion, what's the future of cycling?
Just two words, urban and mobility.
Featured image: The Blob design. Photo: courtesy Dario Pegoretti