We know that caffeine is used extensively in all types of sport. Up to three out of four athletes admit to consuming caffeine before or during sports competition, which is completely normal these days. But why?
While caffeine is awesome for endurance, very often it can have ugly side effects.
We interviewed Helena Hills, co-founder of TrueStart Performance Coffee, to discover the truth behind caffeine: the good, the bad and the ugly!
https://www.youtube.com/watch?v=H6p3B6RSUNo
1. First up, why caffeine?
Caffeine is awesome. There are loads of studies out there on the effectiveness of using caffeine in training; it has so many benefits for your mind and body. The key is having the right amount, not too much and not too little.
2. What are the main benefits of using caffeine in sport?
Good question, there's so much info out there. Caffeine is particularly good for endurance, my husband and I both do IronMan triathlon so we've learnt a lot about using caffeine to boost our training. Here are my top five benefits, made simple:
Improve focus & mental performance
Studies show that even low doses of caffeine improve vigilance, alertness, mood and cognitive processes during and after exercise. This means you can really stay focused on getting the most out of your training session.
Go faster
In one study on runners, the ingestion of caffeinated coffee (caffeine level measured) was shown to enhance their speed and therefore performance of sustained high-intensity exercise. Great news for your pb!
Train harder
Caffeine has been shown to lower your rate of perceived exertion, meaning you can push yourself harder. Check out this study, which demonstrates that caffeine reduces RPE during exercise which may partly explain the subsequent ergogenic effects of caffeine on performance.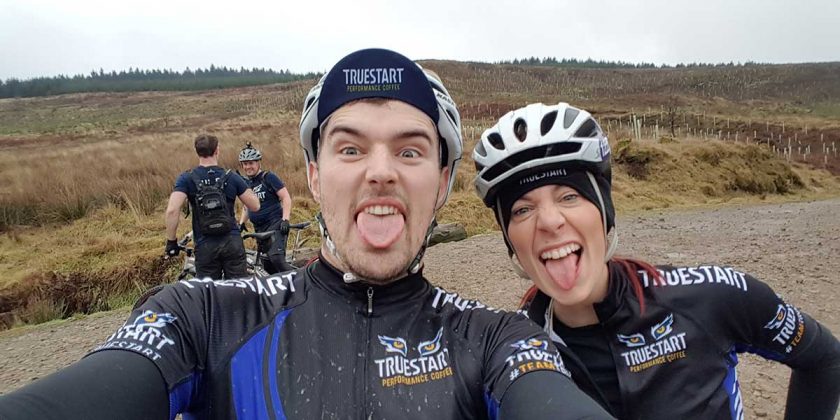 Train longer
Caffeine helps your body burn fat more easily, meaning you can use fat as an additional energy source rather than relying solely on your carb stores. That means you've got more in the tank before you hit the wall, so you can train for longer. Awesome news for endurance training and racing.
Recover faster
Good news for tomorrow's workout if you hit it hard today! Consuming caffeine, post exercise, helps muscles refuel by increasing the rate at which your body absorbs muscle glycogen.
There's a whole host of benefits to drinking coffee in particular too, like the awesome number of antioxidants that help beef up your immune system.
3. Well, caffeine sounds like a wonder drug doesn't it? What's the bad news?
You probably already know that caffeine has adverse side effects if you have too much of it. Personally, over-caffeination means heart palpitations and a dodgy tummy! I'm pretty sensitive to caffeine, so I have to regulate my intake. Caffeine also doesn't actually do anything if you don't have enough. It's important to work out how much works for you then stick to it.
4. Ok, so we've covered the good and bad. What about the ugly?
I guess the ugly side of anything is the unknown. When Simon and I were training for a particular event a couple of years ago, we were always drinking coffee before a training session. But because of my caffeine sensitivity, I was literally having heart palpitations out on the bike one day and nothing the next. It was making me feel pretty crap and I was moaning about it to Simon, who suggested our coffee might be the culprit.
I was dubious because it's natural and awesome – who doesn't love a coffee! – but started to read about caffeine and training. I found out that the caffeine level in coffee varies an unbelievable amount – even if you stick to the same brand. You literally don't know if you're drinking 30mg or 330! No wonder I was feeling so different every time. Interestingly, there's no real correlation between strength of taste and strength of caffeine. In fact, your dark roast might taste 'strong' but it tends to contain less caffeine than a light roast because the caffeine burns off during the roasting process.
5. Is there a difference between the caffeine you get in coffee, and the caffeine you get in energy drinks?
Yes. This was something else I learnt. Turns out, the synthetic caffeine in most energy drinks, gels and pills get into your bloodstream faster and cause that spike and inevitably, the crash! The natural caffeine in coffee is actually ideal for endurance because it's naturally slow releasing. The problem with these natural sources is you've got no idea how much caffeine you're actually consuming!
There's another important factor too. You need to watch out for everything else that's usually hiding in these energy drinks – all the sugar, artificial sweeteners and chemicals.
6. So how can I stick to natural caffeine and regulate my caffeine intake?
Without sounding like a sales pitch, that's where TrueStart Coffee comes in. It was exactly the problem Simon and I were having. After our discovery about the random caffeine levels in coffee, we wanted to develop an awesome, clean coffee specifically for sport, with the perfect caffeine boost and no crash. So that's exactly what we did – every serving of TrueStart has 95mg of natural caffeine, so you can customise your own intake and feel great every time. You really do notice the difference.
https://www.youtube.com/watch?v=VRdiKUSGOqA
TrueStart Coffee has also just launched a new range of performance coffee energy bars! WIN some by entering their competition.