The Rungu Electric Juggernaut is designed to be the ultimate adventure bicycle. According to the brand, the beastly fat-tire trike is the most powerful Portable Off-Road EV in its class and features three huge tyres and a high-torque, three-phase hub motor. With a top speed of 20 miles an hour and a 20-mile range, the 41 kg Rungu can power across any terrain including sand, snow and mud. But this power machine is currently dividing opinion between those who admire the full throttle power, and those loyal to the mountain bike.
The Rungu
The Rungu Juggernaut started out as an answer to a problem "how best to transport surfboards to the beach?" Designed by a family business based in California, USA, co-founder Peter Godlewski wanted to find an easy way to transport his gear without taking his car.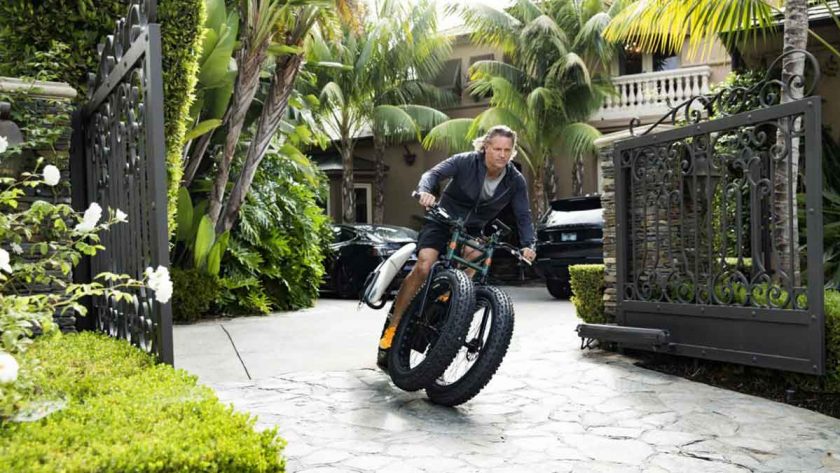 The trike quickly evolved into being the 4×4 pick-up truck of bicycles. With its two front wheels and fat tyres, it became capable of conquering all surfaces including notorious soft sand and snow. Adding electric power just made the pedalling that much easier.
It's now been described as "the new transportation alternative for hunting, winter commuting, as well as touring the beach and ski resorts".
https://www.youtube.com/watch?v=X_pMtZUjmaE
The reaction
Since launching, the Rungu has received some really positive responses. Digital Trends wrote: "This three-wheeled electric beast tames the toughest of trails and leaves you grinning from ear to ear." While Outside Online described it as "the ultimate winter toy for big kids". But some have questioned the trike's appeal and the hefty price tag that comes along with it. The electric version starts at $3,299 (£2500), while the pedal only version is priced at $2,499.00 (£1950).
On a video about the trike posted by Tech Insider, one user commented: "No need for a second front wheel. It makes it cumbersome for fast manoeuvring and instead of being steady, it becomes rigid.
Another added: "Looks heavy and bulky. You can do this with just two wheels. It's a waste of money."
Several others questioned its energy consumption with one user stating: "Made for mountain-bikers. Yeah right, I don't think so. Real mountain-bikers ride two wheels, and pedal…"
While the trike certainly has some appeal, I think it will be lost on the loyal mountain biker. The Rungu is useful for transporting gear and accessing hard to reach areas, but its weight, energy consumption, price and manoeuvrability will put many people off it. That being said, according to its website, the Rungu Electric Juggernaut is currently out of stock. So who am I to say?
Let me know what you think about the Rungu and if it has a place in the market.
Featured image: Rungu Facebook page