The Ribble Aero 883 has proved an extremely popular bike, winning multiple awards and praises. It's proved so popular that the team has launched a disc brake model for 2017.
Aero 883 Disc
Its short top tube and head tube mean that the Aero 883 is perfect for both road racing and triathlon and offers a lower aerodynamic front position.
Every inch of the Aero 883 Disc has been optimised to reduce drag, with a Kamm Tail shaped seat tube and down tube and an integrated seat clamp built into the frame. This not only looks beautiful, but also reduces wind resistance.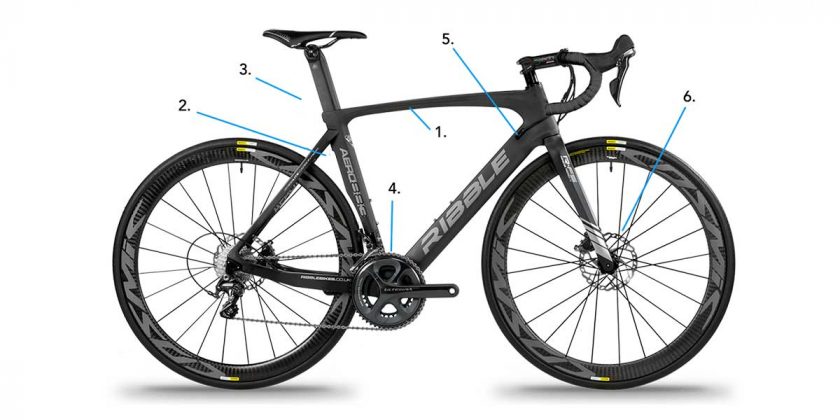 1. Di2 and EPS ready frame                         2. Large Kamm-Tail seat tube                             3. Hidden Seat
4. Press Fit bottom bracket                        5. Aero tubing and internal cables                       6. Flat mount Disc brakes
Up front, the specially shaped aero head tube features integrated shrouds to direct air flow around its base and the shorter top tube means you can easily fit a pair of tri-bars to give you that lower tri position for aerodynamics.
The rigorously tested aerodynamic tube profiles of the Aero 883 Disc are also shaped to minimise drag and the rear wheel is tucked up behind the partially curved seat tube creating a shorter wheelbase.
Framework
Developed in association with Performance Engineered Solutions in Sheffield, a company whose skills lie in F1 and MotoGP, the Aero 883 Disc's frame is a special blend of high-end T1000 and T800 unidirectional carbon composites. This ensures that the frame is both light yet stiff and has precise handling characteristics.
Watch the bike in action:
Aerodynamic
According to Ribble, the Aero 883 Disc is its most aerodynamic disc road frame to date. Taking inspiration from the automotive industry and models like the Ferrari Dino, the Ford GT40 and the Aston Martin DB6, the Kamm-tail shape works exceptionally well to reduce air resistance.
Hours of advanced computer simulations has resulted in a frameset of varying aerodynamic profiles—each optimised according to location to reduce turbulence across a wide range of wind directions (yaw angles).
Ribble's recommended build features a Shimano Ultegra Hydraulics groupset, Mavic Pro Carbon Disc Wheel and Tyre System and a Deda Zero 100 handlebar and stem—priced at £2,899.
The brand also offers unmatched customisation with their Advanced BikeBuilder. The Advanced BikeBuilder is where you can make more of your own decisions—choose your ideal groupset and wheels and personalise it with your own preferred finishing kit.
To find out more head to Ribble's website—www.ribblecycles.co.uk