Selle Royal (SR) is a bespoke bicycle saddle and accessory company, based in Italy. Launched in 1956, SR prides itself on innovation and continues to lead the way in technology and design. They have just launched the TA+TOO, a new range of customizable saddles created with urban cyclists in mind.
Padded with 3D skingel, which the brand says is able to absorb shocks 40% better than other padding materials, the saddle uses an attachment/detachment system so that it can easily swapped-out (to change styles) and/or removed to help prevent bike theft. We spoke to Monica Savio from Selle Royal to find out more.
1. Tell us about Selle Royal. What does the company do?
Selle Royal has been a world-leading bicycle saddle brand for over 50 years. Our history is one of continuous innovation built on research, technology, and advanced design. Starting from a small workshop in Italy in 1956, now Selle Royal exports to over 70 countries worldwide and is the choice of many important and prestigious bicycle manufacturers. Our saddles have won numerous design awards and are today the subject of scientific research in the bioengineering laboratories of major European Universities.
2. You've recently launched TA+TOO, the first modular saddle for urban cyclists. What makes TA+TOO so special?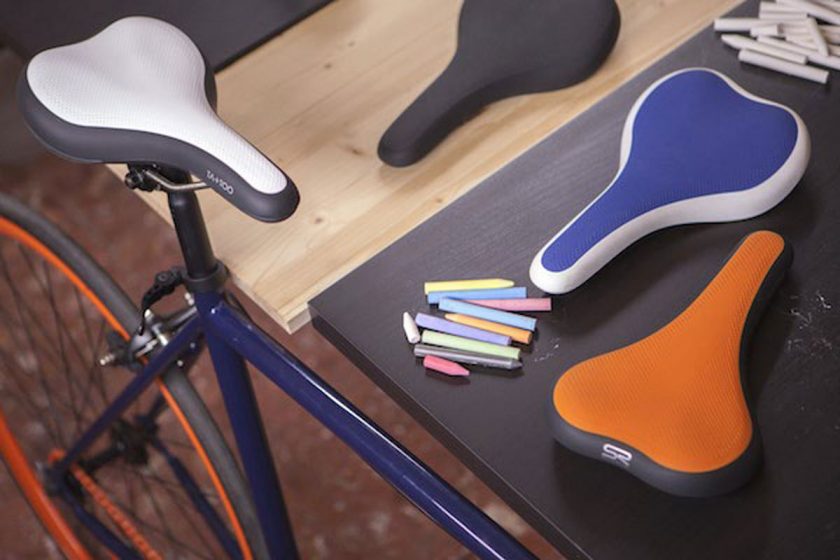 What makes TA+TOO so special is a patented system, awarded by Red Dot Design as best functional smart design, that features a removable saddle top. The saddle top can attach to the saddle base and also be removed. This prevents saddle theft and vandalism, prevents a wet saddle and lets riders choose unique colours and patterns.
TA+TOO meaning 'goes with you.' It's a double meaning: matches your style, and travels with you.
3. How long did it take to design?
It took 24 months from the first draft idea, the analysis in the market, till to the final engineered sample.
4. Who is your target audience and how have cyclists responded so far?
For the moment, due to the specific and unique shape of the saddle, the target audience is the dedicated urban commuter who lives in an apartment and must often park the bike outside.
The dedicated TA+TOO cyclist is looking to invest in a saddle solution that allows them to live a cycling lifestyle more easily, without daily saddle worries.  They embrace the cycling lifestyle and want to make a statement in a smart and stylish way.
5. You're creating a series of unique TA+TOO saddle collection designs this year. Who will be involved in this collaboration? Any sneak previews?

The TRAVEL collection actually just launched. There are 3 different saddle designs. These are the collaborators who created the designs.
On 13th July we will launch Vintage edition. Then these collections will follow:
mid of September = WILD
beginning of December = LOVE
mid of March 2017 = LANDSCAPES
The illustrators of these collections will be revealed one month before each launch! So keep an eye out.
6. How much does the saddle cost and where are you currently selling?
We are currently distributing the product through our official website. Prices vary according to the specific configurations you can choose on our website:
The base (which is currently available in 2 colours) is €35 (£28/$40). The standard top of the CHROME collection (which is available in 12 different colours) is also €35 (£28/$40). The recently launched ILLUSTRATED SADDLES in the new limited collection "TRAVEL" (only 100 pieces available for each) is €45 (£35/$50).
7. What's next for urban cycling?
Urban cycling is a huge and growing market, and it's also changing a lot. People want to be more and more unique and this is driving the next level of urban cycling innovation. We strive to combine even more style and functionality into our products that are designed for everyday use.