According to its manufacturers, the SpeedX Leopard is the only smart aero road bike with the ability to help the user train and track their progress in real time. The bike which weighs only 1.2 kg, thanks to its T1000 military-grade carbon-fibre frame, is designed with an integrated SpeedX Smart Control which provides data and professional analysis in real-time via a 2.4" inch screen.
Designed to enhance the experience and performance of the user—the bike, which contains built in sensors—tracks 12 different variables via the Smart Control, including, lap time, heart rate, calories, altitude and weather. The control, which has a battery life of 40 hours, also includes a feature called XCoach which has been specifically designed to prepare professional training courses—with tasks and challenges, as well as global ranking tables.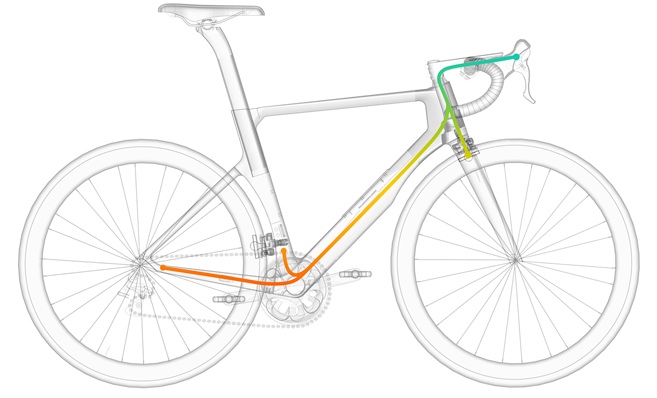 Whilst the Smart Control is one of the bike's stand out features, its design is also a major selling point. After over 300 production and testing processes, the SpeedX frame claims to deliver a better stress distribution performance and also comes with fully-integrated wiring. Its light carbon fibre frame, enhanced aerodynamic shape, through positioning the brakes behind the front fork, and sleek design all contribute to its growing popularity and success in the biking world.
Alongside the actual bike, the team have also developed a unique Smart Bike Fitting System to provide every rider with the best possible bike-fit. Whilst the rider just uploads a picture of their self, the system calculates the best model, frame, handle bars and stem to suit the rider.
Although the bike is not currently on the market, the bike is already receiving a lot of interest. Last week the team launched a kick-starter campaign to raise $50,000, they achieved this goal in 2 hours. After 6 days, the team have now raised $921,478 and still have 24 days left of the campaign. With this incredible success, they have already laid out their future production plans with a manufacturing partner in China.
All Photos: SpeedX Leopard/Kickstater
For all thing bike keep it dialed-in at ADAPT Network