Showing incredible prowess in both motor racing and diving, it seems that 24-year-old Ray Black Jr. is truly a Jack of all trades, master of… all. From a young age, Black has loved diving, and it has been an important part of his family life, with his father owning a diving school in Florida, and Black owning his own diving business. But it is racing that has become his biggest passion, and his dedication and hard work have seen him rise through the ranks, as he is now becoming well-known amongst NASCAR fans as one to watch…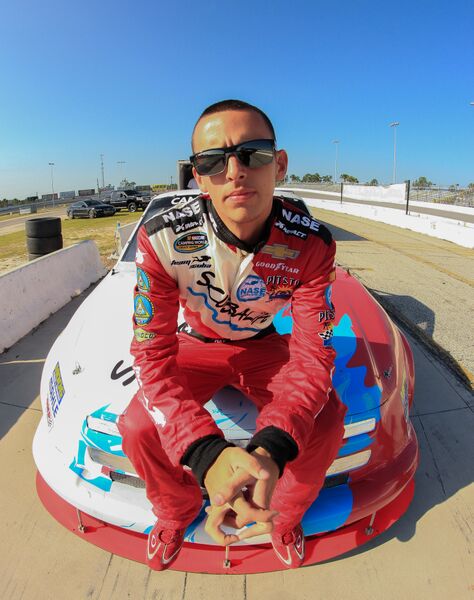 How and when did you first get into diving?
My Dad's been diving since he joined the military when he was 17, and ever since then he's had a big passion for it and he's travelled the world with the military and he finally got a school going in Florida. I was born in Alabama but things just weren't working out there, so I went with my Dad and as soon as I got there I fell in love with it, and he showed me how to dive and I grasped onto it, and I was good at it. It was something that I could do with him, that connected us, and it was fun, I enjoyed it, and it was good to start early.
How did your passion for racing come about?
I started driving when I was 14. I had watched NASCAR on T.V. and played a few games, and drove around the yard in a mule buggy we had. I just liked going fast, and it took a little convincing, but eventually it took about 6 months for me to get my Dad convinced that I really wanted to do it, because when you're that young you don't really know what you want to do, but he believed in me. So I went out there for my first race, and got into a wreck, and I thought that was the end of my racing career, but it wasn't, we stuck with it and we've come a long way. It's been a little up and down, but it's been good so far.
It sounds like your Dad has played a pretty significant role in your life, especially with your diving and racing careers…
Yeah, he's the backbone of my life and career, and everything I've ever done is to make him proud. Whenever he's having a good day it just makes it worth it. It's fun too, I love it and it's cool to have him love what I do and have him respect it.
It seems that 2015 has been a great season for you with NASCAR. How would you sum up the season and what have you got planned next?
I think our season's been amazing and we've exceeded a lot of expectations. We got a top 5 at the beginning of the year at Daytona, and that really propelled us through a lot of good races. We've had some ups and downs with mechanical issues and things like that, but the majority of the races have been really good. We've been running top 15 a lot, and showing a lot of speed and potential, so it's paying a lot of dividends. Now we're sitting in a good spot to get in top 10 in points, which is really big and it's hard to do, and we're just a few points behind it, so I think we can finish out the season really strong. This is what we call a learning season, so next year we'll have a bigger budget and we'll know all the tracks. It's been good, but when you start doing well you want to get some better finishes, so we're still learning for the most part.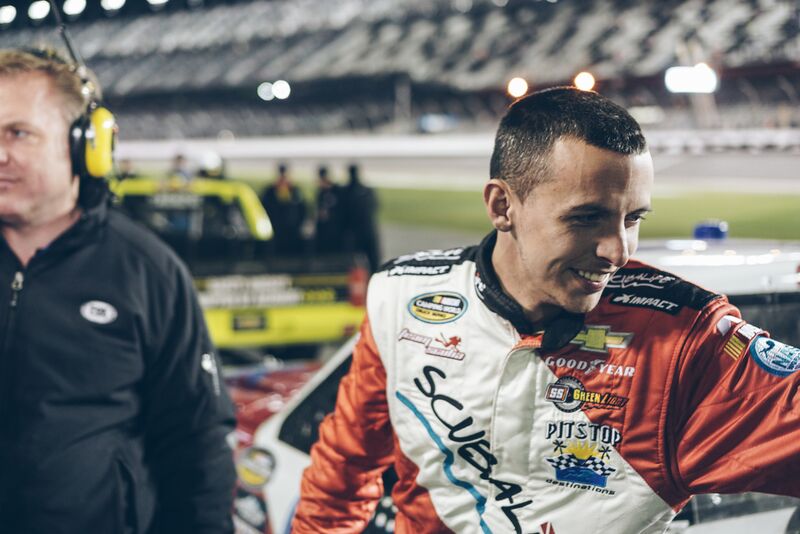 What's it like to be part of Team Scuba? How many factors go into running the team?
There are a lot of elements to Team Scuba, it's just a big umbrella. All the sponsors fall under it: ScubaLife, NASE Worldwide, and Commercial Driving Academy. As far as the racing, as a banner, I'm under it, and we race some local short tracks in Florida with late models. For NASCAR, Team Scuba Racing are joined with SS Green Light.  Team Scuba has really been the whole message we've been sending over the racing career. We're trying to promote diving and get more people involved with it, so I think Team Scuba was a good name to start everything off with.
When you're so busy with racing, do you manage to find much time for diving?
Not as much as I want to, but where my house is, I actually live on a spring, so in the past three months I probably went diving 2 or 3 times in it, which is always fun. I have a business that works with offshore inspections and repair work, so I might get to go to south Miami and do that when it's off-season. It'll be fun to be back in the water and get back into it, all while making some money.
In 2010 you got to go and work on the salvage of a dry dock ship, which must have been cool?
Yeah, it was in the Gulf of Mexico. Things like that are awesome, and jobs like that don't come around very often, so that was unique. It was a huge dry dock, it was about 240ft long, it was fun, and we saw a lot of cool fish. We got to work and have fun at the same time, so it's a great time and a great bonding experience with my Dad and my friends, we're all one big family.
Do you have a favourite place to go diving?
I like St. Kitts and around Barbados, the water is really clear and it's not too cold or warm. Key West is great too, I go down there every year with a group of friends and we'll go fishing and diving and have a good time. There are a lot of places I want to travel to where I can go diving, so hopefully I'll get to do that.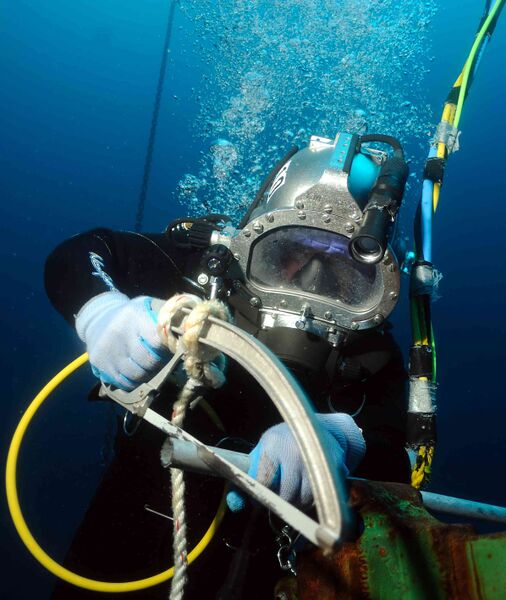 The calmness of being underwater when you're diving must be a nice contrast to the intensity of racing…
Yeah it's quite the opposite even though they have a lot of things in common. The racing is intense, and the diving is very calm. It's a whole different world when you go diving. You can go just 15 or 20 feet and you see all kinds of fish, dolphins, and sharks and you can just kind of be at one with everything and watch how everything goes down. But it's like racing, you're on edge the whole time and watching everything that's going on around you. It's a change of scenery though, for sure.
Are there any other similarities you've found between racing and diving?
An example is that when you're working underwater you'll have a dive team. There'll usually be another diver in the water helping you, and you have a whole team up above working on the air, giving you tools and being a back-up. It's the same with racing, you get to the track and you have a whole team and everyone has their role to make sure everything works as it should and is safe.
Talking of safety in these two extreme sports, which would you say is more dangerous?
I'd have to say probably diving. Racing has come a long way with safety barrier walls and the helmets keep getting better, and NASCAR does a lot to keep you safe. Diving is really safe also, but I feel like there are a lot more variables and unknowns that could happen when diving, especially if you get separated from your diving buddy, or you get knocked out, or get bad air. They can both be really dangerous, so you've got to make sure your apparatus is updated and well taken care of.
Do you have any advice for people who might be interested in getting into diving or racing?
The biggest thing I've learned in racing is being passionate about it. When it comes down to full-time racing it's just non-stop, you live, eat, and sleep it. Especially when you're a smaller team, you've got to work on all your cars yourself and drive them to the track, and it just takes 100% effort. If you're not fully in love with it, it probably won't work out. Everybody on our team is so passionate about it, even though they don't get paid much, it's all about doing what they love. It's not easy to get into, but if you keep working at it and get really good at your job then you've got a shot at it. With diving though, there are a lot more opportunities because there are diving schools all over the world, and once you've got your qualification, you can go all over the world diving and doing what you love.
Check out www.rayblackjr.com to keep up with Ray's adventures