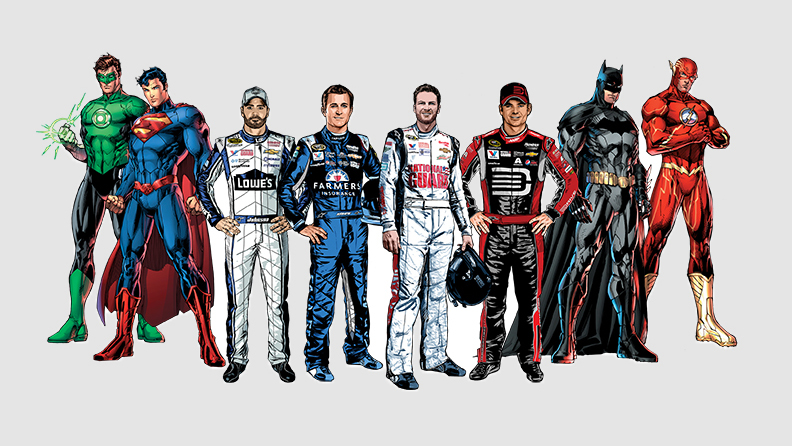 DC Entertainment have joined forces with Hendrick Motorsports to bring the Justice League comic book superheroes to the race track.
DC, the comic book publisher, and Warner Bros. Consumer Products have penned a three-year deal with Hendrick Motorsports that will see  characters like Superman, Batman, the Flash and Green Lantern pair up with Nascar race car drivers Jeff Gordon, Kasey Kahne, Jimmie Johnson and Dale Earnhardt Jr.
By molding these two worlds, the project aims to use the comic book characters to promote Nascar to a younger audience as well as build up excitement around racing via licensing and other merchandise initiatives, both on and off the track. Timing couldn't be better, the film-industry is currently churning out high-quality movies based on comic books at a record-rate. This trend is successfully moving onto TV as well, with shows like Agents of Shield and Arrow having huge fan-bases.
The partnership could see a number of different projects. These include car paint schemes by DC artists (that would look cool) as well as comic books and digital content that incorporate existing DC characters with illustrated versions of Hendrick Motorsports' drivers (check out the picture above). Maybe we will also see some tie-ins with the TV and Film programming and releases (think a Nascar based Batman movie and Batman racing his Batmobile around an oval).
Brad Globe, president of Warner Bros. Consumer Products said, "This partnership will allow us to offer Nascar and DC Comics fans unique experiences that tap into the storylines of our characters and the successes of these four world-class athletes."
Enticing a younger audience to the world of Nascar appears to be the primary objective of the deal. Of the 75 million current Nascar viewers, only 10% are between 18 and 24. The average age of a Nascar fan is now 42 and 78% male. Last year, Nascar averaged around 5.8 million viewers per race on Fox, TNT, ABC and ESPN. This provides DC with a sizable audience for it to promote it's properties, for example the upcoming Batman vs. Superman film, the next Batman-themed "Arkham" videogame, the new "The Flash" TV series (coming in the fall/autumn) and more. So there is plenty that DC look to gain from the partnership as well.
During the announcement of the pair-up with DC and WB, Rick Hendrick, owner of Hendrick Motorsports, said "engaging with young people" was a high priority for the company, especially as it looks to develop a stronger retail licensing platform for its drivers.
Superman will be the first character the companies will use as they rev up the partnership Memorial Day weekend, at the Charlotte Motor Speedway, followed by the Michigan Intl. Speedway on June 15. The Man of Steel will be featured on Earnhardt's No. 88 Chevrolet SS in a paint scheme that will also feature the Army National Guard and "Superman Hall of Heroes," a new online portal Warner Bros. launched this week.
"Our partners have activated promotions around Batman and Superman that remain two of the best programs we've ever seen at retail," said Patrick Perkins, Hendrick Motorsports' VP of marketing. "We expect similar success with the Superman Hall of Heroes."
The deal, while mainly business oriented, will provide a cool fresh element to the world of Nascar and motorsports. How cool would it be to see The Flash race around a track, against Batman (in the Batmobile) – well, that all looks possible now.
Stay tuned to ADAPT Network for more motorsport adventure.