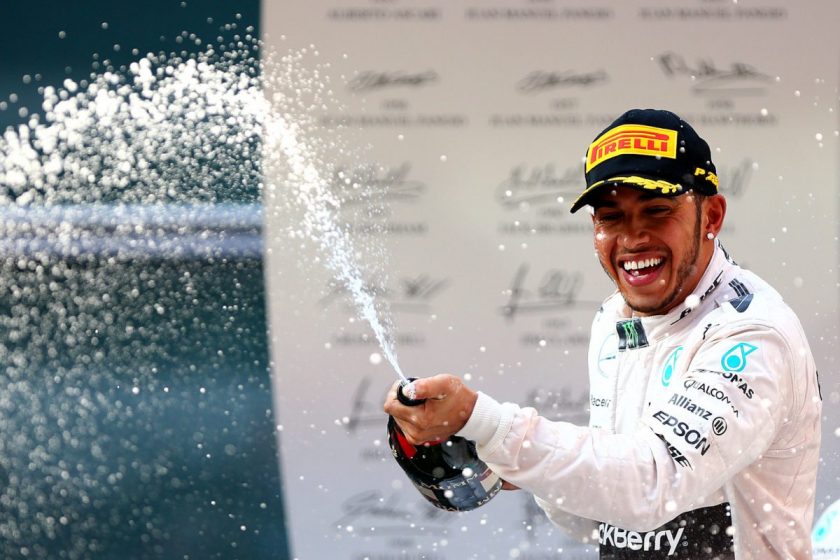 Lewis Hamilton and Mercedes reasserted their authority over Formula 1 with a commanding Chinese Grand Prix victory.
Nico Rosberg had to settle for second place, ahead of the Ferraris of Sebastian Vettel and Kimi Raikkonen, in a race that was close and action packed at times, without ever truly coming to life.
Hamilton had made his intentions clear from the start by angling his car very aggressively towards Rosberg's on the grid. He duly held his lead off the line, with Rosberg and Vettel stringing out behind the champion through the first stint.
The situation became more tense in the middle stint of the two-stop race, as both Rosberg and Vettel closed on Hamilton. A frustrated Rosberg radioed Mercedes asking if Hamilton could speed up, as his tyres were wearing too much whenever he got closer than two seconds away from his team-mate's rear wing.
After the race, Mercedes boss Toto Wolff insisted that Hamilton did nothing wrong in his battle with Rosberg, saying the tensions have now cooled.
Back to the race – when Ferrari brought Vettel in for his second stop ahead of the two Mercedes, Rosberg was pitted a lap later in an effort to prevent his countryman getting an undercut on his new tyres. But rather than his rivals' earlier stops putting Hamilton at a disadvantage, he was able to raise his pace considerably on his final laps on soft tyres.
Hamilton ran two laps longer than Rosberg and rejoined with a 6s cushion rather than the 2s advantage he had held prior to the stops. Rosberg was able to reduce Hamilton's lead slightly before settling for second.
A safety car appearance with two laps to go – caused by Max Verstappen's Toro Rosso parking on the pit straight in a cloud of smoke (dude to a locked rear axle)- made things even more comfortable for Hamilton, as the race finished under yellow.
Unlike in Malaysia, the Ferraris were not able to match the Mercedes for race pace, once each car moved onto medium tyres and Vettel fell away in third. While Ferrari were not able to pressure Mercedes as much as they had in the last race, they have now established themselves as the clear second-fastest team on the grid and most likely to knock Mercedes off the top spot. Furthermore Ferrari have more development tokens at their disposal so as the season continues to unfold the gap could once again close up between the Scuderias and Silver Arrows.
Towards the end of the race Vettel came under pressure from team-mate Kimi Raikkonen but was able to secure third place under the safety car. Raikkonen quickly cleared both Williams on the opening lap to make up for his qualifying frustration, and though he could not keep pace with the top three at first, he ran long in his middle stint and made up ground. The Finn was still 1.4s behind Vettel when the late safety car came out and had to be content with fourth.
Williams ran a lonely and distant fifth and sixth with Felipe Massa and Valtteri Bottas, a minute behind the leaders prior to the field being bunched up.
On that note both Massa and Bottas have accepted that Williams has now fallen back to being F1's third-fastest team behind Ferrari, at least for the moment anyway. When you look back just a few season's though, its clear that Williams have made huge leaps forward and re-established themselves as a front-runner team and best privateer outfit.
Lotus scored it's first points of the year with Romain Grosjean in seventh, but it was a wild race for his team-mate Pastor Maldonado. The Venezuelan got ahead of Grosjean in the first pitstop sequence, before going down the pitlane entry escape road at his second stop. A spin while trying to recover left him even further behind. He's going to be having nightmares about that pit entry, having overran into the gravel and collided with a wall in the 2014 race.
For me, the most exciting battle to watch was between Grosjean and the McLarens of Jenson Button and Fernando Alonso. It's no secret that I'm a McLaren-Honda fan so see some action from the struggling pair was awesome.
After several fraught laps, this came to a head when Button hit the back of the Lotus at Turn 1, ending Maldonado's race and prompting a stewards' investigation. Despite that, McLaren still got its first double finish of 2015 with Alonso and Button's battered cars in 12th and 13th.
After the race Button held his hands up and admitted the collision was his fault. Unfortunately for him, his honesty has resulted in a two licence point penalty and a demotion to 14th place in the Chinese Grand Prix (though this doesn't matter too much since he finished outside of the points anyway).
Until his late engine failure, Verstappen was on course for eighth, having sliced through the field with some very accomplished overtaking, which was also pretty fun to watch. But his problem completed a terrible day for Renault and the Red Bull-owned teams.
Daniel Ricciardo had tumbled to 17th with a terrible start and made heavy weather of coming back through the field to ninth between the Saubers of Felipe Nasr and Marcus Ericsson, which scored again.
Daniil Kvyat was also out early with a suspected engine failure, while Carlos Sainz Jr spun at Turn 1 in the opening laps and later lost time with a gearbox problem before finishing between the McLarens and Manors in 14th.
Force India spent a while in the points as a unique three-stop strategy for Sergio Perez shook out, but in the end 11th was his limit.
A gearbox failure ended team-mate Nico Hulkenberg's race.
So far this season it looks like have the grid has turned on it's head with both McLaren-Honda and Red Bull struggling. At the top Mercedes are still dominant but Ferrari are hot on the heals (or rear wings I should say). Looking forward to the Bahrain GP this weekend (not long to wait).
Via: AUTOSPORT