Nico Rosberg took his first victory of the season as the Mercedes Formula 1 team secured a commanding one-two at the Spanish Grand Prix at Barcelona (Circuit de Catalunya).
The German led away from pole and remained unthreatened for the duration of the race, with his team-mate Lewis Hamilton second 17.5 seconds adrift and Ferrari's Sebastian Vettel 27.7s further back in third at the finish.
Rosberg closes the gap to team-mate and championship leader Hamilton to 20 points, with Vettel another 11 adrift.
The result underlined the fact Mercedes remains the class of the field on a circuit where its strong car aerodynamically gave it a larger advantage than normal.
After four exciting races to start the season, the first European race of the season will not go down as a thriller, with the Circuit de Catalunya's layout not conducive to much overtaking.
That meant Rosberg, who had only led 10 laps this season before arriving in Spain, was always going to be favourite for the win after taking pole position and the German duly controlled the race from the front.
Hamilton lost a place to Vettel at the start and after struggling to find a way past, Mercedes called him in to try the undercut.
But a problem fitting the left-rear tyre lost Hamilton three seconds so when Vettel pitted the next lap, he easily came out in front of the reigning world champion.
When Hamilton was told he had to pass Vettel on track, he responded: "I can assure you that's pretty much impossible. Find another solution."
When the Briton pitted for the second time, taking on the hard tyres after two stints on the mediums, it became clear he was on a three-stop strategy.
In contrast, Vettel stayed out to suggest he was on a two-stopper. When the German pitted with 26 laps to go, he rejoined behind Hamilton, who was pushing hard to try to build a gap to enable him to pit and rejoin ahead of Vettel.
And it worked out, with Hamilton exiting the pits after his third stop, and on fresher medium tyres, well clear of Vettel.
Hamilton traded fastest laps with Rosberg in the closing stages but the deficit to his team-mate was too great to close down in the remaining laps and he finished second to secure a 14th one-two as a pairing for Mercedes.
Valtteri Bottas finished fourth for Williams, ahead of Ferrari's Kimi Raikkonen and the other Williams of Felipe Massa.
Red Bull's Daniel Ricciardo continued his solid run in the points this season with seventh, albeit it a lap down, ahead of Lotus's Romain Grosjean, who scored points for the third successive race despite a gearbox problem and overshooting his pitbox and scattering his crew, who were unhurt.
"I am more satisfied today as we achieved everything we could and seventh was the maximum I could get out of the car," said Ricciardo. "There were some parts of the race that were encouraging but we're still further off than where we want to be, but we'll keep pushing. We came here with upgrades this weekend but they didn't give us what we were expecting, so that's something we'll keep working on. We're still a fair bit behind Williams at the moment but I think we have a good chance to close the gap a bit further in Monaco."
Toro Rosso's Carlos Sainz Jr finished ninth, after banging wheels and passing Red Bull's Daniil Kvyat on the final lap. The Russian completed the points-finishers.
"We didn't have enough pace today," said Kvyat. "I had a poor opening lap, dropping a few places and from then on that compromised my race. Because here at this track, if you lose places at the start, it's almost game over, as it is so hard to get close enough to pass.  I had a nice battle with Sainz towards the end, but now we will wait and see what the Stewards say about how it ended. We need to improve the car in every area at the moment. On the positive side, both our cars finished the race, which is good on the reliability front. This was a bad day for me, so now I just want to look ahead to Monaco in the hope we can be more competitive there."
Red Bull have been plagued with an underpowered Renault engine all season. Renault's Thierry Salvi said that "the weekend was focused principally on the reliability of the power units. We limited mileage where we needed to and did not suffer any issues in qualifying or the race, which was the first step we needed to take to recover after the last events. It's obviously not enough to do just this, but we have to get back to form step by step. Everyone at Renault Sport F1 is focused on this and we look forward to being able to work on power unit performance very soon."
Max Verstappen was 11th in the other Toro Rosso, ahead of Sauber's Felipe Nasr, whose team-mate Marcus Ericsson was two places adrift in 14th. Both Toro Rossos swiftly fell back from their row-three qualifying positions.
Force India, which is expecting to have its updated 'B-spec' car in Austria, ended a difficult weekend with Sergio Perez 13th and Nico Hulkenberg 15th respectively.
McLaren's wait for its first points of the season continues, with Jenson Button – making his 100th start for McLaren – 16th while his team-mate Fernando Alonso retired with brake problems after a spell running seventh on an alternative strategy.
The cause for Alonso's brake problem has now been confirmed by Boullier as a tear-off strip that lodged in the right-rear brake duct, blocking the air intake and so boiling the fluid.
"It was a tear-off, and we have video footage that shows this," Boullier told AUTOSPORT. "Obviously the drivers need them, but we need to maybe think about how and where we throw them. Maybe we need to think about something for the future."
Boullier has also expressed relief the front-jack man was uninjured after showing lightning reflexes to avoid being run over by Alonso.
"Everybody knew Fernando had brake issues," added Boullier…The brakes had started to fall off the cliff when he came into the pitlane…Obviously it was a very good reaction from the front-jack man. Thankfully nothing happened to him."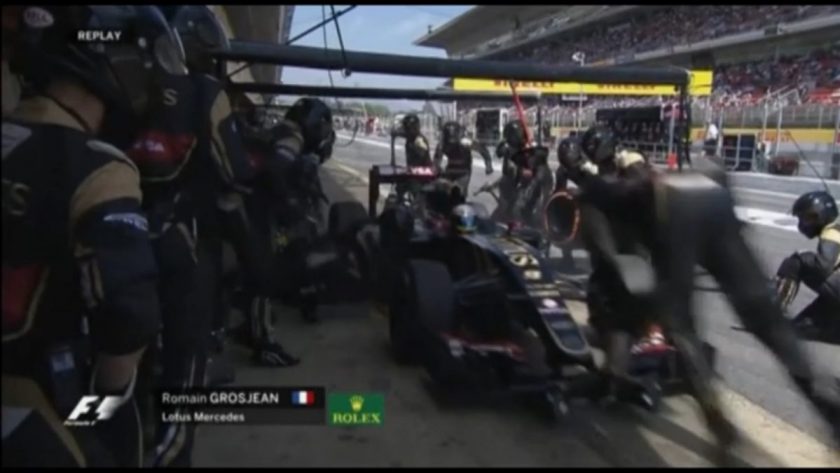 While the quick feet of the Mclaren front jackman saved him, Lotus's front pit crew-member was less fortunate a few laps later when Romain Grosjean was unable to stop safely in the slippery pit lane and clattered into his mechanic, pitching him into the air.
"We were having a pretty great race at the start and our strategy was working well but then the damage to my car meant that I had to make an extra stop and my race was completely compromise," said Grosjean. "For sure, we have the pace in the car and in every race we have shown the potential to be in the points so it's only a matter of time before we get a good result; I'm looking forward to Monaco."
Bad luck for Lotus continued as 2012 Spanish GP winner Pastor Maldonado, who ran as high as seventh, retired having driven much of the race with a broken rear wing.
Whilst Alonso's visor-rip caused retirement, Button brought the remaining Mclaren-Honda home in front of the two Manor-run Marussias at the back of the field. Will Stevens three laps down in 17th and Roberto Merhi 18th, a further lap behind.
After the race Jenson Button said his McLaren-Honda's handling in was one of the most "scary" experiences of his Formula 1 career.
"The first 30-odd laps were the scariest 30 laps of my life," said Button. "The rear just wasn't there. Any time I touched the throttle at any speed, the rear was gone. It just wasn't normal. The rear felt like it wasn't connected to the front. It felt like every gust of wind had a massive snap. It was pretty horrific for the first half of the race. Switch changes and new tyres at the end helped a bit"
Button's view has become a little less optimistic after this experience at the Circuit de Catalunya.
"After today I don't think I expect points at all this year, but hopefully today was an off-day. It didn't feel right," he said. "The weekend has been reasonably good for us and I've been happy with the way the car's been, but it was like flicking a switch in the race."
See you here, at ADAPT network, for the next race at the Monaco GP in two weeks time.
Sources: AUTOSPORT, Red Bull Content Pool, Formula 1.com