OK, so this news may surprise a few motorsport fans. It turns out that, until recently, F1 sensation Max Verstappen didn't know what 'heel-and-toe' shifting was.
As part of a sponsor promo, the F1 star was given a tour of the Red Bull Holden Racing Team (RBHRT) garage, at Albert Park, during the Australian Grand Prix weekend.
RBHRT driver Shane van Gisbergen introduced Max to his Commodore Supercar, during the visit, and wrote about the experience in a recent column on the Red Bull website.
In van Gisbergen's blog, he reveals that the three pedal set-up in the Supercar left the young Dutchman stumped. Van Gisbergen wrote that he even had to explain the concept of heel-and-toe shifting—the art of matching revs and road speed on downshifts with the throttle—a technique that Verstappen doesn't need to utilise in his modern paddleshift open-wheeler.
In his blog post, van Gisbergen wrote:
He told us he was a fan of our sport and watched the races when he could, and he had a sit in my car and played around with it all.

[He] asked a lot of questions too, wondering if I left-foot braked (and I don't, I'm right-foot). We talked about heel-and-toe, and he didn't even know what that was…he's definitely had a pretty different background, and he's so young still being in his third year of F1 and not even 20 years old.

There's even younger drivers than him now, so he's started something and people are looking for even younger drivers to find the next top-line guy.

It was good to show him around.
I was actually quite surprised by this news. As a fellow iRacing sim racer, I've been a fan of Verstappen's virtual racing for some time. Having learned to heel-and-toe shift just for fun and out of interest, the technique has proved invaluable (and fun) in some of my online racing. I'd love to hear your thoughts, in the comments below—are you surprised by this?
Future of Supercars at the Australian GP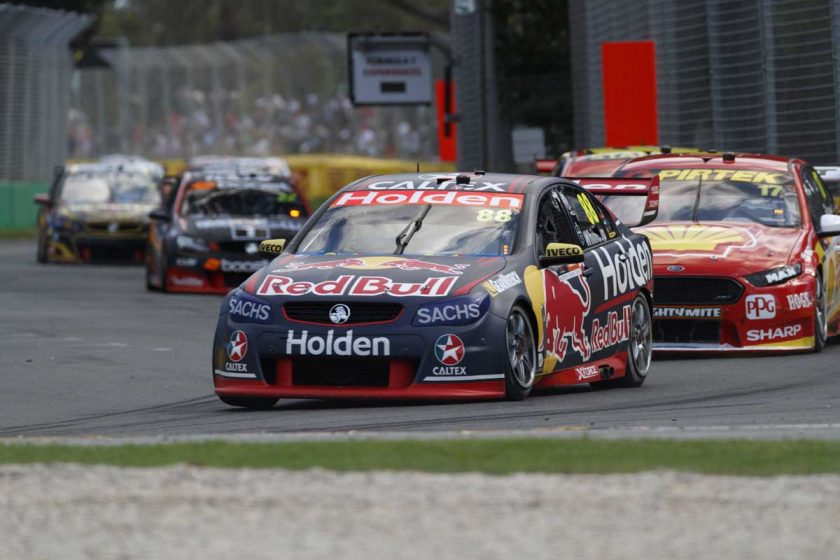 In the same column, the reigning Supercars champ discussed his thoughts regarding pitstops in Australian GP Supercars support races, that may soon count for championship points.
Van Gisbergen wrote that the current format—with four 13-lap sprint races—can be a bit 'standard'. Instead the Kiwi would prefer longer races that include stops, particularly if the Australian Grand Prix Corporation gets its wish and the event becomes a full points round for Supercars.
The sprint races at the GP can be a bit standard and sometimes not a lot happens, so if we were to go championship races there in the future, maybe a race length with pitstops would be better.

I think we had that five or so years ago at the GP, fewer races but longer ones, and the racing was awesome when you added a strategic element to it.

So if we go down that path in the future, that'd be the best option.
Featured image: Shane van Gisbergen and Jamie Whincup show Max Verstappen their Commodore V8 Supercar. Photo: VUE Images / Red Bull Content Pool