The Monaco GP has long been my personal favourite F1 race of the year and probably one of the defining races that has lead to my passion for motorsport, both as a driver and fan. This year's race certainly didn't disappoint on drama and driving skill alike, but it was a rollercoaster weekend where, at times, it felt as is if teams were 'going through the motions'. The race on Sunday was no different, starting out as a slow-burner, but there were interspersed moments of action and the race really came alive in the closing laps!
In the end Nico Rosberg beat his Mercedes team-mate, Lewis Hamilton, to the finish line but the race was far from straightforward.
The drama began to unfold during qualifying on Saturday. Rosberg was leading Q3, after posting his quickest flying lap in his first runs. Hamilton had waited to the end of Q3 to push for his best lap however. On Rosberg's last lap, he approached Mirabeau corner 7km/hr faster than his previous laps. In a possible effort to scrub of some speed he began to slightly saw at the wheel, locking up the front right wheel and going off into the escape road. The resulting caution flags meant that Hamilton had to abandon his fastest-lap attempt, placing him second on the grid behind Nico.
As you can imagine, Hamilton was clearly unhappy about the incident, being a bit despondent in the following interviews. He clearly believed that Rosberg's trip down the escape road was deliberate, a view that was shared by a number of ex-F1 drivers in the paddock.
Mercedes non-executive chairman Niki Lauda said before the race: "This thing we have with Lewis accusing the other of doing something stupid; I tried to fix this this morning with Lewis but I couldn't. If they hit each other at the first corner then they have a problem with me."
Equally, a number of F1 experts, including David Coulthard believed that the lock-up was an innocent driver error, caused by the German pushing too hard on his final qualifying lap. However, Rosberg locked up at the same corner during the race, but made the corner. This will only add weight to the arguments of those that believe the incident to be deliberate. The views that mattered most to Rosberg in the end though, are that of the stewards and they cleared him of any wrongdoing after inspecting the telemetry data, meaning his pole position stood.
Rosberg converting this pole into a comfortable lead as Ricciardo, starting in third, had a slow getaway, partly hampered by a brief lack of electrical power from his hybrid system. This left Alonso boxed in behind him, while Red Bull team-mate Sebastian Vettel had one of the best starts for the team this season (Red Bull will be happy to go and look at the clutch data from the start, for future races). Raikkonen took advantage, slotting into fourth at the first corner behind Vettel and ahead of Ricciardo and Alonso.
The first of two safety cars was deployed on the opening lap after McLaren's Jenson Button knocked Sergio Perez's Force India into a spin on the exit of Mirabeau. Jenson Button later confirmed that Perez had turned into his line and there was little he could do, you can really see the maturity of Button come through in interviews as an experienced driver (though we may be a bit biased here at ADAPT sports, as ADAPT network is based just down the road from Jenson's home town in Somerset, England.)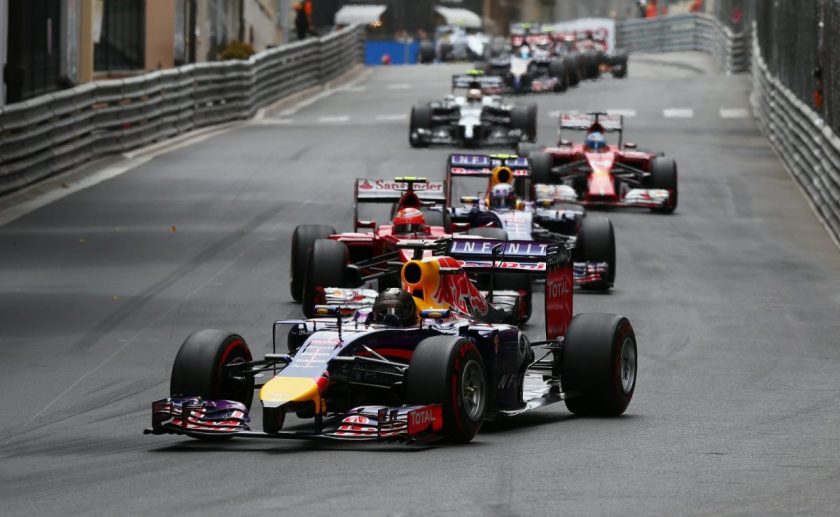 Vettel's luck, after a great start, quickly ran out after a turbo-prop snapped resulting in a turbo failure. Frantic communications with his race engineer unfortunately could not fix the issue, as he tried various settings to get out of 1st gear and he had to retire as the race was restarted on lap four.
Typical Monaco stalemate followed for the rest of the first half of the race until safety car number 2 was deployed after a crash at the Nouvelle Chicane by Sauber's Adrian Sutil. Sutil carried a bit too much speed out of the tunnel and was unable to correct for oversteer.
There was an immediate rush by all the teams as they took the opportunity to pit stop. More drama for Mercedes followed however, as Hamilton complained over the radio to the team, saying they should have brought him in immediately they saw the crash, rather than wait until the safety car was actually deployed. "Why didn't we stop the lap before?" he asked, "I knew we should have pitted on that lap. I also knew you wouldn't call me in."
Following the restart on lap 31, Rosberg was told by his team to conserve fuel, mainly by using higher gears through corners and coasting slightly before braking (i.e. lift off the throttle and coast before applying the brakes). The start of the F1 season has shown that Hamilton is quite good at this driving style but that Rosberg finds it harder to adapt. This gave Hamilton the opportunity to track closely behind his teammate, but he was never able to get close enough to make an overtake attempt.
Scarily for Lewis, some dust/dirt got through his visor into his left eye and he suddenly dropped back, with 12 laps to go, communicating on the radio to the team saying he "couldn't see out of his left eye – it's impossible". Perhaps, he had his visor slightly open for ventilation which allowed for the dirt to get in. Monaco has got to be the most demanding circuits of the F1 season, with very narrow streets to negotiate at speed, so credit to Lewis for making it to the finish line in this condition.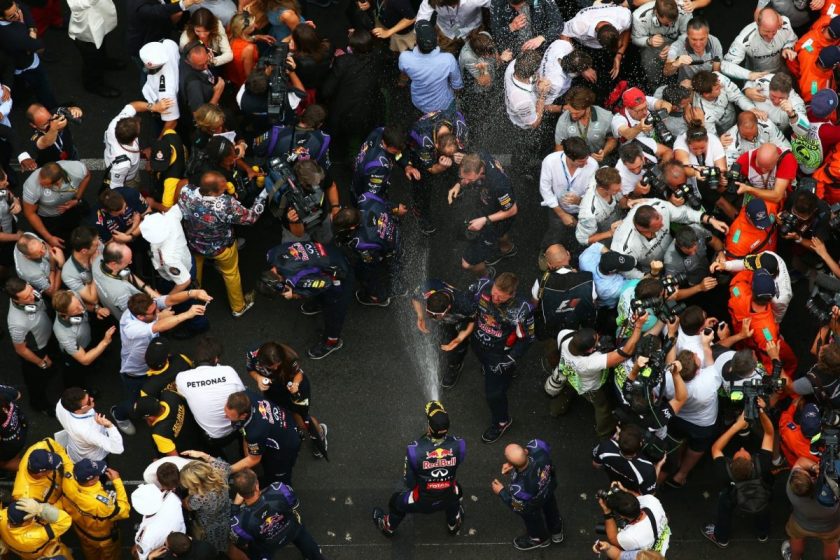 This allowed Ricciardo to quickly close the gap to Hamilton in the closing stages of the race. By lap 72, they were within a couple car lengths in places. The Mercedes powered car simply had too much straight-line speed however and whenever Richardo looked like he might be able to make an overtake attempt, the Silver arrow launched away down a straight. Richardo finished third behind Rosberg, in first, and Hamilton in Second.
The result moves Rosberg back into the championship lead, four points clear of his team-mate.
"Lewis drove really well and pushed me massively hard but I was able to hold on," said Rosberg.
"I had great pace," Hamilton said. "I felt I was really strong today but it's a very difficult place to overtake."
Raikkonen ran third until he needed to pit to replace a tyre, punctured during a collision with Marussia's Jules Bianchi, dropping him to 14th place. He drove a great recovery-drive to challenge Magnussen for seventh place in the closing stages. However, on lap 73, he tried an over-ambitious overtake at Loews hairpin. Raikkonen squeezed through the inside of the hairpin but couldn't get the grip on the curb and rolled into the barriers, blocking Magnussen, who dropped to 10th. Raikkonen had to pit for a new nose cone and finished 12th.
Button had previously passed Magnussen on the pit-straight for sixth behind Force India's Nico Hulkenberg at the start of the same lap. The pass was quite straight-forward since his team-mate had ERS (electronic Recovery System) problems at the time and so had less power to play with. The sixth place finish is a good result for Mclaren and Button mentioned in an interview that he was happy that the team were "making progress" (targets for teams have become less ambitious this season with Mercedes proving so dominant.)
One of the best overtakes of the race was by Marussia's Jules Bianchi against Caterham's Kamui Kobayashi. The Frenchman took the inside line into La Racasse, 'kissing' Kobayashi's car three times as he squeezed through. Bianchi's eighth place was the best finish in the Marussia's, a small team, four-year history and he managed to score their first points for ninth place despite a penalty for serving a 5 second penalty under the safety car.
Lotus's Romain Grosjean was promoted to eighth in the final standings, with Magnussen taking the last points in 10th.
The next race is in two weeks in Montreal at the Canadian GP. Stay posted to ADAPT Sports for more F1.