The 2016 Formula 1 season drew to a close in Abu Dhabi on Sunday with Nico Rosberg clinching the world title. For Red Bull Racing, who finished second in the Constructors' Championships, their campaign ended with Max Verstappen in fourth and Daniel Ricciardo in fifth. After a marathon 21 races, Red Bull have picked out 10 of the best moments from the Red Bull Racing and Scuderia Toro Rosso teams.
1. Verstappen at the Bahrain Grand Prix (sixth) – April 3
Having snuck a point at the season opener in Australia, Max Verstappen finished the subsequent grand prix in Bahrain in an impressive sixth place for Scuderia Toro Rosso, keeping him a spot ahead of Daniil Kvyat, then at sister team Red Bull Racing. Scuderia Toro Rosso had failed to score a single point in Bahrain in its previous 10 attempts. "I'm very happy with today's result – to finish P6 is fantastic," said Verstappen. "Also, this is the first time ever that the team scores points here in Bahrain so I'm very happy to have changed this statistic."
2. Daniil Kvyat at the Chinese Grand Prix (third) – April 17
Daniil Kvyat had a blistering start off the line in Shanghai, catching Sebastian Vettel down the inside at turn two, which caused the German to jink to the left and come together with Kimi Raikkonen. Vettel recovered later to pass Kvyat, whose third place was the second podium of his career. "I saw the gap and went for it," said Kvyat in the aftermath. "We didn't touch but unfortunately for him, Kimi was on the other side. For me, it was a logical move that paid off with a podium."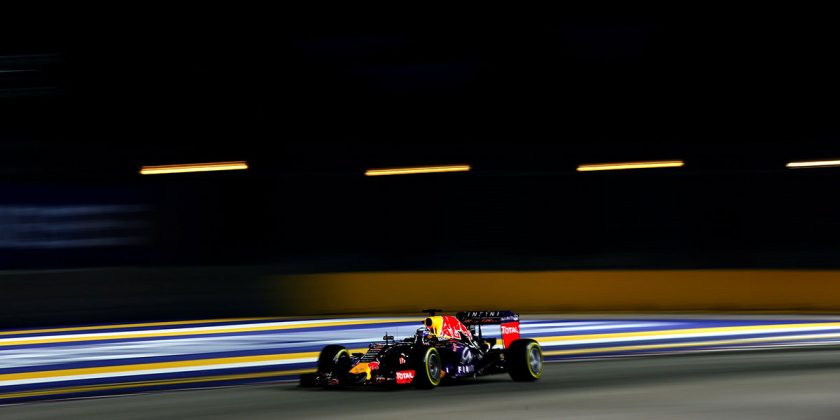 3. Verstappen at the Spanish Grand Prix (victory) – May 15
After a team switch between Verstappen and Kvyat, the former lined up in his first race for Red Bull Racing at the Spanish Grand Prix and enjoyed the dream start to his career with the team. The way was cleared when Mercedes pair Lewis Hamilton and Nico Rosberg crashed but Verstappen still needed to fend off a lengthy challenge from Kimi Raikkonen for the win. "It's very special and, of course, I didn't expect to win," said Verstappen. "In the end to come out on top, it's incredible. I have no words."
4. Ricciardo at the Monaco Grand Prix (pole position) – May 29
Daniel Ricciardo picked the perfect time, at F1's jewel in the crown, the Monaco Grand Prix, to clinch the first pole position of his career up against the dominant Mercedes. Boosted by an upgraded Renault engine, the Australian's aggressive style parked him on poll. Post-pole, Ricciardo said: "I felt like I have been driving well the last few races but hadn't got maximum but we have a good package and it is nice to make the most of it."
5. Ricciardo and Verstappen at the German Grand Prix (second and third respectively) – July 31
In the final race before heading off for F1's summer break, It was the first of two double podiums of the season – the other being in Malaysia – for Red Bull Racing. Ricciardo won the inter-team battle with second place and memorably performed his now trademark shoey, drinking champagne out of his race shoe on the podium. "Drinking out of the shoe on the podium is an Australian thing – it's called a shoey," said the Australian. "I said if I win a race this year I'll do it but, just in case, I thought I'll do it next time I'm on the podium."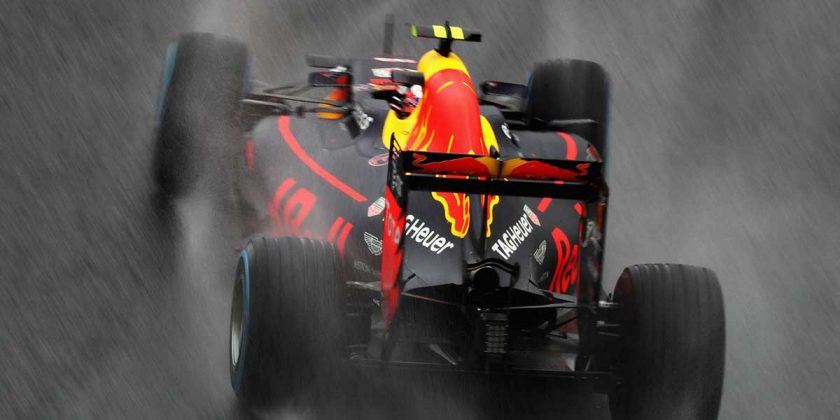 6. Ricciardo at the Singapore Grand Prix (second) – Sep 18
Ricciardo came close to a race victory and another shoey after Red Bull Racing's tyre strategy put him within a whisker of leapfrogging eventual race winner Rosberg. After his last stop, he had 30 seconds to make up in just 16 laps and came oh so close as he crossed the line just half-a-second behind the victor. The race runner-up said: "It was close today. We did everything we could and I thought it was pretty much a perfect race. We came here to win and we didn't but I felt we left it all on the track."
7. Ricciardo at the Malaysian Grand Prix (victory) – Oct 2
Having been denied potential victories in both Spain and Monaco, Ricciardo finally got his chance – a first victory since Belgium in 2014 – to take the chequered flag at Sepang. Biting at his heels, Verstappen rounded off the second Red Bull Racing one-two of the 2016 season. "It has been pretty emotional two years since the last win and we have come so close this year, two weeks ago I said we'd win one and here we go," said Ricciardo. Cue another shoey.
8. Verstappen at the Japanese Grand Prix (second) – Oct 9
It was a drive of great maturity for the teenager to finish second and hold off the challenge of Hamilton. The defending champion had clawed his way back to third following a poor start but, despite being on fresher laps with nine laps remaining of the race, he fended off the challenge to end up runner-up to Rosberg. Verstappen said: "Into the last chicane, I saw him coming in my mirrors so I defended my position, this allowed me to hang on for second place. I was really happy to get in between the two Mercedes cars."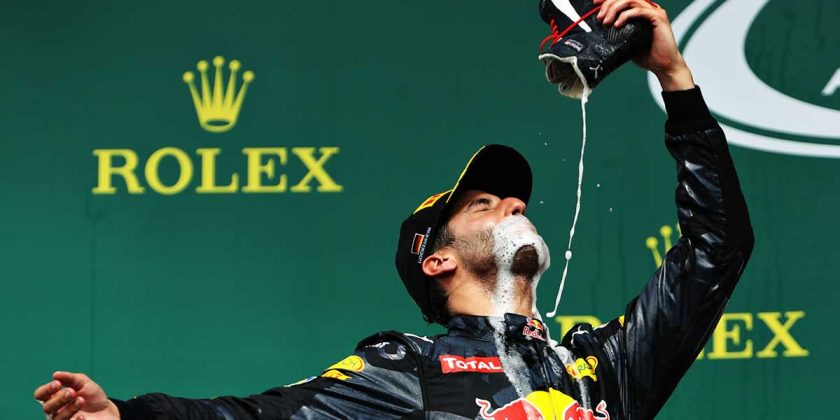 9. Verstappen at the Brazilian Grand Prix (third) – Nov 13
Billed as the drive of the decade by many and drawing comparisons to the late Ayrton Senna, the Dutchman dropped all the way down to 16th after his final pit stop but, despite the treacherously wet conditions, he ploughed his way through the field for a shock third place. Among the stand-out moves was his pass on Rosberg to take an initial second place. After his shock podium, he said: "I think the word for today is 'exciting'. I could hear the car going crazy, when I crossed the line it felt like a victory."
10. Carlos Sainz at the Brazilian Grand Prix (sixth) – Nov 13
Sainz has sealed three six places during the course of the season, the most recent of which came at the penultimate race of the season, the Brazilian Grand Prix. While it may have been overshadowed by Verstappen's heroics in the torrid conditions. "I loved today, I've always been strong in the wet since I was a kid in go karting and today was no exception," said the Spaniard. "I'm over the moon."