What do you get if you combine freerunning with -25°C? The ultimate winter wonderland.
Every year for the past 33 winters, covering an area the size of 12 football fields, the North Chinese city of Harbin is transformed in to a virtual ice palace.
As many as 10,000 workers and sculptors combine forces to build palaces, bridges and cathedrals with vast blocks of ice from the Soghua river, which separates the north and south of the city.
For 23 year-old German freerunner Jason Paul, it was a case of switching a German airport terminal, in which he performed his last stunt for the cameras, for a virtual ice labyrinth.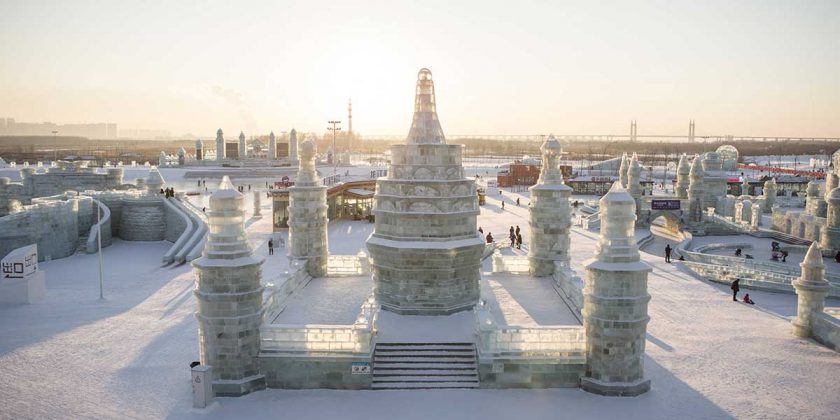 Sliding and skidding everywhere for what he calls "freezerunning", it required a whole new training programme in the build-up as well as switching between spikes to his usual footwear to ensure his safety as he slipped and slid his way through the filming.
Speaking with Red Bull about the shoot, Paul said:
I had seen fascinating images from Harbin on the internet. What an epic playground for freerunners. I was overwhelmed when I entered the ice city for the first time after months of preparation.

It was not my aim to just use the ice city as the backdrop for outstanding images. The idea was to take freerunning to the next level. I wanted to show tricks and choreographies that are only possible on ice.
Paul tackles the ice in two parts: under bright blue skies during the day before returning at night as the bright lights transform the ice city into an altogether different freerunning playground.
During it, he slides down the face of buildings, performs headstands on the move and swings on a rope to sound a bell at the heart of this sub-zero landscape.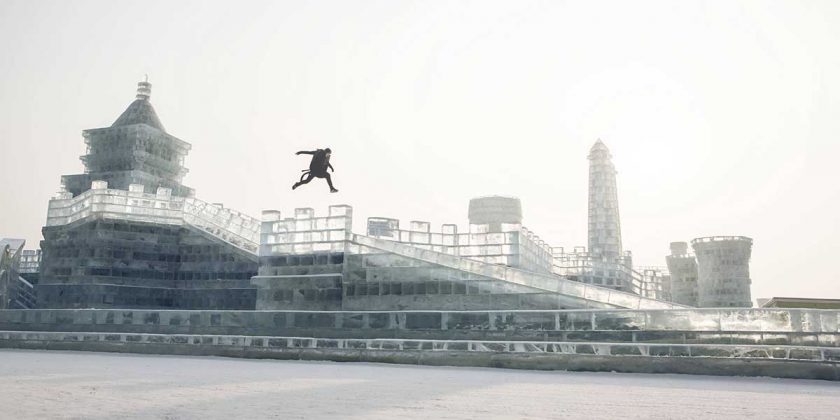 Commenting on the challenging terrain, Paul continued:
The unique mix of the different elements and the ice has pushed me a lot. I managed to invent new moves that would not be possible anywhere else than in the ice city. I found a new facet of my sport at Harbin. My best combination was to flip onto a slope, then a slide and a flip off the edge. Without wearing spikes, this was a true challenge.
Time, though, is ticking for Harbin's temporary winter wonderland, the increasing temperatures from March onward will see it melt for another year, but Paul is already plotting a return.
"They build a unique ice city here every year," he added. "For me as an athlete, this means a new and cool playground every winter. I would love to come back."
Featured image of Jason Paul during the filming. Photo: David Robinson/ Red Bull Content Pool