You just watched Swiss skateboarder Simon Stricker break the world record for longest manual on a street skateboard. Or at least I think you did—it's difficult to determine how many 'unofficial' attempts there have been.
Back in 2014, we searched the web for the longest skateboard manual we could find and came across this impressive attempt from Jostein Spjoetvold. Spjoetvold managed to hold his balance for over 1.2km, but Stricker's recent outing has shattered this mark with an insane 2.17km run down the Bernina Pass in the Swiss Alps.
The pass is better known as a gateway for skiers but the Swiss route acted as the perfect backdrop for the skateboard manual record attempt. In a display of balance, concentration and skill, Stricker hit speeds of up to 45km/h and held an average speed of 31km/h.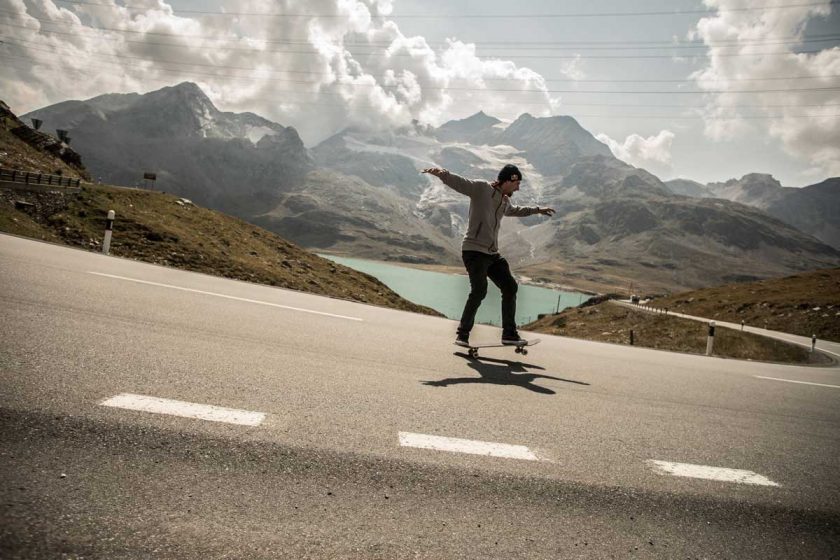 Speaking beforehand, he explained that he couldn't "underestimate the speed" and warned of "overcoming different passages" of the route.
But despite the challenge, Stricker believes he broke the record and went some way beyond, his front wheels eventually touching down on the target after covering 2.173km leading to celebrations from the skateboarder and his team.
Afterwards, he said: "As far as I know, this should be the world record."
He described the location as the perfect spot for the record attempt, the surface "relatively even" but "an even downward slope—not too steep and not too flat".
But he added: "The biggest challenge was to manage the different angles of descent. Sometimes, I was very slow then again it felt like speeding."