Carv is the world's first wearable that helps you ski better! It works by analysing your skiing technique in real-time, providing feedback on the slopes and detailed analysis between runs. We spoke to the co-founder of Motion Metrics, Jamie Grant, who's company has created Carv, to find out more.
1. Tell us about Carv. How does it work?
Carv is a digital ski coach that uses a combination of electronics and software to improve your skiing technique. The Carv units retrofit into your current ski boots and connect wirelessly to the Carv smartphone app over Bluetooth. As you ski Carv uses machine learning to identify problems in skiing technique and then suggests methods to improve. You can get feedback in real-time through headphones, or in detail between runs on the Carv app.
For instance, if whilst skiing Carv detects that you are leaning too far back after a few turns you will hear 'keep your weight forward'. In the Carv app, body position will be highlighted as one of the aspects you need to improve on. The Carv sensor has two parts like a boot warmer: an inner part that fits underneath the foot and measures the motion of the boot as well as the pressure underfoot, and an outer part that fits onto the back of the boot and contains the battery and Bluetooth transmitter.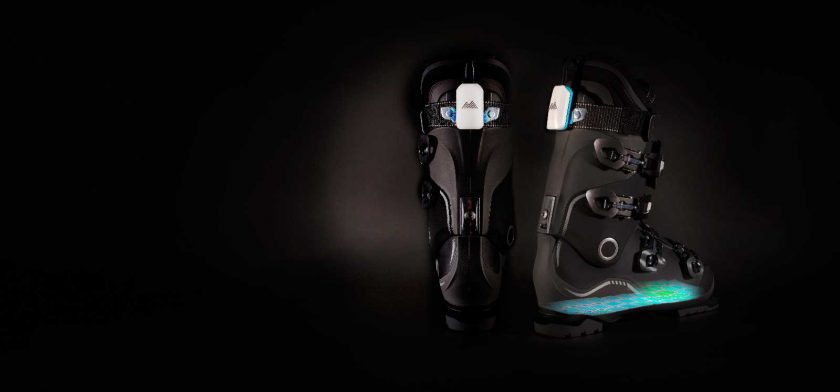 2. What inspired its creation?
We wanted a way to improve our skiing technique using a scientific/tech solution. We originally tried measuring technique with a smartphone app, but we found that phone sensors weren't powerful enough to measure technique. That's when we had the idea to put sensors in ski boots.
3. How long did it take to develop and what challenges did you face?
We had the idea to move into hardware about 2 years ago, whilst I was still studying for my PhD. The main issues where creating a sensor that measured pressure over many points (we now have 48 points) over the foot. We initially tried off-the-shelf sensors but we were frustrated with the price and durability. In the end we developed our own sensors, which took many iterations of R&D. We've had to use a lot of non-standard applications of technology to get the sensors into the boot so each step has been a learning process for us and our suppliers.
Another initial challenge was persuading top level professionals to ski with us. We need data from top level skiers to give us the benchmark for skiing technique, however, when we first started out we didn't have a track record and it was hard to persuade the coaches of a professional skiers to take time out of their schedule. This is something the Kickstarter really helped with, as it raised our profile. During the campaign we were approached by a number of teams and after subsequent conversations we skied with the US ski team in Mammoth for a week last month.
4. You launched a Kickstarter campaign for the product. How did it go?
Really well! Our initial goal was $50,000 and we ended up making over $275,000. The first few days were particularly crazy as so many people shared our video. In the end we had over 3,000 shares and the video was viewed more than 2,000,000 times. Our product was the most funded sports wearable on Kickstarter, beating all the running and gym related products out there.
5. What stage are you at now?
We're completely focused on delivering the Kickstarter batch. Currently we're working on manufacturing the units, but over the summer we'll be shifting our focus to software.
6. When are you hoping to launch the product and where will it be available to purchase?
Carv is currently available on pre-order for the 16/17 season here. We're going to hit the 17/18 season hard and will be available in shops and online.
7. Who is your target market?
Carv targets anyone who wants to improve their skiing technique with more than 2 weeks experience. This is a wide spectrum, so we have different features in the Carv app to cater for different needs; beginner and intermediate skiers are more suited to lessons and real time feedback, whereas advance skiers get more value out of detailed data-orientated features such as stats on speed of rotation and rate of pressure build up.
8. What are your plans for 2016?
This year we are focused on manufacturing the units and expanding the software to include more lessons and stats.
Featured image: Courtesy Motion Metrics
I'm definitely excited to try out CARV next time I hit the slopes. How about you? As always let us know you thoughts in the comments below and for all things Snow, Ski and Adventure keep up-to-date at ADAPT Network.