Australian duo Ethan Ewing and Macy Callaghan have capped off their stellar competitive seasons, taking out the World Junior Championship (WJC) in Kiama, NSW.
Conditions were not ideal but the world's best put on an incredible show in the clean 2-foot peaks that were on offer at the stunning Bombo Beach.
Men's final
The Men's final was a showdown between not only the No. 1 and 2 seeds but great friends Ethan Ewing and Griffin Colapinto (USA). The two were standouts all event both tearing through opposite sides of the draw.
After a day of light winds and consistent yet small surf, a front blew through in the opening minutes of the final making conditions tough for the stablemates. Ewing found his two scoring waves early where Colapinto was unable to find any waves of substance, gifting Ewing the win of his career. Ewing now joins an illustrious list of World Junior Champions including Joel Parkinson, Andy Irons and Gabriel Medina just to name a few.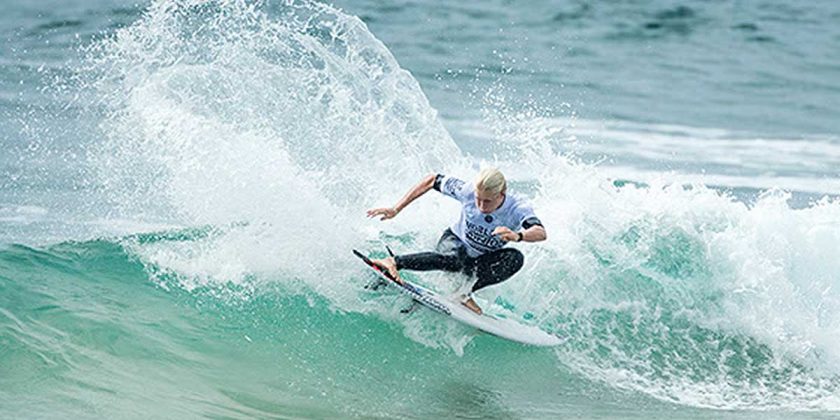 Of the win, Ewing said:
This feels so amazing. Coming into this event as the top seed gave me confidence from the get go and it all just kept running smoothly from the start of the week. It all just went to plan. It was funny because Griffin and I talked about the chances of the two of us meeting in the final early in the week so the fact it happened was really cool. Griffin is a great friend of mine so it is special to share this with him.
When little known Ewing took out the Burleigh Pro QS1,000 at the beginning of 2016, he grabbed the attention of the surfing world. He then went on to win the WSL Australasia Junior Qualifying Series (JQS) and finish runner up on the Qualifying Series (QS) booking himself a spot on the 2017 elite Championship Tour (CT).
His success came as a shock as Ewing: "never planned on any of this happening this year. He said:
I did aim to win the JQS but everything else just kind of happened unexpectedly. This is a great way to start my year off and I can't wait for the start of the CT.
Women's final
After dominating the Australasia Junior Qualifying Series (JQS), Callaghan was a clear favourite heading into the WJC. She continued her terrorising form through every heat, posting some of the highest single wave scores and heat totals of the event.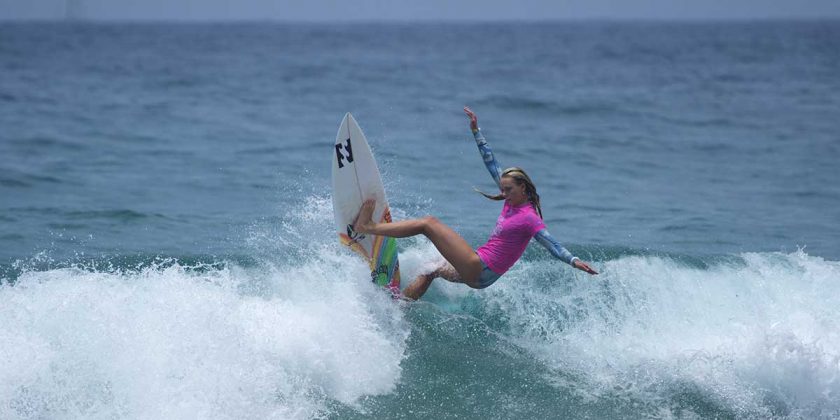 This was no different in the final where the young Central Coaster found herself up against former Junior World titleholder Mahina Maeda (HAW), who also finished runner-up in 2015. Callaghan locked in two solid scores early and had Maeda on the ropes. Once she was comfortable she continued to build on her score with an aggressive show of backhand surfing. She eventually put Maeda in a combination situation (needing two scores) to win with a heat total of 15.67, the highest of the entire event.
Of the competition, Callaghan said:
I'm so excited, this is the biggest event I have ever been in so to win is amazing. That heat was really tricky, there wasn't a huge amount of waves so you really had to pick the good ones. Once I got the 8.17 I knew I was in a good position and could just keep building on it, then my confidence just kept building. 2016 was so amazing for me so to start off this year like this is just a dream, I can't wait for what lies ahead.
Being her third WJC final in a row, Mahina Maeda knew exactly what she had to do. Unfortunately for her, Callaghan came out of the gates racing and Maeda was never able to catch up. The young Hawaiian was disappointed not to go one better in what will be her last WJC appearance but was gallant in defeat and proud of what she has achieved so far in her young career.
Maeda said:
I'm pretty disappointed in my performance today but it is good to be here at the WJC. I feel I didn't have the best opportunity to perform as I would have liked but I am really happy for Macy, she has a really bright future ahead of her. This is my last junior event so now it's time to focus on the QS and try and make the CT.
For more information on the WSL World Junior Championships head to www.WorldSurfLeague.com