A growing water based boardsport is making waves around the world – without the use of waves! Flatland skimboarding combines the best of surfing and skateboarding to offer a unique summertime activity for riders.
Once solely the domain of young children sliding along the sand, in recent years skimboarding has matured and evolved with riders now incorporating more extreme elements. Flatland skimboarders utilise ramps and rails to perform tricks reminiscent of skateboarding, snowboarding and other more mainstream boardsports.
"Most people I meet don't know what skimboarding is, or they just think of a kid with a piece of wood at the beach," says Casey Gackle, a Washington-based rider. "When they see video of flatland riders hitting a huge jump or landing a kickflip on a skimboard it kind of blows their mind."
Originating in Laguna Beach in the 1920s, simple wooden skimboards were first used by lifeguards as a means of travelling the shoreline quickly. Over time these skimmers began to venture into deeper water, riding waves in a fashion similar to surfing. The discipline of wave skimboarding is now practised with specialised foam boards and remains popular around the world.
Unlike wave skimming, flatland skimboarding is practised without any sort of breaking surf. Tide flats, river sides and lake shores all offer flatland skimboarders a rideable surface to enjoy. As a result, flatland skimboarding has gained popularity in geographical pockets where surfing beaches are less accessible, taking hold in places like the Pacific Northwest, Great Lakes, Utah and Sacramento. Internationally the sport is an emerging presence in Northern Europe, Southeast Asia and Australia. Nathan Pauli, VP of Sales at DB Skimboards, points out that part of the beauty of the sport lies in this accessibility.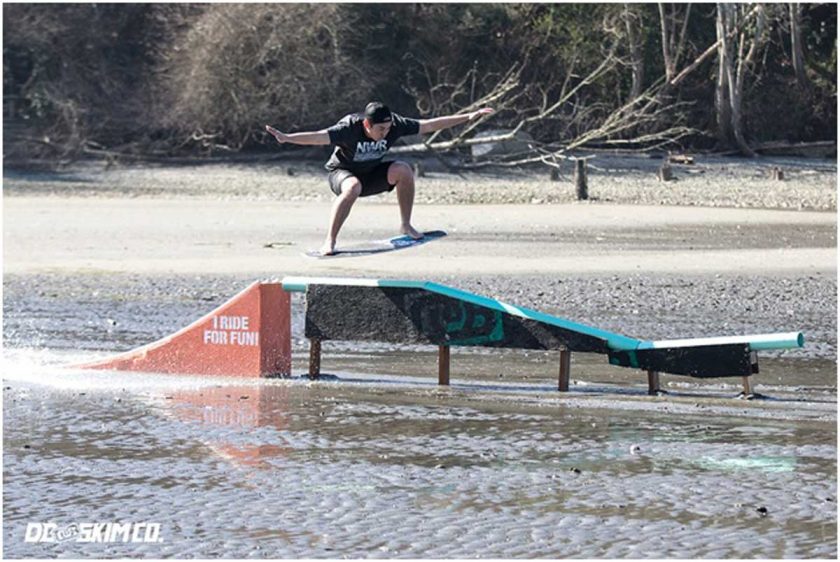 "All you need is a board, a thin film of water and a little creativity," says Pauli. "Flatland skimboarding offers an active water sport to coastlines with no surfable waves and exposes the potential within different environments to be enjoyed in new ways."
Located just south of Seattle Washington, DB Skimboards is one of the few companies manufacturing product specifically for the flatland skimboard market. Founded by a group of riders in 2003, DB has created a niche by making specialised boards well-suited for the needs of flatland skimboarders. After 13 years in business each board is still hand-crafted at the DB Skimboards factory.
"It's fun to change people's conception about what skimboarding is and show them the real potential it has as a sport," says Gackle. "There's just nothing better than hitting the beach with a group of friends for a day of skimming."
Looking to try something new this summer? Flatland skimboarding might just be the raddest thing you've never seen.
Article published in partnership with DB Longboards and DB Skimboards. DB Skimboards specialises in producing top quality products for flatland skimboarding, an emerging board sport which has seen rapid growth in recent years. DB has worked to progress skimboarding for over twelve years, pushing its growth both through innovative product development and strong media marketing.