This is awesome, Jeremy Flores has just won the Billabong Pro Tahiti in the Final bout against reigning WSL Champion Gabriel Medina. I'm stoked, not because Medina lost but because this means so much to Jeremy—now back on the world tour he's only recently recovered from a serious reef head injury—to win here is mega!
https://www.youtube.com/watch?t=4&v=QbooSXOR6uU
The result marks Flores second CT victory of his career and jumps him up five places on the Leaderboard to 7th. Conditions were excellent—six foot surf at Teahupo'o paradise! WSL called Flores "One of the standout performers of the event", having defeated some of the world's best surfers – Medina, C.J. Hobgood, Kelly Slater and Wiggolly Dantas – on his road to the finals.
"Gabriel (Medina) is one really tactical guy so I thought I'm going to play his game," said Flores. "He's really aggressive in the water so I thought I'm going to be even more aggressive. Hats off to him, he's surfed amazing all event and that was definitely one of the hardest heats."
The first-place points add to an already encouraging year and backs up a Semifinal berth for Flores at the Fiji Pro; as the WSL put it this "marks an end to a disappointing few years on the CT with his best result of the year and his first event win since the Billabong Pipe Masters in 2010."
As we mentioned in the intro, Flores win here was made even more remarkable because he came into the event following a serious head injury suffered during a freesurf that forced him to miss the J-Bay Open. He also wore a helmet throughout competition in Tahiti. Maybe all the pros should do the same when surfing these big reef breaks—let us know your thoughts on this on the comments below.
"That 9.87 in the Final was the wave that got things started for me," continued Flores. "I was sitting out there getting nervous, waiting for waves. I reminded myself that even if I lost the heat I'm the luckiest guy in the world to be out here. I just tried to stay calm."
"The last couple of years I haven't been getting the results I wanted, but more importantly I wasn't having fun," Flores said. "Surfing is the most beautiful sport in the world and if you're not having fun surfing then there's something wrong. I had to really restart and regain my mindset. I did that by being close to my family and my loved ones and it's because of them that I got back to having fun and being hungry like I used to be. This year I've been out there to win it and if it doesn't happen it's all good."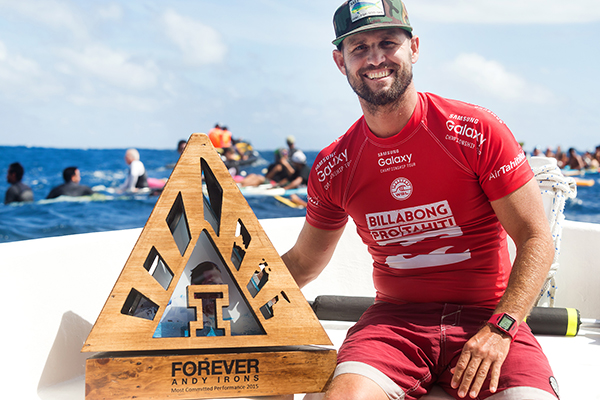 Former event winner and 2001 WSL Champion C.J. Hobgood earned his best result since the Gold Coast in 2014 after facing eventual winner Flores in the second Semifinal. He also took year's 'Andy Irons Most Committed Performance Award' for his commitment, passion and courage during the event. The award is given out every year to the standout surfer of the Billabong Pro Tahiti. Previous winners include Owen Wright (2014), John John Florence (2013), Ricardo dos Santos (2012) and Jeremy Flores (2011).
In his semifinal bout with Hobgood, Flores stayed selective and found the best two waves of the heat for a commanding lead and the win. A third-place finish for Hobgood, who scored the only Perfect 10 of the competition in Round 3, is still awesome and sees him move up ten places from 36th on the Leaderboard to 26th.
"It's just been awesome," said Hobgood. "To have the opportunity to be here and compete and be part of the Final day is just so rad. I'm so stoked, I think I'm as stoked as if I won the event. It was really, really fun, enjoyable and challenging to be here every year and be part of the learning curve at Teahupo'o over the last two decades. That means a lot to me right there. Last time I made the Final out here was with Andy (Irons) when he won and he was really emotional. That moment I shared with him will be with me for the rest of my life."
The next stop on the 2015 Samsung Galaxy WSL Championship Tour will be the Hurley Pro at Trestles from September 9 – 20, 2015. See you there.
Billabong Pro Tahiti Final Results:
1: Jeremy Flores (FRA) – 16.87
2: Gabriel Medina (BRA) – 13.20
Billabong Pro Tahiti Semifinal Results:
SF 1: Gabriel Medina (BRA) 16.63 def. Owen Wright (AUS) 8.70
SF 2: Jeremy Flores (FRA) 15.86 def. C.J. Hobgood (USA) 8.93
Billabong Pro Tahiti Quarterfinal Results:
QF 1: Owen Wright (AUS) 16.93 def. Italo Ferreira (BRA) 15.94
QF 2: Gabriel Medina (BRA) 15.64 def. Kai Otton (AUS) 11.00
QF 3: C.J. Hobgood (USA) 12.90 def. Josh Kerr (AUS) 11.16
QF 4: Jeremy Flores (FRA) 16.83 def. Kelly Slater (USA) 15.66
Billabong Pro Tahiti Round 5 Results:
Heat 1: Italo Ferreira (BRA) 15.00 def. Filipe Toledo (BRA) 00.00
Heat 2: Kai Otton (AUS) 13.50 def. Bruno Santos (BRA) 11.76
Heat 3: C.J. Hobgood (USA) 14.36 def. Aritz Aranburu (ESP) 14.00
Heat 4: Jeremy Flores (FRA) 13.37 def. Wiggolly Dantas (BRA) 13.21
2015 WSL Jeep Leaderboard Top 5 (after Billabong Pro Tahiti):
1: Adriano de Souza (BRA) 34,950 pts
2: Mick Fanning (AUS) 34,700 pts
3: Owen Wright (AUS) 34,400 pts
4: Julian Wilson (AUS) 33,200 pts
4: Filipe Toledo (FRA) 33,200 pts
Featured Photo: WSL / Steve Robertson